 * World wheat, corn, soy crops down slightly, rice up-USDA
* Corn futures dive to 7-week low after report, wheat down too
* Drought cuts Russia's wheat crop 9 pct, Kazakhstan's wheat crop 4.5 pct
* Soybean futures jump 2 pct; forecast cut more than expected
WASHINGTON, Sept 12 (Reuters) - Searing droughts in the United States and Russia will deplete harvests of wheat, corn and soybeans, the U.S. government said on Wednesday, but global food supplies were not hurt as badly as many had feared.
With the U.S. harvest off to a fast start, the Agriculture Department said the country's corn crop would be the smallest in six years and the soybean crop would be the smallest in nine years. But even though USDA lowered its crop estimates for the United States and Russia, they are bigger than expected.
USDA's estimates of the corn and soybean stockpiles at the end of this marketing year were also larger than traders expected. One factor: high corn prices have prompted cutbacks in livestock production, reducing demand for feed and keeping more corn in stockpiles.
The USDA's World Agricultural Supply and Demand Estimates report will guide the Group of 20 wealthiest nations as it decides whether joint action is needed to prevent a repeat of the 2008 food price spike that left tens of millions of people hungry and sparked food riots in some countries.
The report eased worries about severe shortages and brought down prices of some U.S. agricultural futures. Corn futures on the Chicago Board of Trade fell to a seven-week low and wheat fell too on the prospect of larger supplies.
"Corn prices likely have peaked," said agricultural economist Darrel Good at the University of Illinois, unless a quarterly report due Sept 28,shows the corn stockpile is too small.
But soybean futures surged more than 2 percent on USDA's forecast of tight supplies. Soybeans were on track to test the record price set last week. Good said high prices are needed to stretch the crop through the marketing year.
USDA lowered its forecast of the corn crop by less than 1 percent and the soybean crop by 2 percent. Traders had expected a 3.7 percent reduction in corn and a 1 percent cut in soybeans.

THIRD SHORT U.S. CORN CROP BRINGS HUGE CUT IN USE
This is the third disappointing corn crop in a row, with production down by 18 percent from 2009's record crop. Corn use by exporters, ethanol plants and livestock feeders will drop by 9 percent this marketing year because of the short crop, USDA said, on top of a 5.5 percent contraction last year.
At the end of this marketing year, U.S. grain bins will hold a scanty 3-1/2 week supply of corn when the carryover commonly used to be six or eight weeks. The soybean stockpile will be thinner still -- barely more than a two-week supply.
"Soybeans still have a little bit of a chance to improve," USDA chief economist Joe Glauber told the USDA radio service, noting yields are up in the U.S. Southeast. The soybean harvest is just beginning.
Drought also damaged wheat crops in Russia and some of its neighbors. Russia's crop was 39 million tonnes, down 9 percent from the August estimate and the second large cut in a row. Kazakhstan's crop was reduced 4.5 percent by USDA.
World wheat supplies are only marginally lower despite the losses, USDA said, and feed grain production also is down less than 1 percent, compared with August forecasts. The world wheat crop is down 5 percent from last year and coarse grains down 2.4 percent, however.
World rice production is on par with last year. The U.S. rice crop is 6 percent larger than last year, USDA said. It boosted the rice forecast 3 percent despite concern about hurricane damage in late August.

HIGH GRAIN PRICES DISCOURAGE MEAT PRODUCTION
Record-high corn prices discouraged livestock feeding this summer, so more corn will be available in the marketing year that opened Sept. 1. USDA said some of the corn would be used as feed this year but some will go into reserves, padding U.S. supplies, because of continued high prices.
Meat production will fall this year and in 2013 as farmers grapple with higher feed prices. Hog producers will sell animals at lighter weights rather than pay to fatten them further, said USDA. Overall, the per capita meat supply would drop by 3 percent in two years.
Livestock producers have petitioned the Obama administration to waive the federal requirement to use corn-based ethanol in gasoline. They say devoting a large percentage of the corn crop to ethanol production makes livestock feed less affordable. A decision is likely in mid-November.
Analyst Mark McMinimy of Guggenheim Partners said "we continue to believe that a waiver denial is the likely outcome." With its corn forecast stabilizing, USDA's crop report does not aid the drive for relaxing the ethanol mandate, he said.
The early and fast-moving corn harvest -- 15 percent of the crop already is in the bin -- boosted corn supplies at the start of September, traditionally the low point. USDA said 1.2 billion bushels of new-crop corn was harvested before Sept. 1, up to 700 million bushels more than a year ago.
"Early new-crop use is expected to displace use of 2011 old-crop corn and boost old-crop inventories on Sept 1," USDA said.
By airing the early-harvest figure, USDA removed some of the drama from the Sept 28 Grain Stocks report, said Dan Cekander of Newedge USA.
"That was a fear, that the (corn) stocks number may come in high. And USDA addressed that issue in this report," said Cekander. "When you use the new crop immediately, as they were using it, it was clearly displacing old crop during August."

Related
Before You Go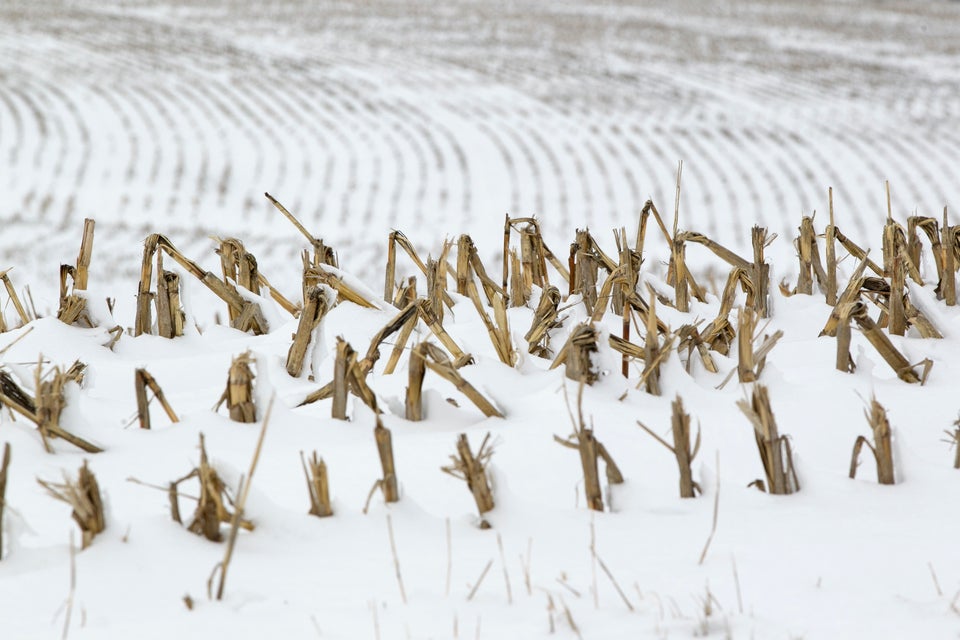 U.S. Drought 2012-2013
Popular in the Community