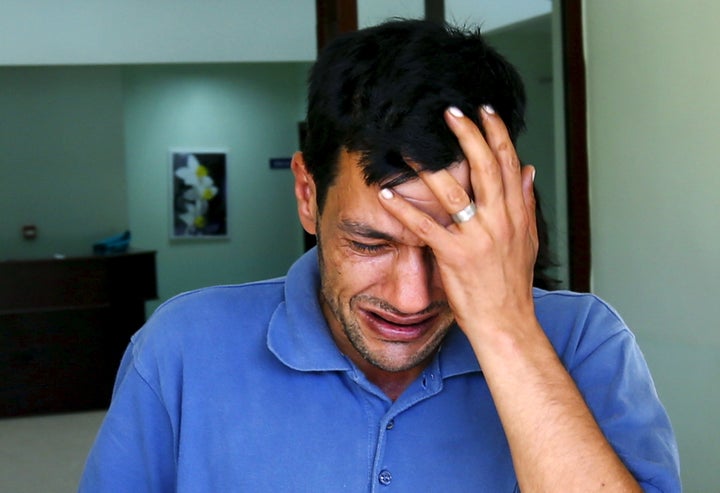 Abdullah Kurdi, whose family tragedy captured international attention when his 3-year-old son Aylan's body washed ashore on a popular tourist beach in Turkey on Wednesday, mourned the deaths as he spoke to HuffPost Arabi on Thursday after identifying his loved ones' bodies.
"I wish I could transfer my breath to them, to breathe life into their bodies again," he said. "We spent a whole hour holding on to the boat. My children were still alive. The first one died because of the raging waves. I had to leave him to save my second son, who also drowned. I turned around to find that their mother had drowned as well."
Kurdi told HuffPost Arabi that poverty kept him from buying flotation devices for Aylan, 3, Galip, 5, and wife Rehan, 35, who all hail from the Syrian town of Kobani.
"Gathering the costs for fleeing wasn't easy, and I couldn't secure the price of the life jackets," he said.
Aylan, Galip and Rehan were just three of the 12 people who died when two boats carrying 23 people capsized after setting off from Turkey's Bodrum peninsula, Reuters reported. The passengers, who reportedly hoped to reach the Greek island of Kos, were among tens of thousands of Syrians fleeing their homeland who have descended on Turkey to catch boats to Greece, their "gateway to the European Union," in recent months.
Kurdi's sister, Teema Kurdi, said she had hoped to help the family make it to Canada.
"I was trying to sponsor them, and I have my friends and my neighbors who helped me with the bank deposits, but we couldn't get them out, and that is why they went in the boat," she told Canada's National Post.
Those boat trips present a wide range of dangers: leaks, overcrowding and faulty motors causing the vessels to sink; extreme weather conditions in total darkness; and masked gunmen targeting refugees if their boats cross paths.
Kurdi said Canadian officials have since offered him citizenship after hearing of his family's tragedy, but he has declined, Reuters reported, a claim Canadian officials deny. He is planning to go back to Kobani, Syria, and will bury his wife and son's bodies there.
This story has been updated to state that Canadian officials say they have not offered citizenship to Kurdi.
Popular in the Community