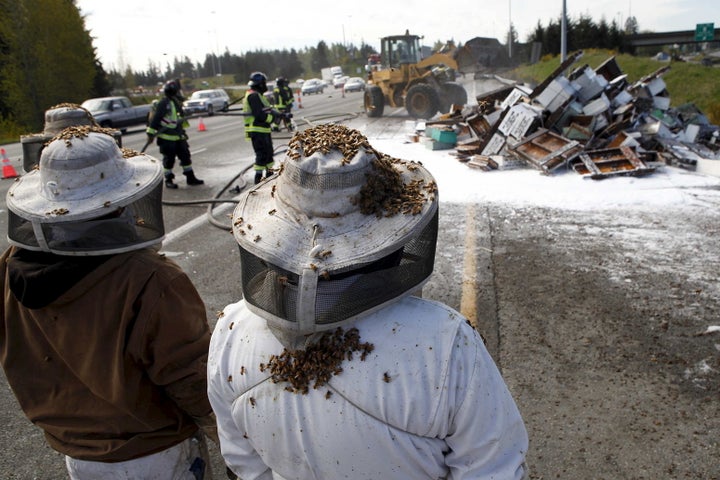 There were a couple of rude awakenings for sleepy drivers this week. Under the apparent influence of inadequate rest, a truck driver spilled 50,000 pounds of potatoes on a highway in North Carolina, and another unleashed millions of bees on the Wyoming interstate.
The two incidents are just the latest in an epidemic of drowsy driving, which is linked to over 300,000 accidents every year.
This driver, who was taken to the hospital, is expected to recover, according to WSCO News. But the crash led to a partial shutdown of that stretch of Interstate 77 for several hours.
"Maybe he fell sleep and sadly hit the guard rail," Garrett Bonacci, another motorist who stopped to rescue the driver, told the news station. "Thank the Lord he's all right."
The truck driver confirmed that he had dozed off to the North Carolina State Highway Patrol, according to the Charlotte Observer. He said he'd heard of truckers being arrested in the state for pulling over to sleep, so he decided to try to make it through.
The honey bee incident took place two days earlier, on Wednesday afternoon near Laramie. The beehives broke open when the driver apparently fell asleep and wrecked his truck, the Laramie Boomerang reported.
Highway Patrol Trooper Aren Peter said that "probably a football field in any direction from the truck was swarming with honey bees," according to the Boomerang.
Beyond truck drivers, drowsy driving is fairly common among the rest of us as well. As many as 1 in 25 Americans admit to having fallen asleep at the wheel in the prior month, according to the Centers for Disease Control and Prevention.
Popular in the Community