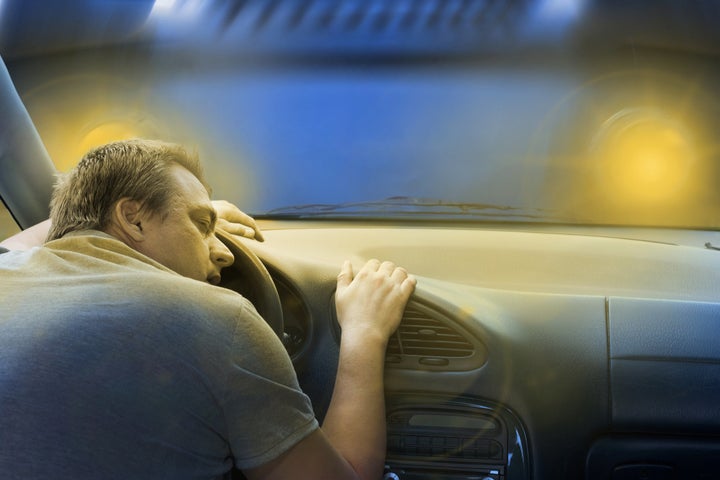 Alex Noel remembers starting to doze off about 20 minutes after taking the wheel. The next thing he knew, his car was veering off the road. He grabbed the wheel, but overcorrected and ended up upside down in a ditch.
He was 17, and partially paralyzed for months after the accident.
"[People] don't necessarily think it can happen to them," Konstantin previously told The Huffington Post. "It can sneak up on people."
"We never really truly understand how tired we are," report author Pam Fischer, a transportation safety consultant and former director of the New Jersey Division of Highway Traffic Safety, told HuffPost. "That's the scary thing about fatigue."
The report, which was developed by a panel of sleep medicine doctors, traffic safety administrators and other public health experts, is meant to inform everything from policy to research to private businesses. But it also offers a snapshot to those of us on the road showing just how dangerous ― and how underestimated ― the problem of drowsy driving really is. Here are eight shocking findings about drowsy driving revealed in the report:
1. Drowsy driving crashes cost Americans $109 billion a year.
One new estimate in the report finds that fatigue-related fatal and injury crashes cost Americans approximately $109 billion every year ― the first time a dollar amount has been attached to the societal costs of drowsy driving, Fischer said.
The calculation used the number of how many drowsy-driving related crashes occur every year and the estimated societal costs of traffic crashes from a 2010 report from the National Highway Traffic Safety Association. Those societal costs include lost productivity, medical costs, legal and court costs, emergency service costs and insurance administration costs.
2. Drowsy drivers are 3.5 times more likely to crash.
The National Highway Traffic Safety Administration tracked 3,400 drivers from six states for more than 5.4 million driving trips. In-vehicle video cameras and sensors revealed that drivers who showed signs of being drowsy were three and a half times more likely to be involved in a car crash than drivers who were not drowsy.
That's a really important figure, Fischer said. "People need to understand what their odds are. It's dangerous."
Approximately 36,000 crashes were investigated as part of the study.
3. Each year, approximately 328,000 drowsy driving crashes happen in the U.S.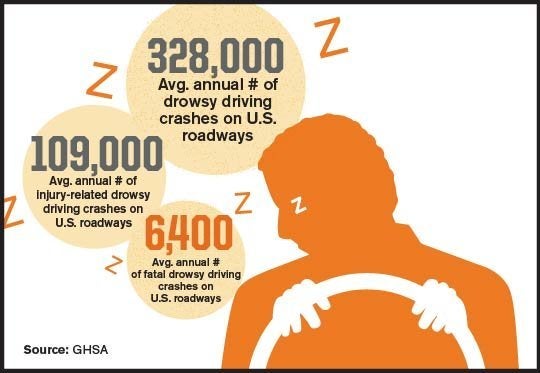 The AAA Foundation For Traffic Safety investigated a representative sample of 14,268 crashes across the country that happened between 2009 and 2013. Six percent of those crashes involved a drowsy driver. If the same percentage of crashes that happen nationally each year involve a drowsy driver, the data suggests some 328,000 such crashes happen annually, according to AAA.
4. Drowsy driving plays a role in nearly a quarter of fatal crashes.
Data from the same AAA study showed drowsy driving was a factor in 21 percent of the crashes in which someone was killed. If the same percentage of fatal crashes that happen nationally each year involve a drowsy driver, there are approximately 6,400 such fatal crashes annually.
5. After 21 hours without sleep, your driving is about as good as if your were drunk.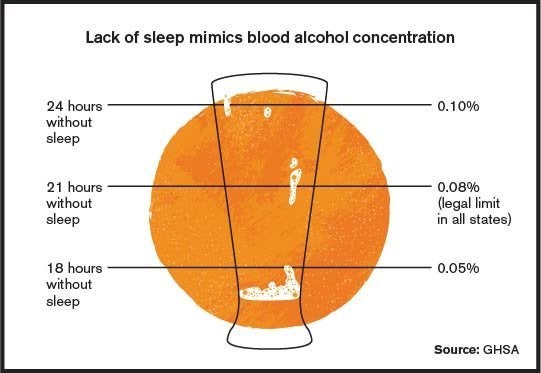 Research has compared simulated driving behavior in people who were sleep deprived with people whose blood alcohol concentration levels were 0, 0.05 and 0.08 percent. (It is illegal to drive in any state with a BAC at or above 0.08.) After 18 and a half hours of being awake, people sped and drove off the road the same amount as the people who had BACs of 0.05. After 21 hours of being awake, people's driving was similar to the people whose BACs were 0.08.
6. Ten to 20 percent of all fatalities in the U.S. involving large truck and bus crashes also involved a tired driver.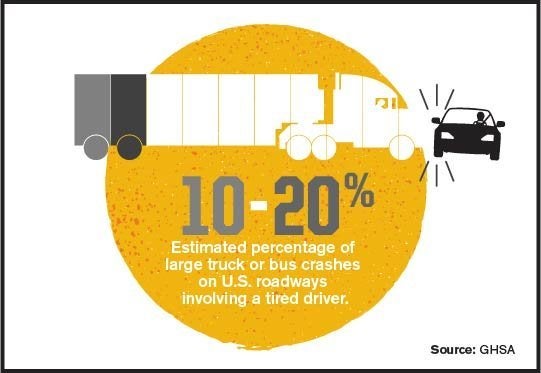 Figures compiled by the National Academies of Sciences, Engineering, and Medicine estimate that of the 4,000 large truck or bus crashes on U.S. roadways, a drowsy driver contributed to between 10 and 20 percent of those accidents. Long hours, irregular schedules and the economic pressures associated with moving goods and people are among the factors that put commercial drivers at risk for not sleeping well and driving drowsy, according to the new report.
7. Caffeine does NOT prevent drowsy driving.
While there's plenty of evidence caffeine can temporarily increase alertness and focus, experts caution it's not a substitute for good sleep. It can take 20 to 30 minutes for caffeine's cognitive boost to kick in, and other studies suggest those benefits basically disappear if you've gone too many nights without sufficient sleep.
8. More than two in five drivers admit to having fallen asleep at the wheel.
In a 2015 AAA survey of 2,545 drivers, 43.2 percent reported having fallen asleep at the wheel at least once in their lifetime. Ten percent of the drivers said they had fallen asleep in the previous year.
Sarah DiGiulio is The Huffington Post's sleep reporter. You can contact her at sarah.digiulio@huffingtonpost.com.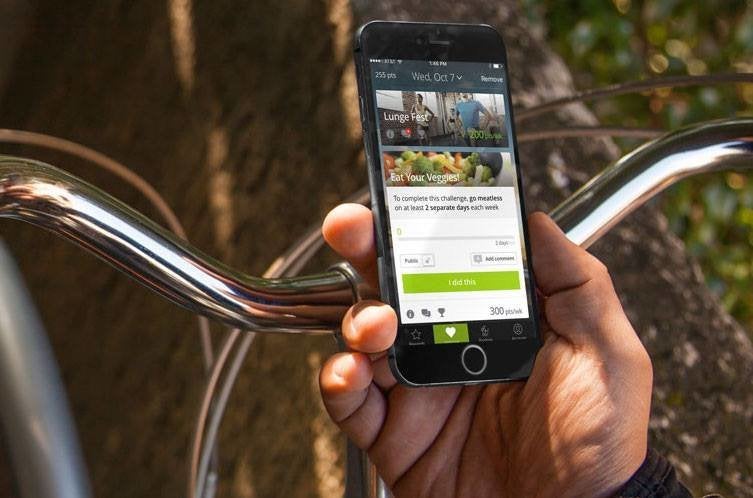 7 Companies That Make Workplace Wellness A Snap