Drowsy driving may be responsible for 1.2 million car accidents every year, according to a new estimate from the National Highway Traffic Safety Administration. Yet the problem flies largely under the radar among the American driving public.
A new campaign from Arianna Huffington on Change.org hopes to change that. They hope to catalyze a conversation around drowsy driving through an online petition where people can pledge not to drive while sleepy.
Whereas it has sometimes been a point of pride for people to brag about driving, or doing other activities, while sleep-deprived, the campaign hopes to reframe taking a break as a point of pride. It's rallying the online community through the hashtag #TakeABreakToStayAwake.
Commenters on the Change.org petition, which has over 2,748 supporters as of Tuesday afternoon, wrote many reasons for why they've decided to take a stand against drowsy driving.
"Fatigued driving can kill you -- and it's almost happened to me on more occasions than I care to count, as a long-haul trucker," writes Jimmy Frost of Virginia Beach, Virginia. (Drowsy driving is a serious problem in the commercial trucking industry, where drivers work long shifts of up to 16 consecutive hours.)
"I am signing because when I was a teenager, I had gotten into a car accident after falling asleep behind the wheel of my vehicle," Justin Schiefelbein, of Brownsville, Pennsylvania, writes on the site. "My vehicle was the only one involved but now 16 years later, I still have medical problems from that accident. It is not worth risking your health, safety, and that of others."
Heidi Savage of Portland, Oregon, writes, "I feel that we as Americans are overworked, overwhelmed and under stress way too much. I want to strive to find a work/life balance that puts our health and well being first. I pledge to abstain from driving if I'm too tired."
A video PSA from The Huffington Post, also released today, as part of the campaign, tells the story of two more individuals whose lives were changed by drowsy driving accidents. You can sign up for the pledge on the Change.org website.
Related
Before You Go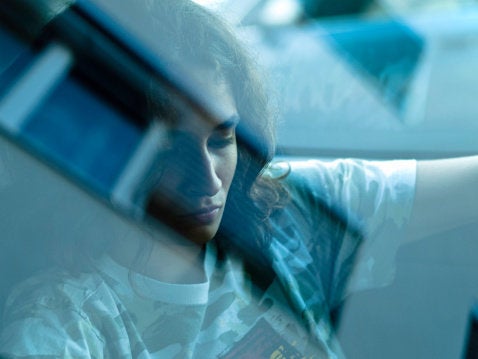 LOOK: Common Distracted Driving Violations