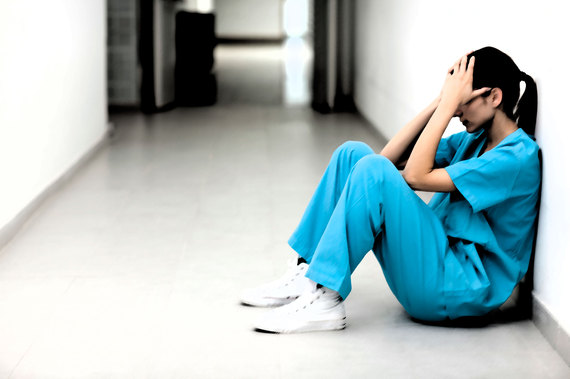 One of the greatest risks affecting medical professionals is sleep deprivation. Take, for instance, a nurse whose drowsiness may have been the cause of a newborn baby being dropped on his head at a Pennsylvania hospital last week.
Newborn baby Eli slipped from the hands of a 30-year veteran nurse at Uniontown Hospital in Uniontown, Penn., as reported by WPXI. The infant was immediately assessed by medical personnel; although no injuries were initially discovered, the infant's family was later told that he had a fracture and was bleeding on the right side of his skull.
"The pediatrician came in and told us that (the nurse) was feeding him and burping him, and she was drowsy and fell asleep and dropped him," the boy's mother, Jacqueline Hunt, told WPXI, adding that the first time she ever saw her son he was in a neck brace.
"If she was tired, she should have known professionally not to pick up this child," Hunt said.
According to WPXI, an internal investigation is being conducted into the situation. As of Thursday, baby Eli has been reported as "doing well" and he's been moved out of the intensive unit. His mother says his skull fracture will heal over time, but he won't be able to go home until he starts eating normally.
Unfortunately, medical errors are common in nurses who don't get enough sleep. According to a study performed by Ann E. Rogers, associate professor at the University of Pennsylvania School of Nursing and the Center for Sleep and Respiratory Neurobiology, the "evidence is overwhelming" that nurses who work longer than 12 consecutive hours or when they have not obtained sufficient sleep are putting their patients' health at risk.
Rogers cited a study conducted by Drew Dawson of the Appleton Institute in Australia; by sampling nurses who participated in the Staff Nurse Fatigue and Patient Safety Study, Dawson and his colleagues found a significant relationship between sleep in the prior 24 hours and the risk of those nurses making an error.
Dawson's study found that nurses who reported an error or near miss obtained significantly less sleep than nurses who did not make an error. Plus, the number of nurses who participated in the study and didn't get enough sleep is also quite significant:
Only a little more than one-fourth of the participants in the Staff Nurse Fatigue and Patient Safety Study (27.2 percent) obtained at least six hours of sleep prior to every shift they worked during the 28-day study period; more than one-quarter of the 11,387 shifts studied (29.1 percent) were worked by nurses who obtained less than six hours of sleep, an amount that has been associated with higher risks of error.
"Although few nurses would consider coming to work if they were legally drunk, the data suggest that many nurses are unaware of or disregard the equally serious risks associated with insufficient sleep," Rogers writes. She adds that nurses who drive home while drowsy are putting the general public at risk.
"Nurses, nurse managers, nursing administrators and policymakers need to work together to change the culture that not only allows, but often encourages nurses to work long hours without obtaining sufficient sleep," she says.
Stay tuned to Van Winkle's for more in-depth coverage of the relationship between shift-work performance and sleep deprivation.
Related