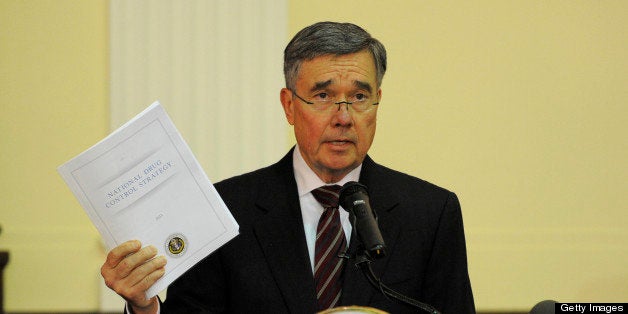 The Obama administration's Office of National Drug Control Policy has promised a "21st century" approach to drug policy, but the White House budget released earlier this month still prioritizes arrest and interdiction programs over treatment and prevention.
White House drug czar Gil Kerlikowske, on a call with reporters Thursday, said the War on Drugs does not define the Obama administration's approach to the U.S. drug problem. "We can't arrest or incarcerate our way out of the nation's drug problem and we must balance law enforcement efforts with drug prevention, treatment and recovery support," he said. "That means treating the root cause of many drug offenses, which all too often is a substance abuse disorder."
The White House budget proposal for fiscal 2014 devotes 58 percent of drug-control spending to punishment and interdiction, and 42 percent to treatment and prevention. Asked by HuffPost to square those numbers with the administration's rhetoric, Kerlikowske argued the new budget increases treatment and prevention spending from previous years.
"It's the largest increase in treatment funding requests in two decades," he said of the new budget. Indeed, the White House spending ratio in this year's budget was even more lopsided: 62 percent to 38 percent.
"I think the other important thing," Kerlikowske added, "is no one is going to stop funding the Coast Guard and the Border Patrol and others who are all involved in, not just drug interdiction, but in stopping human trafficking, organized crime, the trafficking of drugs that is often associated with some of these crimes. ... We're making a lot of progress in these areas, but certainly the ability to protect the country and enforce the laws that Congress has passed is also very important."
Marijuana Majority spokesman Tom Angell doesn't buy it. He told HuffPost in a statement earlier this month: "The administration deserves some credit for moving this ratio slightly in the right direction over the years, but a drug control budget that increases funding for the DEA and the Bureau of Prisons is simply not the kind of strategy we need in the 21st century."
Calling all HuffPost superfans!
Sign up for membership to become a founding member and help shape HuffPost's next chapter
BEFORE YOU GO