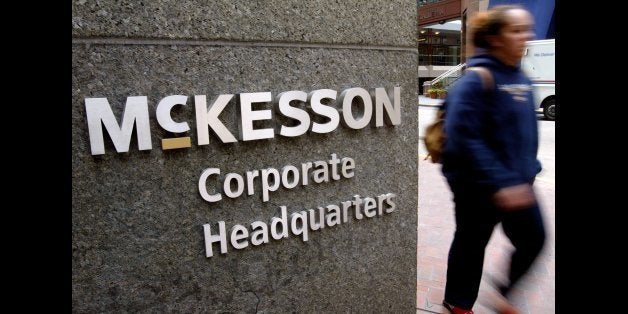 McKesson Corp. is the nation's largest drug distributor and earns roughly $4 billion a year serving as the primary pharmaceutical vendor for the U.S. Department of Veteran's Affairs. But it doesn't pay employees like Claude Hickerson, a veteran himself, enough to afford health care.
Ranked 15th on the 2014 Fortune 500 and reporting $138 billion in revenue for fiscal year 2014, McKesson is locked in a three-year battle with workers at its Lakeland, Fla. distribution center that voted in 2011 to join the Teamsters but still don't have a first contract. At issue? Fair wages and affordable health care.
Hickerson, a 19-year McKesson worker who served in Operation Desert Storm and reached the rank of sergeant before leaving the Army in 1992, said the company once treated vets like him well. But now that's changed. "When Vets Day comes along, they look to toot their own horn," he said. "But they treat us like anyone else. We get no respect."
The current health insurance plan is unaffordable for many of his colleagues, he said. Premiums have gone up every year while the plan's deductible grows bigger and bigger at the same time. It leaves workers in an untenable situation, forced to choose between providing for their families versus having health insurance.
Although McKesson Chairman and CEO John Hammergren has received an average of $50 million a year in total compensation for more than a decade and is set to receive a $114 million pension upon retirement, many McKesson front line employees in Lakeland rely on public assistance. Employees say it's absolutely outrageous.
"As big as this company is, why in the world do we have people having to rely on food stamps?" Hickerson said. "I think the reason they might be on food stamps is because what they are paying in health insurance premiums."
This is no way to be treating those who have served our country. At the Teamsters, which represent 1,500 McKesson workers in the U.S. and Canada, we make it a priority to honor those who have helped keep America safe here and abroad.
In 1945, we were the first union to guarantee workers their seniority rights when they returned to their jobs. And today, our Teamster Military Assistance Program provides disability assistance to and job placement opportunities for veterans in the construction industry - regardless if they are Teamsters or not. As part of the program, the union works to ensure vets receive proper compensation from their insurance companies for chronic illnesses they may have incurred.
That commitment to our vets extends into the local communities where they live. Members of Teamsters Joint Council 25 in the Chicago area participated in the special bike and run to support equine therapy for military veterans in September, just one example of the union showing respect to those who serve.
Unfortunately, McKesson's actions prove they don't see it the same way. Despite the tens of billions McKesson earns as the VA's top medicine supplier, the company has turned its back on American heroes like Claude Hickerson. Rather than negotiate a contract in Florida that provides for the needs of its distribution workers and their families, McKesson has waged an aggressive campaign to deny workers their fundamental rights on the job.
In fact, just last week, an administrative law judge in Florida ordered McKesson to stop its unlawful efforts to coerce workers into decertifying their union and to immediately rehire two workers fired in retaliation for their union activity. One of those workers, long-time employee Glenn Gray, was fired after confronting McKesson's CEO at the 2013 annual meeting urging his intervention in Lakeland to ensure workers were compensated fairly and provided affordable health care.
It's unacceptable to have a corporate culture in place that denigrates the work done by this nation's vets once they enter the private sector while at the same time lines its pockets with billions of taxpayer dollars. Law breakers like McKesson should not be rewarded for their bad behavior.
Our vets deserve the respect and admiration of us all. And that includes their employers.
Related
Popular in the Community