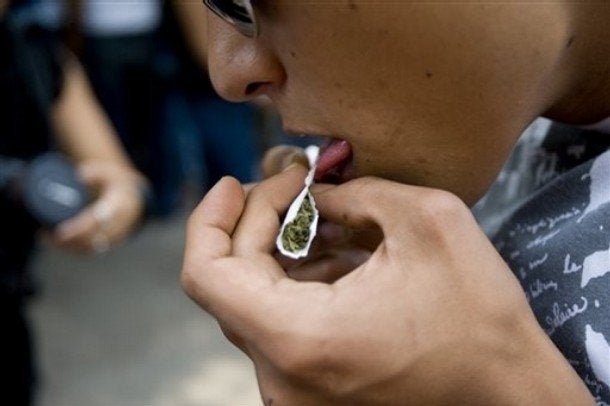 The city of El Paso buckled to unusually explicit federal government pressure Tuesday and withdrew a call for a national debate on ending drug prohibition.
Last Tuesday, the El Paso city council voted 8-0 to express solidarity with its sister city in Mexico, Juarez, which has seen its murder rate double this year alone as the Mexican government has waged war on powerful drug cartels. To slow that violence, the resolution called for "an honest, open national debate on ending the prohibition of narcotics."
That was enough to get Washington's attention.
Mayor John Cook vetoed the resolution and Rep. Silvestre Reyes, a Democrat who represents El Paso in Congress, lobbied each councilmember, making it clear that if the resolution calling for a debate passed, El Paso would risk losing money in the upcoming stimulus legislation. Five Texas House representatives made the same threat.
"Funding for local law enforcement efforts and other important programs to our community are likely being put in jeopardy," lawmakers warned in a letter to the city, "especially during a time when state resources are scarce."
Four members of the council switched their votes and supported the veto; three of them publicly cited the funding threat as the reason for backing down.
"When you receive calls and you have both members of the state and federal level telling you that you might lose funding for projects that are of vital importance for El Paso then you know you have to stop and think," said city Representative Eddie Holguin, adding that "at this point, I can't jeopardize funding from the state or the federal level." The councilmembers' comments are reported in the local NewspaperTree.com account of Tuesday night's meeting and confirmed to the Huffington Post by witnesses.
Reyes said that members of Congress last week approached him to ask what was going on in his city. "[T]he publicity that was generated last week ... made it seem that the resolution was calling on Congress to legalize drugs," Reyes said, noting that he knew that was not the intention.
"That was the perception up here," said Reyes, chairman of the House intelligence committee, "and a number of members brought it to my attention and asked me directly, 'What gives with your city council? Why are they wanting to legalize drugs?' So, I told them, essentially, please let the mayor's veto stand and put this behind us. We've got huge issues that are facing us as a Congress. We've got a stimulus package, where I'm working hard to get money going directly to the city to fund projects that'll put people to work."
Reyes said he was afraid that other members of Congress would use the publicity against El Paso in the funding fight. "My concern always is, if we've got a negative connotation about things in my district," he said, then it makes getting federal dollars harder. He cited his long-running battle in Congress against the notion that El Paso was running out of water. Whenever he tried to get federal funds for El Paso's base, Fort Bliss, or other projects, his colleagues would raise the water issue. "Why invest government funds in facilities in an area that's going to run out of water?" he said they'd argue.
"So that's the concern. Any time you have negative perceptions, you open the door for others to use that as leverage to get more money in their districts and not in mine," he said. "I'm up here representing the district and I can tell people based on my experience what helps me and what doesn't."
City Rep. Emma Acosta said that she had finally been overcome by the funding threat. "If we had voted yesterday I would have voted in favor of it," she said. City Rep. Rachel Quintana, before switching her vote, explained that the pressure from Reyes and the state legislators "absolutely pushed me over."
The council needed six votes to override the veto; the vote was split, 4-4.
City Rep. Steve Ortega called the federal big-footing un-American.
"I also want to ask our state legislators and our U.S. congressman to openly name anybody who is threatening the city of El Paso with withholding funding for having dialogue," he said. "That is un-American, and that is in contravention to our First Amendment. So I'm going to stand with the action that we took last Tuesday. There is to me nothing wrong with having a debate and a dialogue."
City Rep. Beto O'Rourke, the sponsor of the legalization amendment, said that "the threat from Congressman Reyes, then articulated again by our House delegation at the state level is unfortunate, but it's having its desired affect, which is to chill discussion."
"I haven't heard a specific congressman or senator who has threatened to withhold that money, just vague, unspecific threats that should we have the courage of our convictions, money will be withheld from this community," said O'Rourke.
The council passed the resolution last week as a way to combat the spiraling violence that threatens to undermine the neighboring Mexican state and spill over into the United States. "We are witness to the collapse of civil authority in a city of more than 1.5 million people, a city where many of us work or have family, and a city which contributes over $2 billion a year to our local economy," argued O'Rourke. "Add to this a very real national security threat, recently highlighted by former U.S. Drug Czar Barry McCaffrey, that we face the looming prospect of a failed state on our southern border."
A group of law enforcement officers who oppose drug prohibition descended on El Paso to urge the councilmembers not to backpedal from their original votes. Terry Nelson, a retired federal officer and former drug warrior, has been lobbying the city council and published an op-ed in the Sunday El Paso Times. "Only when we take away their profit margins by legalizing drugs will the cartels' financial incentive for murder disappear," wrote Nelson, a member of the group Law Enforcement Against Prohibition (LEAP). "It perplexes me that Mayor John Cook and other observers dismiss outright the notion that we should even talk about ending prohibition, as if not discussing it has fostered great results for us so far."
Reyes didn't wait for the veto override vote to begin a national debate. "Legalizing the types of drugs that are being smuggled across the border is not an effective way to combat the violence in Mexico, and I would not support efforts in Congress that would seek to do so," said Reyes, a former border patrol agent. He canceled two scheduled meetings with O'Rourke during the week.
Senator Patrick Leahy (D-Vt.), chairman of the Judiciary Committee, punted on the question. "I don't get into state politics, especially if it's not my state," he said of the El Paso resolution.
Reyes, in a letter to councilmembers, made a veiled threat that if El Paso passed the resolution, it stood to lose federal funds. "As our nation faces one of the worst economic crises since the Great Depression, Congress is currently crafting an economic stimulus package in which El Paso stands to benefit," he wrote. "While this resolution is well-intentioned, I believe its passage would be counterproductive to our efforts to enact an ambitious legislative agenda at the federal level."
Testifying before the council on Tuesday, Robert Almonte, executive director of the Texas Narcotic Officers' Association, told the council that it would be "detrimental to call for open and honest debate on legalizing narcotics."
On Monday, President Bush appointed an interim head of the Office of National Drug Control Policy. The interim "Drug Czar," Patrick Ward, is an Air Force veteran who believes the way to win the War on Drugs is to stop the supply at the border or root it out in source countries.
In December, Arizona Attorney General Terry Goddard said that the state should consider legalizing marijuana, noting that three-quarters of the cartels' business comes from pot.
On Tuesday night, after hours of debate, O'Rourke argued -- unsuccessfully -- that bowing to federal pressure would set a precedent they should avoid. "All we're asking for is a conversation, and no important issue in the history of the United States -- social, criminal, legal or otherwise -- has ever been harmed by having an open discussion. That's all we're asking for today," he said.
"It's not just this issue. It sets a precedent that when debate is to be chilled, when positions are to be changed, people higher up will threaten us that we'll lose our money, and you have to ask yourselves if you can live with that."
Reyes, however, told the Huffington Post that he doesn't oppose a debate on legalization. He only opposed the timing, coming as it did as Obama was meeting with the Mexican president and Congress was debating the stimulus.
"If it's still an issue [after the stimulus passes], I'm not opposed to perhaps even entertaining a hearing," said Reyes. "I can look at that if they want to pursue it."
Popular in the Community