More than 64,000 Americans died of drug overdoses last year, according to the first government report to include all recorded drug deaths from 2016. That's up 22 percent from the roughly 52,000 overdose deaths in 2015.
The current 64,070 count may even turn out to be a bit low. The numbers for last year are still provisional, since the cause of death in some cases remains under investigation. The report, which was issued earlier this month by the National Center for Health Statistics in conjunction with the Centers for Disease Control and Prevention, will be updated, with final figures released in December.
By 2015, drug overdose deaths had already far outstripped firearm homicides and HIV deaths during their peak deadliest years. As of 2016, overdoses also overtook the worst death toll from car accidents.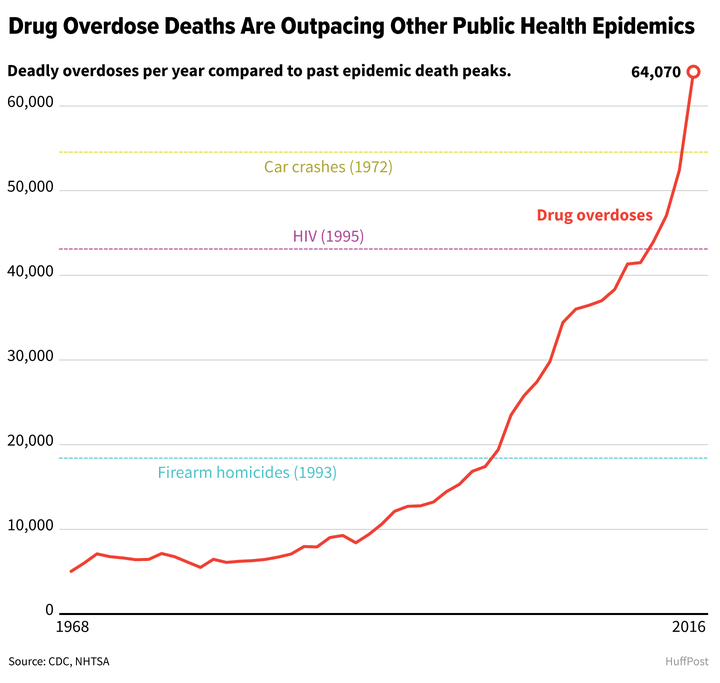 Fentanyl, a synthetic opioid that's 50 times more potent than heroin and 100 times stronger than morphine, plays a notable role in the deadly surge. Deaths from fentanyl and other synthetic opioids more than doubled between 2015 and 2016, from about 10,000 to more than 20,000.
"Death rates from opioid overdose will continue to rise until we implement a comprehensive strategy to reduce harms and expand treatment for opioid use disorder using effective medications," Dr. Peter Friedmann, associate dean for research at the University of Massachusetts Medical School and chief research officer at the nonprofit Baystate Health, told HuffPost in August.
Also last month, President Donald Trump's opioid commission, headed by New Jersey Gov. Chris Christie (R), urged the Trump administration to take a series of actions to address the growing crisis, including improving access to medication-assisted treatment for addiction and making the overdose reversal drug naloxone more widely available.
So far the administration hasn't taken any significant steps to make those recommendations a reality.