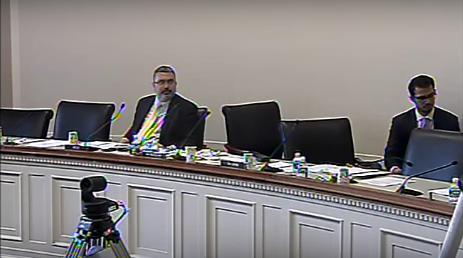 Dr. Tom Frieden, director of the Centers for Disease Control and Prevention, was there. Dr. Eric Goosby, the United Nations envoy for tuberculosis, was there. Dr. Ariel Pablo-Mendez, the U.S. Agency for International Development's assistant administrator for global health, was there.
Just three lawmakers showed up Tuesday for a subcommittee briefing on the growing threat of drug-resistant tuberculosis. They were Rep. Chris Smith (R-N.J.), who chairs the panel, and Reps. Ami Bera (D-Calif.) and Eliot Engel (D-N.Y.).
Hearings on the most recent Ebola outbreak, which also included testimony from Frieden, were packed with politicians and press last fall. That outbreak is estimated to have killed more than 11,000 people over the last two years. Tuberculosis kills over 4,100 people a day -- it's the No. 1 infectious killer in the world -- but just two other congressmen and one reporter attended Smith's hearing.
The briefing highlighted the growing threat of drug-resistant tuberculosis -- in particular, multidrug-resistant tuberculosis, which is resistant to two of the frontline drugs used to combat TB. An estimated 480,000 people around the world developed the deadly MDR-TB in 2014, and its cure rate hovers under 50 percent.
"If the spread of drug-resistant TB is not quickly prevented and controlled, TB-related deaths and treatment costs will increase dramatically," wrote Pablo-Mendez in testimony submitted to the House Foreign Affairs Subcommittee on Africa, Global Health, Global Human Rights, and International Organizations. "It will reverse the past twenty years of progress."
Tuberculosis can be spread when an infected person coughs or sneezes, expelling TB-laden micro droplets of saliva and mucous that can hang in the air for hours. Each year, over 1.5 million people around the world die of the disease, despite an overall cure rate of 90 percent with the proper treatment. In comparison, about 1.2 million die of HIV/AIDS each year.
"Today, we can prevent, treat and cure TB. The world has joined together to set the goal to end TB by 2035, but we will not do so without radically changing the path we are on," Goosby said at the hearing. "At the current rate -- reducing incidence by 1.5 percent per year -- it will take nearly 200 years to achieve this goal."
In the U.S., there were 91 MDR-TB cases and 9,421 tuberculosis cases reported last year. But as Frieden said in an interview with The Huffington Post, it will take continued focus and resources to truly address the global crisis.
"The problem with TB is that it so easily falls out of the headlines. It's not as dramatic as other diseases. It affects primarily poorer people in poorer countries," he said. "If we don't support countries around the world to stop them there, we're going to have to fight them here."
The 2015 Global Tuberculosis Report, issued by the World Health Organization, lays out a $1.4 billion shortfall worldwide in funding to fight tuberculosis, as well as concerns about the growing number of drug-resistant cases. Yet the Obama administration called for a roughly 20 percent cut to funding in each of the last three budget proposals, which Congress has nixed. "It is a revelation of priorities that this was cut," Rep. Smith told HuffPost.
A White House plan on combating MDR-TB, originally slated for this fall, will be released soon, Pablo-Mendez said at the hearing. Tuberculosis advocates hope that it will come with the funding to make it effective.
"The spread of drug-resistant TB ... will reverse the past twenty years of progress."
For many TB specialists, both in the public and private sectors, having a congressional hearing at all was like Christmas morning.
"It was just fantastic to see the energy, the commitment, the concern that we saw coming from all the members of Congress that were there -- especially from Congressman Smith," said David Bryden, a tuberculosis advocacy officer for the nonprofit Results. "It was clear they really appreciate how serious this is."
Popular in the Community