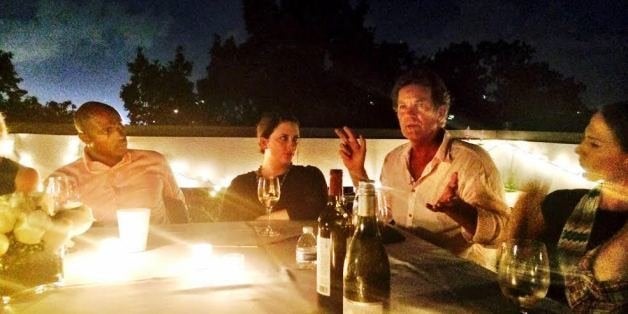 NEW YORK -- On a late-summer evening in Venice Beach, California, a dozen strangers gathered for dinner. They sat outside on their host's patio, enjoyed a home-cooked meal of fish, brown rice, roasted vegetables and a tomato and mozzarella salad, and got to know one another. But the conversation that evening wasn't the usual polite dinner party chit-chat -- these people had come together for the explicit purpose of having an honest, unfiltered discussion about their experiences with drugs and addiction.
It was the inaugural Drugs Over Dinner event, an offshoot of social entrepreneur and former restaurateur Michael Hebb's popular Death Over Dinner project. The campaign encourages people across the country to organize a dinner with members of their community to discuss end-of-life issues. Since the campaign's launch a year ago, more than 20,000 people in 30 countries have attended "death dinners."
With the project's success, Hebb's next goal was to facilitate conversations around other meaningful topics in the same sort of safe spaces that Death Over Dinner had created. Early this year, Hebb's girlfriend, Angel Grant, a yoga and meditation instructor who has worked with at-risk youth and addicted populations, and friend Jamison Monroe, founder of teen rehabilitation center the Newport Academy, urged Hebb to make drug addiction the next topic for his campaign.
Currently nearly 24 million Americans struggle with drug and alcohol addiction, and the National Institute on Drug Abuse puts the estimated national cost of illegal substance abuse at $193 billion annually, in lost productivity, health care and crime-related costs. According to the agency, alcohol abuse costs the U.S. another $235 billion annually.
"If we look at the things that plague us culturally ... we're producing more addicts and more fatalities associated with drugs every year," Hebb told The Huffington Post. "Then you realize that underlying that is the need to be connecting. There's some lack that we all feel, we've all experienced, that sometimes shows up as a substance addiction. But I think we all suffer from addiction, and we all suffer from that sense of missing something. If we can connect around those underlying issues, then perhaps it starts to make a shift in how we think about addiction and treat it, and how we treat addicts and how we talk to our kids."
The inaugural dinner was attended by friends and acquaintances of Hebb, some of whom have personally struggled with addiction and others who simply have an interest in the topic. The conversation was lightly moderated, with several questions and prompts to guide the discussion, but quickly became a free-flowing dialogue.
"You break the ice with a big bomb," Hebb laughed.
Dinner that evening opened with an invitation to describe a time that one forgave someone else or were forgiven, which led to guests sharing intensely personal stories. Though the prompt isn't an immediately obvious way to start a conversation about substance abuse, dinner guest Christian McGuigan said that the question encouraged reflection on the deeper causes of drug abuse and addiction.
"It's what we need to get to the roots of addiction and to heal," McGuigan, director of social action campaigns at a Los Angeles media company, told HuffPost. "Forgiveness is an act of love."
Music producer Kerry Brown spoke of forgiving his late father for never being around when Brown was growing up.
"Everyone just dropped right in and told their life story," Brown said. "It felt very safe."
Brown, a musician and music producer for artists like the Smashing Pumpkins, Ziggy Marley and Courtney Love, opened up about his past drug use, and reflected on the drug abuse he witnessed among the musicians he toured with in the '90s. While touring with his band, Brown turned to many different drugs to keep himself "on" for one performance after another.
"At first, [the drugs] sort of numbed some of the pain we had and took us from one place to another, and kept us from thinking about all the craziness that was going on," said Brown. "Then after a while you need more -- the typical story. And then you just need them to just get by. You either hit rock bottom and die, or you hit rock bottom and get your shit together."
Brown was among more than a dozen guests who shared personal stories and thoughts on drugs and addiction. The intimacy of the dinner table "creates an environment of openness and vulnerability," said McGuigan.
"It was an extraordinary experience," he said. "You have a really different conversation at the dinner table, even though it's with complete strangers. A lot of those fences that we have up that make us strangers fall almost immediately. They drop almost the first time that you ask someone to pass the bread."
Hebb, who cooked the evening's meal in Venice, has long operated on the belief that the table can be transformative -- and said he's seen conversations over the dinner table bring people together and change lives.
But on the whole, Americans are not making sharing a meal a priority. Pacific Standard writer Britt Peterson wrote in April about how dinner in America has become an "ordeal." Increasingly, Americans eat their meals on the go or in front of the screen -- 19 percent of snacks and meals in America are eaten in the car, author Michael Pollan estimates.
At the same time, spending time together over a meal can have a positive effect on families. A 2012 study from CASAColumbia, a drug prevention nonprofit, found eating regular family dinners can decrease the likelihood that teens will use marijuana, tobacco and alcohol, or will engage in risky behavior.
"[Americans] are using dinner in a really unimaginative way," said Hebb. "We're eating three meals a day. People could use them as an opportunity for engagement with the people around them, and sadly they're not."
Like many Americans, Brown recalls growing up with dinners eaten in front of the television, as well as a lack of conversation with his parents about meaningful and provocative topics.
"When I was a kid, we didn't sit around the dinner table and have conversations," said Brown. "We had TV dinners around the TV set and watched 'Batman and Robin,' and my dad got home at midnight and left at 6 a.m. So it's a very nice experience for me now just to sit around the table, eat and talk to other people."
That experience is exactly what Hebb is trying to facilitate on a larger scale. The idea of using dinner to connect people and build authentic relationships originated with a project called "Family Suppers" in Portland, Oregon in 2000, and morphed into Death Over Dinner in 2012, as a project out of the University of Washington.
"It was an early idea of how the table could be a blueprint for people to engage," said Hebb. Six months later, the project was being hailed as a movement by The New York Times. Later in 2012, UW's Communication Leadership Program graduate program, where Hebb works as a fellow, supplied funding to enlarge the scale of his model for bringing people together.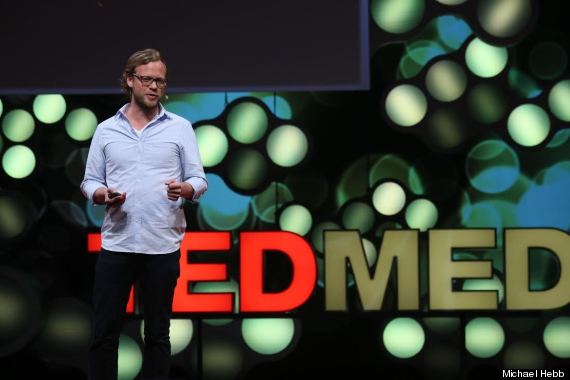 Hebb discussing Death Over Dinner at the 2013 TEDMED conference.
Hebb says he was inspired by the historical model of the ancient Greek symposium, a social gathering in which men met to discuss topics over food and drink.
"[The symposium] was a huge reason why democracy was born and why so many things happened in Athenian culture," said Hebb. "There was a place for meaningful and significant questions to be asked, and for people to ponder these questions. So we figured, if we're going to emulate that model and reinvigorate the table and this manner of convening, that we should start with the most challenging philosophical question, and that being about death and end-of-life."
This year, Drugs Over Dinner was born to facilitate honest, personal and non-judgmental conversation about drugs in America and the root causes of our culture of addiction. The project currently has raised over $16,000 on IndieGoGo to bring the conversation to dinner tables across America.
The most powerful aspect of that evening in Venice Beach, and others like it, Brown and McGuigan agreed, was the way that sharing stories builds compassion, empathy and connection -- among the other guests at the table, and toward others struggling from addiction.
"You realize this is not 'their' problem," said McGuigan. "This is our problem."