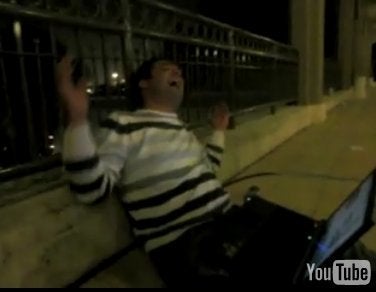 A British reporter covering the 2008 Presidential election for the Birmingham Mail was caught on tape in a drunk rant, admitting plagiarism and acknowledging that he was writing his story while "pissed" drunk.
Adam Smith, also known as Steve Zacharanda, came to Miami last week to cover the election because, as he put it, "I aint going to go to Ohio, am I? I go to Miami, because that's where the party is."
Smith said, "I wanted to be here because I'm here for history. The trouble is, the readers of the Birmingham Mail are going to get my version of history. And I'm just a little bit pissed."
He then said, "Thank God for the BBC, because I'm cutting and pasting, baby!"
Smith ended his rant with a "fuck you" resignation from the Birmingham Mail, saying, "My name is Adam Smith, also known as Steve Zacharanda, who has just resigned from the Birmingham Mail, the Birmingham Post and the Birmingham Sunday Mercury, to set up my own magazine...Fuckk you, I'm doing what I want."
The Times reports that Smith's employment status is now very much up in the air:
Steve Dyson, editor of the Birmingham Mail, said: "This is an internal matter, so we cannot discuss it."

Asked about the company's attitude towards plagarism, he added: "Whilst we cannot discuss internal matters, plagarism will not be tolerated in any form by BTM Media Limited - although we do not believe that any has been taking place."

In a further comment left the next morning by Mr Smith on the YouTube page, he appeared to have sobered up significantly.

"Right, the thing is, right I've just woke up. And seen this video, which I don't really remember. I've been told to phone the Birmingham Mail because I am in trouble.

"I was off duty, I am on official holiday working at the South Beach Miami Barack Obama campaign where I had just done a 18-hour shift trying to make the world a better place. Please check every BBC News outlet and see if I have cut and pasted anything. I have not, it was a joke and should be taken in the spirit it was said."
Support HuffPost
The Stakes Have Never Been Higher
Related
Popular in the Community