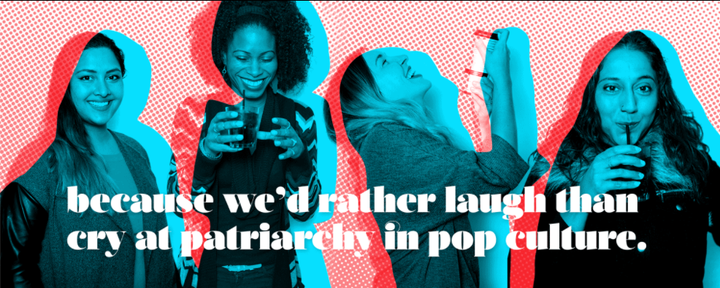 There are films we love because they open our eyes to unseen narratives and different ways of being, through carefully woven plots and complex characters. And there are films that we love because, during that one lazy summer between fifth and sixth grade, we watched them over and over and over again, memorized all the lines and found ourselves in unhealthy relationships with the romantic leads.
It's this latter category that brings so many to Drunk Feminist Films (DFF) ― a space for feminists to simultaneously indulge in and criticize the many Hollywood movies whose representations of race, gender, sexuality and class are so flawed or completely absent, it's laughable. You may not have realized as a preteen, for example, how ridiculously sex work is portrayed in "Pretty Woman," or how creepily virginity is framed in "Crossroads," or that not a single queer person speaks in either.
DFF offers live events, as well as webisodes and other online media, that allow women to watch films they love without letting them off the hook, providing drunken commentary that pokes fun at the shortcomings and tropes of mainstream Hollywood films. As the women state on their website, "we aim jokes at the oppressor and the system (and sometimes the fashion), not those experiencing oppression."
The first film to be drunkenly mocked by a group of hilarious and socially conscious ladies was everyone's favorite vampire love story, "Twilight."
Gillian Goerz, one of DFF's founders, hate-read her way through the books and, like so many, was curious to see how Bella and Edward would play out on screen. So she drafted a drinking game that would inject some feminist exegesis into the supernatural romance. Or, at the very least, it would get her drunk. Goerz invited friends over to participate, including DFF co-founders Amy Wood, Steph Guthrie and Shaunna Bruton, and a movement was born.
After the success of the "Twilight" drinking game, the DFF team decided it would be fun to film future rounds and share them on YouTube. They also set up a Twitter account soliciting requests for more films for DFF to tear into. And they recruited a larger cast, ensuring that the DFF ringleaders would embody the diverse representation they were demanding of their movies.
"Expanding from the original four founders into a cast was so important to us," Goerz told The Huffington Post. "It was initially four white women, and we didn't think that was OK. We wanted to reach out as soon as people were interested in the idea. We didn't want it to be us front and center."
Today, DFF has 13 rotating cast members who, when they're not smashing the patriarchy, work as comedians, writers, social workers, public servants and designers. They participate in DFF both through making pre-recorded YouTube videos and hosting live events, most often held at Toronto's arthouse theater Royal Cinema. The in-person happenings, which regularly sell out, invite angry viewers to yell at the screen, throw things, and release all the pent-up tension that comes from secretly loving "Save the Last Dance" despite knowing that Julia Stiles has absolutely no rhythm. Like none.
"I think it's a way to sort of alleviate some of the guilt," cast member Resh Brown said in a phone interview with The Huffington Post. "Especially with some of the movies that came out when folks were younger. Being able to enjoy those movies together but also hate on them and trash them, I think it's a way to connect around films that bring up a lot of feelings inside."
Goerz agreed. "A lot of these movies, as Resh said, have this element of nostalgia. I think there is something about commiserating with people that helps you make peace with your own problematic past. Being able to a appreciate what was good while not ignoring what is bad is part of growing up. It's a more forgiving way to handle all of your beliefs."
The first element of a DFF screening is choosing a film ― any somewhat lovable movie with blindspots in terms of representation or truthful, empathetic storytelling. Sadly, there are plenty of options. Past showings have included films like "The Craft," "Gone Girl," "Spice World," "Bollywood/Hollywood," and "Fifty Shades of Grey." Some, like "Bridesmaids," are progressive by Hollywood standards ― it features a female-led cast. However, as Goerz put it, "you can't gloss over some of the weird racist jokes in there."
Before showing a film to a live, drunk audience, the DFF team will do a test screening, where they'll sketch out questions and point out details to be discussed. In "Love Actually," for example, the "drink" triggers include "Sexy man boss" ― whenever an older male boss becomes romantically involved with his younger, female subordinate. There's also the less political "Turt Alert!" ― a drink for every heinous turtleneck featured on screen, of which there are too many.
Many of the drinking games' rules, however, emerge on the fly. Moviegoers shout suggestions from their seats, live-tweeters chime in using the evening's previously selected hashtag, and DFF hosts update the audience accordingly. "It's something we can all join in on," Goerz said. "The hosts also say a few words about each screening before the film starts. They share their personal experience with the film and point out what is problematic, what is lovable and what is of interest."
One unifying factor aligning DFF's chosen films ― which range from romantic dramas to thrillers to slapstick comedies ― is that most were made within the last 30 years. Before then, Brown explained, films were often so problematic and dated, she felt uncomfortable even recommending them. "We want viewers to get something from the film beyond hate-watching," she said.
Although older films are often more glaringly exasperating in terms of on-screen representation, both Brown and Goerz are dubious of whether film is substantially more diverse today. "Maybe we have more general diversity, but do we have true intersectional feminist film?" Brown asked. "'Star Wars' had a white woman leading it, but very few other women in the entire movie. There has certainly been some progress, but I think we're a long way away from true representation and a genuinely diverse set of stories."
Goerz agreed. "Even when you do see some representation, it can feel tokenistic," she added. "It can feel like one step forward, 10 steps back."
Meaningful diversity and representation in film are clearly topics Goerz and Brown have spent many a cocktail discussing. They're well aware that true progress will require a fundamental shift in the film industry, not another actor of color on the red carpet. "I don't want to see Dev Patel playing every role," Brown said. "True representation isn't just the one super hot South Asian actor over and over again."
One major problem, Goerz and Brown agree, is that too often movies are made for the sole purposes of making money, and end up repeating easy formulas sure to yield mindless, box-office hits. As Goerz put it: "What is the incentive to change if they're still making money on 'Transformers 17'?"
Just as much as DFF rails against monolithic representation, they also campaign against lazy writing, one-dimensional characters, dumb humor and half-assed plots. Good films, they suggest, both respect and reflect their audience. "Perhaps we will reach equity when someone stops paying Adam Sandler to make movies," Brown pondered.
Both Goerz and Brown look forward to a future in which movie studios seriously reevaluate what they are making and why. "The thing that will bring more interesting diversity to film is not only casting more people of color," Goerz said, "but having studios shift so the crew can have freedom." The women expressed their confidence that such a change is possible, citing BBC's recently launched diversity and inclusion strategy as an example.
BBC's ambitious initiative sets concrete targets to hit by 2020, ensuring challenging on-air portrayals of people with disabilities, women, ethnic minorities and LGBT people, as well as a diverse roster of employees from various ethnic and socio-economic backgrounds. "I want us to make sure we are leading by example," Tony Hall, the BBC director-general, said upon announcing the objectives, "working with and learning from others in the industry, and using our influence to bring about real change."
The BCC's goals show what is possible when people, and studios, take inclusion, representation and, um, good writing seriously. Until Hollywood follows suit, one thing remains certain. The ladies of DFF will be vigilant. They will be outspoken. And they will be drunk.

Support HuffPost
The Stakes Have Never Been Higher
Related
Popular in the Community