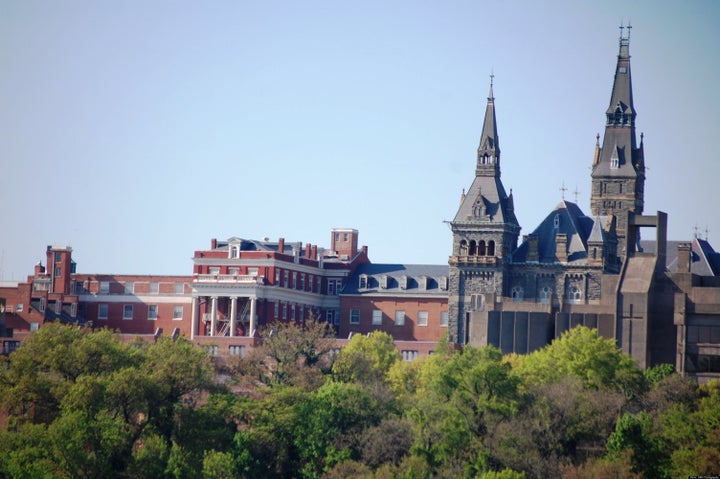 Frustrated with being kept up all night by partying Georgetown students in his neighborhood, Stephen R. Brown is taking his grief to the web -- and, he hopes, getting even.

Brown said he wants the negative publicity to hurt the university and prompt some parents to reconsider sending their kids there. He said he has the right to take the photos and post them online, and that he has police reports to back each documented incident.

"If the university would let me have a night's sleep, I might take it down," said Brown, 62, a professional photographer, in an interview Tuesday. "The students call me a 'grumpy old man.' That's fine. I have been called a lot worse than that."
For Georgetown students, it's not a site you want to be on -- an anti-Last Night's Party. Brown, a professional photographer, frequently derides students and administrators. He writes:
I wonder what [Georgetown President] Jack DeJoia [sic] is thinking as he tries to build a globally branded University with a bunch of drunken students as his forward advertising campaign?
He also complains that Georgetown deans won't give him their home phone numbers so he can let them know when parties are in full swing -- at 3 a.m.
For his part, Brown also outlines instructions on his site to curb what he calls "bad behavior":
There's a long history of drunkenness in Georgetown so...if you see bad behavior, make a phone call. You not only help yourself, you help a student perhaps study for an exam or a neighbor write a book. You may even prevent a "tragic death." There are all sorts of fascinating people in Burleith but you won't meet them at any of these social gatherings.

What do you think? Does this cross a line? Or do you empathize with Brown?
REAL LIFE. REAL NEWS. REAL VOICES.
Help us tell more of the stories that matter from voices that too often remain unheard.