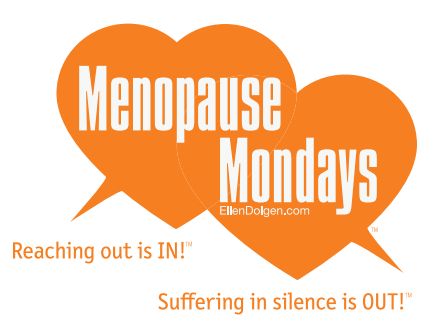 Menopause may leave you feeling dry somewhere other than where you expected: your eyes!
Dry eye syndrome is a little-known symptom of menopause. About 61 percent of perimenopausal and menopausal women suffer from dry, itchy eyes -- but only 16 percent of them realize menopause is to blame, according to the Society for Women's Health Research. It's time to change all that and start working our baby blues! (and browns and greens...)
"Many women going through menopause experience dry eye syndrome or exacerbation of their pre-existing symptoms," says Dr. Sol Shaftel, M.D., Ph.D., an ophthalmologist and ophthalmic plastic and reconstructive surgery fellow at the University of Washington.
Like with most symptoms of menopause, our hormones are likely to blame. Plummeting hormone levels are believed to affect the ocular tissues and the composition of tears your eyes produce, both of which can result in "Cheech and Chong"-style eyes. Common symptoms include dryness, light sensitivity, blurred vision, as well as burning, gritty, and sandy feelings (often called "foreign body sensation"). But don't let watery eyes fool you! Although teary eyes look like they are anything but dry, excessive tearing may be a sign that your eyes are desperately trying to make up for a lack of moisture, according to Dr. Shaftel.
Some data suggests that hormone replacement therapy (HRT) may help alleviate symptoms, but the Women's Health Initiative, which studied 25,665 women, found an increased risk of dry eye syndrome in women using HRT, and especially estrogen. Basically, the jury is still out on HRT's exact role in dry eye syndrome.
Either way, if dry, scratchy, burning eyes trouble you, know that you can feel (and look!) better without any invasive medical interventions. "These symptoms can often be treated effectively with simple measures leading to major improvements in quality of life," says Dr. Shaftel, who notes that successful treatment hinges on three major strategies: increasing lubrication, decreasing tear outflow, and reducing eyelid inflammation.
Ready for relief? Stop rubbing and try out these five easy remedies for dry eyes:
Avoid Environmental Triggers
Wind, dry air, and pollutants can all contribute to dried-out eyes, according to Dr. Shaftel. While you can't completely control your world (drat!), you can control how much havoc these elements wreck on those gorgeous eyes of yours. For instance, on windy days, wearing glasses or sunglasses can help block the wind from wicking your eyes dry. If your casa is as dry as your eyes, try a humidifier! It can bring serious relief to your eyes (not to mention to your skin!). Changing out or cleaning your air conditioner's filter can also help keep eye-irritating pollutants from entering your home.
Try Over-the-Counter Eye Drops
These are my miracle fix! I use OTC eye drops as well as an OTC gel on my lower lids at night -- and my eyes are just as happy as they were when my estrogen was at its all-time high. Per Dr. Shaftel, here's a quick overview of the options out there: tear substitutes, which are quick-acting, but provide only temporary relief; gel drops, which are longer-acting but can blur vision; gels, which are for nighttime use and will blur vision; and preservative-free formulations for those women who are allergic to preservatives. The option that's best for you -- and how many different ones you need to employ on a given day -- largely depends on just how dry and miserable your eyes are. Start with tear substitutes and work your way up. Caution: Avoid "get the red out" and "clear eye" drops as these can cause rebound redness, inflammation, and dryness if used for prolonged periods, warns Dr. Shaftel.
Take It Easy on Your Eyes
Blink, already! Being told to blink more might sound silly, but how often have you found yourself not blinking because you were enthralled in a book or a movie? Exactly. So when you must concentrate, lubricate your eyes. Another way to take it easy on your peepers is to limit how many hours a day you wear your contact lenses, Dr. Shaftel says. After all, the sexy librarian look is in!
Omega-3 fatty acids are good for more than your heart. They are also good for your eyes, says Dr. Shaftel. The connection: Antioxidants. A 2011 study from the Mount Sinai School of Medicine found that eating unsaturated fatty acids can effectively treat dry eyes. Aim to eat at least two portions of fish a week, one of which should be oily fish such as salmon, tuna, or mackerel. Don't like fish? Omega-3 fatty acids supplements can also do the trick.
When it comes to hormone (and eye!) happiness in menopause, the right experts can provide a one-two punch of relief. While you should tell your perimenopause and menopause specialist about any menopausal symptoms you experience, an ophthalmologist (eye surgeon) specializes in the anatomy, physiology, and diseases of the eye, and can help provide significant relief. "Early referral to an ophthalmologist is the most important step in getting patients the help they need," Dr. Shaftel says. Your perimenopause and menopause specialist may even be able to give you a recommendation of a local eye doc that's knowledgeable in the unique eye changes that occur during menopause.
They say the eyes are the windows to the soul. So if those windows look and feel red, itchy, and altogether inhospitable, do something about it! You'll never look back!
Reaching out is IN! Suffering in silence is OUT!
Let's hang out! Monday, September 19th at 5:30pm PST/8:30pm EST.  Ellen is hosting her Menopause Mondays Google Hangouts: Where the Sisterhood helps the Sisterhood. Start sending your questions in here!  Get ready to talk menopause with Ellen at this free online event! Stay tuned for more details.
For more by Ellen Dolgen, click here.
For more on women's health, click here.
Ellen Dolgen is an outspoken women's health and wellness advocate, menopause awareness expert, author, and speaker.
After struggling through the silence that surrounds menopause, Ellen resolved to help women reach out and end the confusion, embarrassment, and less-than-lovely symptoms that come with "the change." Her passion to be a "sister" to all women fueled Ellen's book, Shmirshky: the pursuit of hormone happiness. As a result of her women's wellness journey, and in response to the overwhelming thirst of her ever-expanding audience for empowering information, Ellen's weekly blog, Menopause MondaysTM was born.
Menopause MondaysTM allows Ellen an expansive platform from which she broadens her discussion of menopause, women's health, and life as a menopausal (and fabulous!) woman. Her weekly Menopause News Flash provides a one-stop shop for the latest menopause and women's health news and research, allowing women the access and know-how needed to take charge of their health and happiness. In addition to Ellen's ever-growing social media presence, EllenDolgen.com has fast become "the place" on the web for informative and entertaining women's menopause and wellness engagement. In 2012 and 2013 EllenDolgen.com was named first on the list of the "Best Menopause Blogs" by Healthline. Ellen is also a regular contributor to over a dozen leading women's health blogs. Her motto is: Reaching out is IN! Suffering in silence is OUT!
Ellen has appeared on the "TODAY Show," "NBC Nightly News", the "Rachael Ray Show," "The Doctors," Oprah Radio, Playboy Radio, NPR's "Tell Me More," Doctor Radio, and dozens of regional and national media outlets. Ellen is also one of the first regular contributors to debut on The Huffington Post's recently added site, Huff/Post50, which targets 116 million Americans over the age of 50.
PHOTO GALLERY
Alzheimer's Prevention Recipes
REAL LIFE. REAL NEWS. REAL VOICES.
Help us tell more of the stories that matter from voices that too often remain unheard.