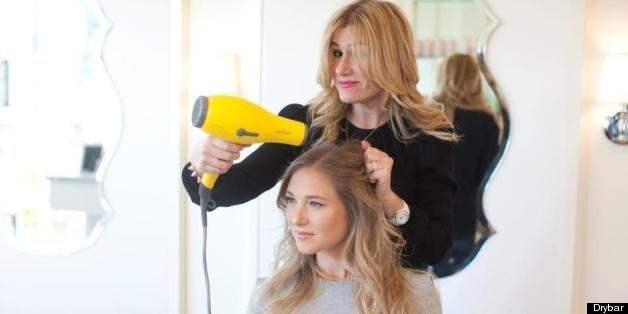 For a city that prides itself on sun-kissed hair, looking effortlessly chic and discreetly glam, Los Angeles has found itself entangled in a steamy love affair with Drybar. The blowdry bar, which charges just $35 for a professional blow dry, started right here in Los Angeles and has since expanded to 28 locations nationwide. They don't cut or color your hair. They just blow dry it. The genius behind the business, Alli Webb had been a professional stylist for years and was becoming overbooked with clients requesting blow outs at home. So she thought she'd take that demand and funnel it into a brand new business. Good instincts.
Today everyone from Brentwood moms to Westside tweens, West Hollywood young professionals and even celebrities like Cindy Crawford, Emma Roberts, Zooey Deschanel and Julia Roberts frequent Drybar on the regular. HuffPost LA emailed with Webb to find out how she built one of the most successful businesses in LA, why we suck at blow drying our own hair and the most popular styles across the country.
HuffPost LA: You have opened so many locations in California and New York, not to mention stores in many other cities all across the country. What is your expansion plan? What cities do you hope to tackle next?

Alli Webb: It's honestly been one of the hardest parts -- choosing where to open next. We have to make sure we grow at the right pace to ensure that quality is never sacrificed, which is a non-negotiable for us. The new cities for 2013 are Boston, Chicago, Houston and maybe Miami! We also just celebrated a new opening in Marina Del Rey, which is our 10th location in Los Angeles.

Your brother helped fund the business when you were getting it off the ground. Who are you funded by now? What adjustments have you had to make to your business model since expanding so much in the last couple years?

Yes, my brother Michael, who is my business partner and our CEO, put up most of the money to get Drybar off the ground. (My husband and I also contributed our entire life savings!) About a year after launching, we raised about $2.5 million from friends, family and even a few clients (including Rose McGowan) and last year we brought in Castanea Partners, an incredibly talented private equity firm specializing in retail and consumer companies, for a larger round of financing.
What is the hiring and training process like at Drybar? One concern as a customer is that you don't know who you are going to get each time and that can cause some anxiety.

We work really hard to ensure consistency across all of our 28 locations. We have a very extensive training program in place that I am proud of -- it has been a labor of love for me. Our standards are extremely high for both customer service and quality of blowouts. I believe the majority of our clients have really embraced using many different stylists -- they love the diversity each stylists brings. All of our stylists, while trained the same way, have their own style and flair that we completely encourage.

Who designed your space and what was your vision for it? Drybar has a great aesthetic.

His name is Josh Heitler, the principal of a boutique architectural firm in NYC called Lacina Heitler Architects. Josh is also a partner in the business (we couldn't afford him at first so we gave him a piece of the company instead; best decision we ever made!) and he has been so instrumental in our success.
Are there certain styles that are more popular in certain cities? For example, is the "Southern Comfort" more popular in Atlanta than it is in New York?

We seem to get a nice variety of all our different styles at every location. But yes, as you might expect, the Southern Comfort (big hair) is pretty popular in Texas and Atlanta. The Mai Tai is a big crowd-pleaser in LA ... but I'd say the Cosmopolitan (lots of loose curls) probably wins the most requested style from coast-to-coast.

How did you come up with the names of the blowout styles? They are very fun: Straight Up, Mai Tai, Southern Comfort, Cosmopolitan and Manhattan.

Once we decided on the name Drybar, it was so fun really running with the bar theme. I did have to fight Michael just a little on naming our hairstyles after drinks. But of course he fully embraces them now. I have to say I love overhearing women sitting in Drybar chatting about whether they are getting the Cosmo or Mai Tai!

How do your employees get paid? For example, two friends just went to Drybar recently and one was done in 30 minutes, and the other took two hours, but they paid the same price.

Unlike traditional salons where stylists rent chairs and are independent contractors, Drybar stylists are paid hourly plus tips.

Best tips for safe summer hair care?

Get a great blowout and wear it as long as you can (avoid over-washing), especially in the summertime. A great blowout can start out as say, a Straight Up (signature blowout -- little bit of body and movement) and then can be re-styled into a Cosmo or Mai Tai at home with a curling iron. A little Detox Dry Shampoo is a great way to get the most out of your blowout.

Why do our own attempts at blowing out our hair suck?

Ha. Believe me, I get it. Even as a professional stylist, I still have a hard time achieving the same polished look that someone else can. Much of that simply has to do with the angles you're working at when blowing out your own hair. With that said, two of the biggest mistakes, by far, that woman make is not taking their time and not sectioning. It should take you a good 30 minutes to give yourself a great quality blowout. And if you are not working in clean, manageable sections, I promise it will be so much harder.

We have heard that some customers feel their hair is getting dried out because your dryers are too hot. Do you have a response?

Our dryers are no more or less hot than standard professional blow dryers. What makes Buttercup (our blow dryer) better (in our humble opinion) is that it's both lightweight and strong. With many of the dryers we tried prior to making our own, we had to choose between one or the other. I could make the argument that it's far better to come to Drybar once a week versus washing and blowdrying your hair at home every single day.

I often go to Blushington makeup studio next door to your West Hollywood Drybar. It seems like you both send each other a ton of business. Any thoughts on opening a makeup bar?
While I adore Blushington and have actually grown really fond of getting my makeup done there, I am all about hair and hair only! Our philosophy is to focus on one thing and be the best at it. I'm sure In & Out Burger could sell a ton of chicken sandwiches, but I think it's pretty darn smart that they've stuck to burgers only.
Since Drybar set the stage for blowout bars in LA, tons of imitators have cropped up all over the city. Are you finding that this is driving business for you or are you worried about it?

It's definitely driving awareness for the overall category and actually helping our business. I can't tell you how many letters and tweets we get from clients who have tried one of our competitors and then swear allegiance and never to "venture out" again, which is very gratifying. I think people generally underestimate just how much effort and constant work this business takes. It's harder than it looks!

Drybar was named one of the top "100 Brilliant Ideas of 2010" by Entrepreneur magazine. Did you expect this to be such a gigantic success?

While I never imagined that it would get quite this big, I always knew in my bones that this was something that would really resonate with so many women and would really take off if done right. The funny thing is that my husband Cameron, who is our creative director and the genius behind all of our branding, is always such as skeptic. Yet, from the very beginning, he was always saying, "Oh, this is going to be gigantic."

If you were going to do this all again from scratch, what would you do differently?

If I'm being really honest, I perhaps would not have sold as much equity early on.
What do you think the new frontier is? What's the next "thing"?

My money is on eyelash extension joints. I recently got them, and I am hooked! All my girlfriends are getting them -- I get so many compliments. Even my hubby loves them.
My LA is a series of Q&A profiles with our favorite Angelenos. To see others, be sure to check out My LA.
(All photos courtesy of Drybar)
PHOTO GALLERY
The Life Of Drybar
Calling all HuffPost superfans!
Sign up for membership to become a founding member and help shape HuffPost's next chapter