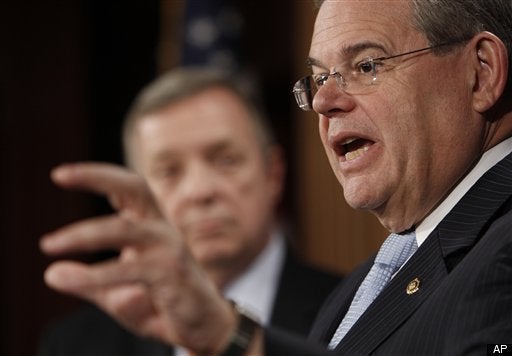 Another prominent Senate Democrat has now endorsed an idea to pass a public option for insurance coverage using reconciliation.
Democratic Senatorial Campaign Committee Chairman Robert Menendez (D-N.J.) became the 20th Senator to sign a letter to Majority Leader Harry Reid (D-Nev.) urging the Nevada Democrat to put a government run insurance option through the parliamentary process that would allow it an up-or-down vote.
Menendez's office confirmed his signing of the letter to the Huffington Post on Saturday afternoon.
Next to Sen. Chuck Schumer (D-N.Y.), Menendez is now the highest-ranking caucus member to sign on to this approach. Reid himself said he would be willing to work with House Democratic leadership and White House officials to craft a public plan that could pass through reconciliation.
Fifty-one votes are needed for this to be successful. But clearly, momentum is building -- so much so that the process has now reached a stage where progressive would feel more than a hint of demoralization if a public option wasn't included in the final package.

Popular in the Community