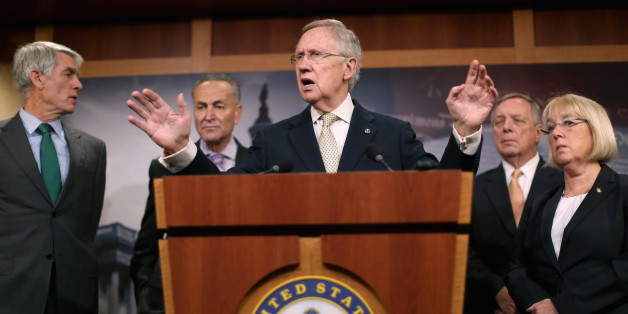 WASHINGTON -- Continuing its trend of strong fundraising cycles, the Democratic Senatorial Campaign Committee will announce on Friday that it raised nearly $22 million during the second quarter of 2014, expanding its lead over its Republican counterpart.
The $21.7 million raised between April and June gave the committee its strongest second quarter in its history. The haul brings the committee up to $95.8 million raised for the entire cycle, which aides say is the most it has ever raised by this point in an election year.
The National Republican Senatorial Committee, meanwhile, has raised $70.3 million this cycle, which spokesman Brad Dayspring said is "a record-setting pace for this organization." At this point in the 2012 cycle, the NRSC had raised $68.6 million.
But the NRSC's intake hasn't been enough to keep up with its Democratic counterpart. In June, the Republican committee raised an estimated $6.04 million, according to Dayspring. The DSCC, in contrast, raised $7.2 million, the third highest monthly total of the cycle (the committee raised more than $8 million in both March and May). As of now, the DSCC has $30.5 million cash on hand.
Senate Democrats hope the committee will raise huge sums of cash to help them compete with money from conservative outside groups. According to Matt Canter, a spokesman for the DSCC, the conservative industrialists Koch Brothers and other outside entities have spent more than $62 million on television ads alone so far this cycle. Tom Steyer, the hedge fund manager and environmentalist, has pledged to spend $50 million of his own money to help Democrats, in a bid to counteract conservative dollars. But he has had trouble finding matching donations from fellow Democrats.
"While the Koch Brothers continue pouring countless millions into Senate races to prop up Republican candidates who would privatize Social Security, gut Medicare, and limit access to common forms of birth control, Democratic candidates are running smarter, better campaigns and lead in battleground races across the country," DSCC Executive Director Guy Cecil told The Huffington Post. "Thanks to the hard work and generosity of our supporters, with less than four months till Election Day we are positioned to hold the majority."

The DSCC faces a tough landscape this election cycle, as most of the top-tier races feature endangered Democratic incumbents in traditionally Republican states. But the party has maintained its standing in the polls in several of those contests. And though these candidates have begun to lose their financial edges over their Republican challengers, Democratic operatives have been encouraged by the DSCC's ability to out-raise the NRSC -- an advantage that Dayspring downplayed as largely inconsequential.
"Republicans have better candidates who are running better campaigns, but the Democrats' fundraising machine remains the last vestige of their grasp on the Senate majority," he said. "In 2006, Republicans made the same money arguments that Democrats are making today, and proceeded to loose control of the House and Senate. History is a funny thing, it repeats."
CORRECTION: An earlier version of this piece said the NRSC raised $5.3 million in June. The correct total was $6.04 million
Want more updates from Sam? Sign up for his newsletter, Spam Stein.
REAL LIFE. REAL NEWS. REAL VOICES.
Help us tell more of the stories that matter from voices that too often remain unheard.
BEFORE YOU GO
PHOTO GALLERY
Elizabeth Warren