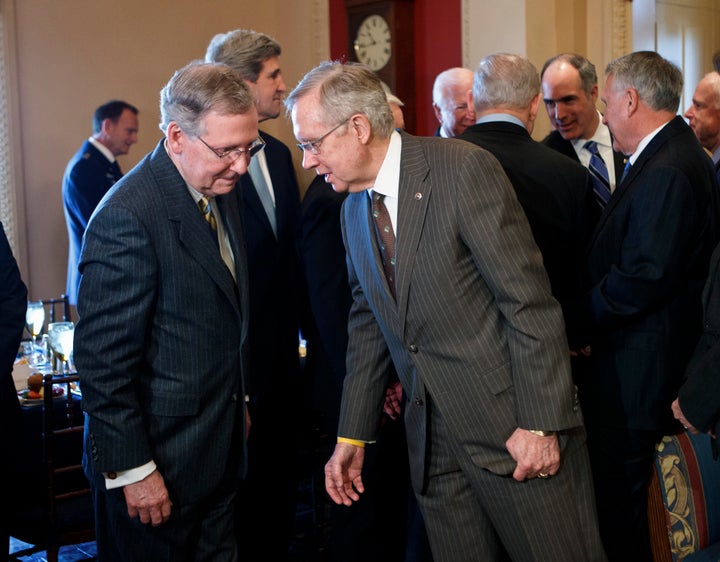 WASHINGTON -- The top Democrat in charge of protecting his party's majority in the Senate thinks it can be done. But he's deeply concerned his organization won't have the money to do it.
Guy Cecil, the executive director of the Democratic Senatorial Campaign Committee, figures the odds of preventing Mitch McConnell from taking Harry Reid's gavel have improved over the last six months, to the point where he now says Democrats have a 50/50 shot at retaining the majority.
But in a recent interview from his Capitol Hill office, Cecil offered his most explicit warning to date that the moneymen in the Democratic tent need to start writing checks.
"The money," Cecil told The Huffington Post, when asked what kept him up at night. "Our allies need to wake up. Our allies need to understand that the majority in the Senate is in danger and that everything from jobs and the economy and women's health and Supreme Court justices, Wall Street reform -- all the things that they have worked so hard for -- will be for naught if we lose the Senate."
While Democratic Senate candidates have about $50 million more in the bank overall than their Republican counterparts, they have been outspent by a factor of nearly three to one -- $29.1 million to $9.3 million -- in the advertising wars, largely thanks to the outside groups and super PACs willing to spend unlimited amounts of money.
According to data provided by a Democratic source familiar with ad buys, the biggest spender on Senate races has been the U.S. Chamber of Commerce, which has already pumped in more than $11 million for "issue" ads that benefit the GOP. After that come the Karl Rove-hatched groups American Crossroads and Crossroads GPS, with at least $7 million. The group 60 Plus, billed as a conservative alternative to the AARP, has spent more than $4 million.
The biggest spender on the Democratic side, meanwhile, has been the League of Conservation Voters, shelling out some $2.7 million, according to the source. The still-growing Majority PAC, a super PAC formed by Democratic operatives to sway Senate races, has been good for $1.7 million.
"They need to -- and we all need to -- step up and make sure that our candidates have the resources they need, that we can push back on these super PACs, that we can make sure our side of the story is heard," Cecil said. "I am confident that if we can close the gap financially, we will hold the Senate. But it's also a big if."
Cecil points to recent electoral history to back up his claim. In the race he ran in 2010 -- Colorado Sen. Michael Bennet's campaign against Tea Party-backed candidate Ken Buck -- spending was close and Bennet won by just 1 percent. A similar dynamic characterized the races Reid, the Senate majority leader, won in Nevada and current DSCC Chairwoman Patty Murray won in Washington that year.
"In the next three closest Senate races where we lost, we were drastically outspent -- Illinois, Wisconsin and Pennsylvania. That's not a coincidence," Cecil said. "I think it's instructive for this cycle that you have to be financially competitive if we're going to hold the Senate. And if we're not, then everybody is going to wake up on Nov. 7 and be incredibly disappointed with the results."
While 2008 and 2010 have been national wave elections, Cecil thinks this year's campaign is taking place in what is overall a much more neutral political environment. For the Democratic party to emerge from that climate with the majority intact, he added, it would need to get the spending ratio down from that three-to-one margin to something more like three-to-two.
One source of fundraising could, conceivably, be President Barack Obama's campaign committee, which can make transfers to the DSCC. But Obama for America didn't make those transfers in 2008 and Cecil gave no indication that he expected it to do so in 2012.
"Every cycle we have gone through this, where at the beginning of the cycle all of these stories get written," he said. "We are working very closely with OFA. We fully expect to work very closely with them, [and] we will see what they decide to do later on."
Democrats have raised the specter of devastating defeat in order to prompt more giving before. Most notably, the Obama campaign sent out a fundraising appeal several months ago highlighting a poll that showed the president trailing in his reelection effort. As they did in the wake of that email, Republicans responded to Cecil's assessment with charges of disingenuousness.
"Considering that just last week national Democrats were bragging that they had over $50 million more in the bank than Senate Republican candidates, their spin this week is interesting to say the least," said National Republican Senatorial Campaign Committee spokesman Brian Walsh. "They must not think very highly of their donors' intelligence because it's clearly aimed at misleading liberal activists into opening up their pocketbooks."
Even Cecil's predecessor, J.B. Poersch -- who now runs the Senate-focused Majority PAC -- felt that Cecil was overstating the risk of being drowned by Republican cash, though he insisted that his concern was a legitimate one.
"I don't think we will get buried under an avalanche," Poersch said. "There is a system that allows for widespread undisclosed contributions that will favor the Republicans, which means they will have some kind of financial advantage.
"Winter was a hard time for Democrats to compete on the third-party front. But things have picked up. We have been in five states ... and there is more coming," Poersch added. "The other side will spend more money than we will. And my hope is that Democrats and their donors recognize that we can't let Republicans win in an environment that is beneficial to Democrats. We can't lose races because of money."
Cecil, likewise, emphasized that Democratic candidates had an inherent advantage over conservative super PACs in that they were able to purchase ad time at lower rates, owing to benefits accrued under campaign finance law.
But cash isn't everything, he added. Democrats are benefiting from solid candidate recruitment, just as Republicans embrace more extreme candidates unlikely to attract support from moderates.
Voters, Cecil predicted, will balk at the idea the Senate could go the way of the House, with Republican Senate candidates embracing Tea Party orthodoxy to win primaries. Specifically, he pointed to the recent GOP primary win by Indiana's Richard Mourdock, who actively campaigned against the idea of bipartisan compromise, over six-term Sen. Dick Lugar.
While Republicans insist they'll be fine with right-wing candidates, Democrats view Mourdock as a gift. "Ultimately, the reason I believe [Democratic challenger Rep.] Joe Donnelly has a shot in Indiana is less about ideology and more about the fact that his opponent has simply said I will not work with any Democrat," Cecil said. "We can't function that way. It just does not work."
Even more recently, the surprise Senate primary win of Deb Fischer, a little-known state senator in Nebraska, was helped by the endorsement of former Alaska Gov. Sarah Palin, underscoring the fortunate breaks Democrats feel they have received during the Republican primary cycle.
"She was here right before you," DSCC Communications Director Matt Canter said of Palin, jokingly portraying the 2008 Republican vice presidential nominee as a Democratic mole. "The one o'clock hour."
Below, browse through a list of the most prominent super PAC donors: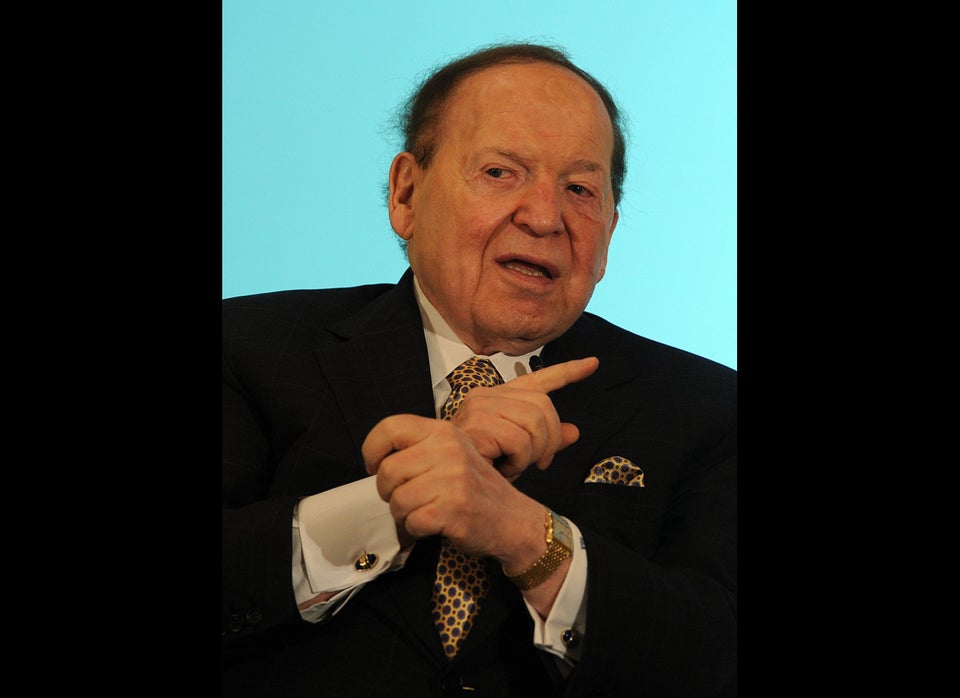 Donors Giving $500,000-Plus To Super PACs