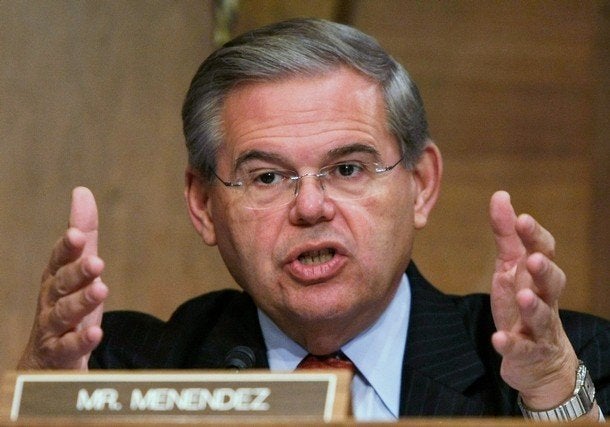 Democratic Senatorial Campaign Committee Chairman Robert Menendez (D-N.J.) insisted on Wednesday that the Democratic Party remains in a strong position even after two prominent senators announced they would not seek re-election.
The New Jersey Democrat, speaking hours after Sens. Chris Dodd (D-Conn.) and Byron Dorgan (D-N.D.) announced that this year would be their last in elected office, pushed back hard on the idea that Democratic senators were dropping like flies.
"Absolutely not," Menedez insisted in an interview with the Huffington Post. "We recognize the history, that midterm elections of the president's party going back to the Civil War are a challenge for the president's party. Only three times in history since the Civil War has the president's party sustained their present status or enhanced it. So, the bottom line is we have history running against us."
"I can say that while everybody today is riveted on these two retirements, the fact is Republicans have six retirements and they have to run the table across the board just to stay even to where they're at," Menendez added. "And in five of those six states we have some great candidates in very competitive races. So I look at it and say you wouldn't be seeing people getting into races in the senate if in fact it was a bad environment."
Menendez, of course, is paid to spin even the most troubling news. But among other political strategists, from the White House on down, there is a notable lack of panic. In addition to the six Senate Republican incumbents who have decided not to seek re-election (compared to the two Democratic incumbents) there are 14 GOP incumbents in the House who have decided not to seek re-election (compared to the ten 10 Democratic incumbents have made the same decision.)
As for the new Senate vacancies, Menendez said that he expected Connecticut Attorney General Richard Blumenthal to announce his bid for the Democratic nomination, after which the DSCC "will strongly embrace and support his candidacy for the Senate." In North Dakota, the seat seems far more difficult to maintain though Menendez said he was "talking to a series of people and we have the full expectation that we will have a solid Democratic candidate."
The calmness on Menendez's part was owed, he said, to the structural and messaging problems currently plaguing Republicans.
"[Republicans] are having some really bloodletting primaries in virtually all of their states. Particularly in open-seats, they are having these huge primaries," Menendez said. "Whether it is the tea party people or the birthers or others, the reality is that the extreme right wing of the Republican Party, they keep pushing their candidates further and further to the right... So, the bottom line is, they are going to be out of sync of where the mainstream electorate is in the midterm election."
Compounding matters for the GOP, Menendez predicted, was that Democrats will have actual legislative achievements upon which to structure their candidacies. The New Jersey Democrat insisted that his candidates will run on health care reform even as several conservatives urge Republican candidates to call for the bill's eventual repeal.
Menendez also insisted that the president, while deeply unpopular in some conservative locations, will nevertheless be an asset come 2010.
"I think the president will be an asset in anything we do," he said. "And, secondly... in these elections this year, it won't be just a referendum on Democrats. This will be a referendum on Democrats versus Republicans. And we will not allow the election to be just about us. It will be an election about choices and differences and contrasts. That will be very clear to the electorate."
REAL LIFE. REAL NEWS. REAL VOICES.
Help us tell more of the stories that matter from voices that too often remain unheard.