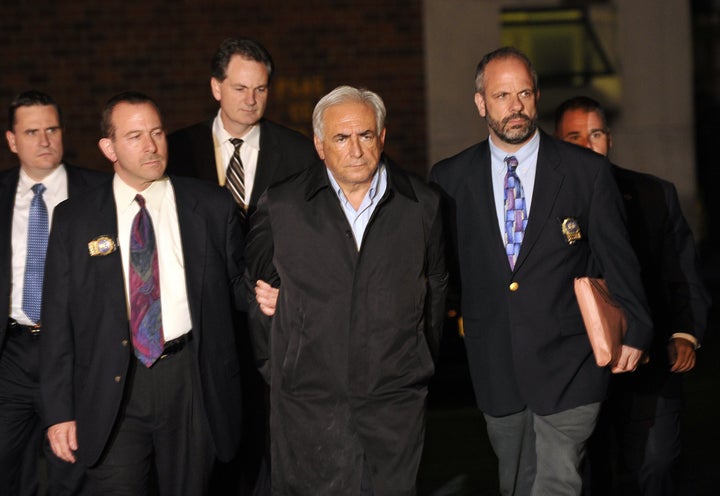 PARIS, May 21 (Reuters) - Angry French feminists say local media have been awash with male chauvinist comments since the arrest of former IMF chief Dominique Strauss-Kahn on charges he attempted to rape a New York hotel maid.
Feminist organisations published a petition saying they were "stunned by the daily flood of misogynist comments by public figures" since the French former finance minister was detained. He denies the charges and is currently on bail.
In their statement, the feminists said friends and allies of Strauss-Kahn had downplayed the plight of the alleged victim in their rush to defend the Socialist, who until his fall was well placed to beat President Nicolas Sarkozy in 2012 elections.
The lawyer for the maid said his client was a 32-year-old widow from the West African nation of Guinea, who has a daughter aged 15.
"We do not know what happened in New York on Saturday May 14, but we know what has been happening in France in the past week. We are witnessing a sudden rise of sexist and reactionary reflexes, so quick to surface among part of the French elite," the groups said in a statement on the website of Le Monde.
Organised by groups including "Osez le feminisme" and "La Barbe", the petition was signed by more than a 1,000 women, including TV journalist Audrey Pulvar, whose partner Arnaud Montebourg is bidding to be the Socialist candidate next year.
"There is a certain impunity in France when it comes to this kind of uninhibited sexism," the groups said.
The groups said that 75,000 women were raped in France every year and that sexist language in public tended to minimise the gravity of crime, turning it into a vague and more or less acceptable act.
The groups referred to specific statements, including one by former culture minister and Strauss-Kahn ally Jack Lang, who said Strauss-Kahn should have been released on bail earlier, considering that "nobody has died".
Journalist Jean-François Kahn, no relation, denied rape had taken place and dismissed the affair as "troussage de domestique", a phrase that evokes a master having non-consensual sex with a servant.
A friend of Strauss-Kahn and his journalist wife Anne Sinclair, Kahn later apologized for the remark.
"This kind of language generates an intolerable confusion between sexual freedom and violence towards women. Violent acts, rape, attempted rape and harassment are all the mark of men's desire to dominate women's bodies," the feminist groups said.
Related
Popular in the Community