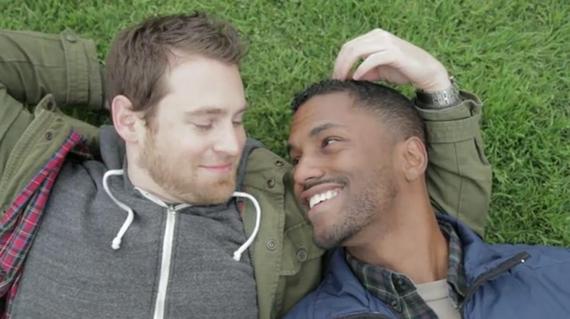 Full disclosure: I love TV. Like... love it.
In recent years I have moved away from the traditional cable TV setup that I grew up with and, like so many of you reading this, made the jump to streaming sites for watching my TV stories.
With the success of their recent gamble on original content with shows like Orange Is the New Black, Netflix is set to be the next big thing in entertainment media, and with this past week's release of DTLA, the streaming service is taking another bold step toward being crowned the new king of queer programming as well.
Every king has a crown, and if Netflix is king, DTLA is well on its way to being its new crown jewel.
As the title implies, the show is set in downtown Los Angeles and chronicles the friendships and sex lives of eight friends and the people who populate (and complicate) their lives. (The cast includes Melanie Griffith and Sandra Bernhard playing co-parenting lesbians, people. Get hip to it!)
This week I caught up with DTLA creator/director Larry Kennar, co-producer and actor Darryl Stephens, and cast members Danny Roberts and Matthew S. Herrick.
Watch the trailer, then read our chat below.
Logan Lynn: Hey, guys! Thanks for being here today. So how was DTLA born?
Larry Kennar: I wanted to do a drama series that felt like a documentary with heavy improv, and I wanted to see gays portrayed in a way I could relate to, meaning having straight friends too, and not just living a 100-percent gay existence.
Lynn: For the rest of you, what was it about DTLA that originally moved you to get involved?
Darryl Stephens: Larry approached me about being involved as an actor and as a writer/executive producer. He'd seen my work on Noah's Arc but also read a script I'd written a few years back. His first comment when he approached me about DTLA was that he wanted to see me play something that showcased what I could do outside of Noah's Arc. It was a very risky move, on all parts, and I think there was something really appealing about that as well. It was dangerous to be trying to pull off a television series with no network and no production team in place. It was insane, really. But we jumped into it because we were all interested in seeing a show about these types of characters.
Matthew S. Herrick: I think when I first started working on the show, what attracted me most was the honesty of the characters. Everyone was extremely flawed. There's not necessarily the knight in shining armor, just real people reacting in real ways to the struggles and people in their lives.
Danny Roberts: Larry approached me probably a couple of years before it happened, and he found me off in the deep yonder of the world outside of L.A. At the time, I had divorced myself from the entertainment world, so I passed. Fast-forward a couple of years later: Larry and I stayed in touch, and I got to know a much more personal side of him. He won my trust, and then Darryl came on, and that sealed the deal.
Lynn: That all sounds like it was meant to be.
Roberts: Yes. The entire thing seemed to organically blossom out of the ground with Larry tilling, and all the right pieces fell together.
Kennar: I love these guys. I consider them real friends. We are very lucky.
Lynn: I know that not everybody is here to defend themselves, but which members of the cast would you say are most like their characters?
Herrick: I think every person in the cast injected a part of themselves into the characters. I think we all kind of embellished our truths. No one is really like the characters they portrayed.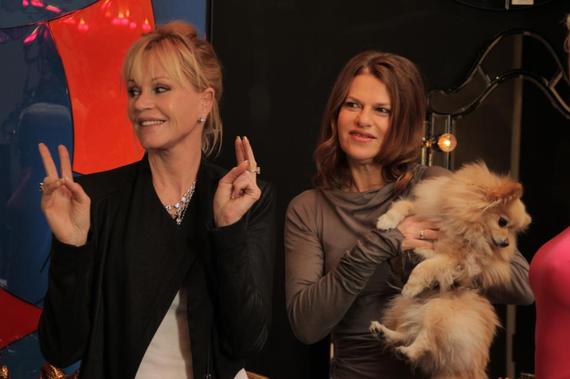 Lynn: What about least like their characters?
Stephens: Well, Matthew Herrick is employed.
Roberts: Yes! Matthew is actually a decent and sweet guy in real life.
Lynn: I like that you guys are having a love fest during our interview. It's so sweet.
Kennar: He just smokes pot!
Herrick: [Laughs.] I'm a one-hit wonder. I hardly call that smoking pot.
Stephens: Everyone smokes pot. We all brought elements of our personalities, but the characters' circumstances were often pretty far from what we were living at home.
Lynn: I watched the uncensored version on Netflix, and it was racy. Penis party! How is it to film the many sex scenes for you? Luckily, all your co-stars are attractive, but is it still weird to be naked and showering and simulating sexy time with a crew of people around?
Roberts: It was definitely awkward and pushed my comfort level, but I like a challenge, and yes, it helps that the co-star is a sexy man -- but don't tell him that. There was easy chemistry there.
Stephens: Danny and I had a talk before we shot that shower scene, which was the very first scene of the entire series that I shot, and we established our boundaries. That allowed us to make it look as hot as it did. We felt safe with each other, even though at the time, we were probably both stressed-out about where it was going to end up and how it was going to look.
Lynn: The first scene of the series? Oh, God. Sink or swim, gurrl!
Roberts: [Laughs.] Yeah. What a way to start filming the project! Which made me think for a second, "What the hell have I gotten myself into?"
Lynn: Just rip that Band-Aid off!
Roberts: Broken in right away. The rest of it felt easy compared to that.
Stephens: Yes, I agree. Starting with that made the rest of it seem pretty simple.
Lynn: Larry, you came from producing on Showtime with The L Word, where I'm guessing it was much more "anything goes" than Logo. Has the show been impacted by network standards and practices at all?
Kennar: Yes, it has. In hindsight, I think DTLA was never meant for Logo's target audience. It was awesome to get the opportunity to try it there, and it was the only place that seemed obvious at the time. We had some technical issues that hurt us. Unfortunately, about 10 minutes of story content had to be cut out of each episode for commercials, and viewers found their DVRs were cutting off the very last scene of each episode. Viewers became frustrated and checked out. That was a big disappointment, but Logo remained enthusiastic. Netflix and Hulu have been huge for us. They are airing the uncut version. On top of that, the binge viewing alone has been perfect for DTLA, which is really, at its core, a soapy drama. Netflix is truly the mecca for LGBT programming and content. There's an incredible amount of diversity within their gay programming.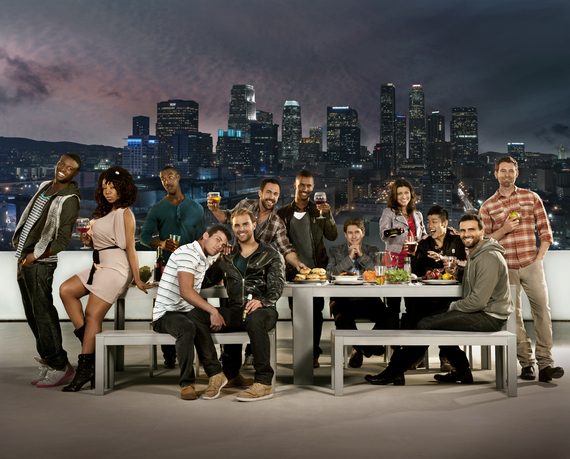 Stephens: We didn't shoot this show for Logo. We shot it thinking it would be on Showtime or some cable network that wouldn't balk at sexuality and curse words, so it was actually really challenging to see what Logo was able to broadcast versus what we shot and the story we were trying to tell.
Lynn: Censorship sucks. While we are talking about things that suck, I'm guessing that where there is diversity, there is also bigotry. The LGBTQ community likes to pretend that racism does not exist within our culture, but it is clearly alive and well. Do you feel like this systemic racism has played into the show's reception at all?
Stephens: Good question! I think it's certainly easier for America to watch a gay show when the main couple is two white dudes. We were very deliberate about not wanting to portray that. Even Noah's Arc felt like it ended when it did because it didn't appeal to enough of a cross section of people. It was a world within a gay chocolate bubble, and if, for whatever reason, people weren't into black men, that show didn't resonate. But with this show, as with life, there's something for everybody!
Herrick: I think the younger audience doesn't care about the racial and sexual orientations of people as much in TV shows. This isn't something that would keep them from watching a TV series. If it's good and entertaining, they are in. The world is changing rapidly. DTLA brought a diversified group together that gave a wide range of people something to relate to and appreciate.
Lynn: What are your dreams for what comes next?
Roberts: I hope this project gets to continue so that we can dig deeper into real issues that a lot of people from different sexual backgrounds face, and not the vanilla stuff that mainstream society can swallow. I think we scratched the surface and want to go a lot deeper in the future.
Stephens: Deeper. [Laughs.]
Roberts: Literally deeper and literally not vanilla.
Lynn: I'm excited to see where your characters go next season. From the sound of you two, more showering, no doubt!
Stephens: Yes, more showering for Waylon.
Lynn: Without giving anything away, the Season 1 cliffhanger is nothing short of insane. What are your current plans for Season 2? We're dying out here!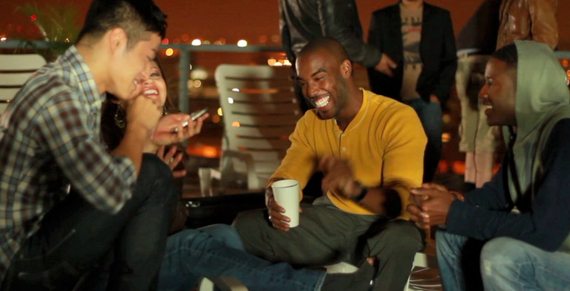 Kennar: We have already developed eight one-hour episodes for Season 2. We are in discussions with a company about financing it. That can and will happen if enough people are able to see this on Netflix and Hulu. We will do anything to get this to happen!
Lynn: As a viewer, I somehow feel the same way.
Herrick: Someone call Netflix and let them know I'm ready to start filming!
Lynn: What are your hopes for where your characters will go next?
Stephens: I'd like to see Lenny fall in love. So much of Season 1 was about the loss of his relationship. I'd like to see him lighten up and stop being such a stress case.
Lynn: Yeah! Take a yoga class and go on a meditation retreat already, Lenny!
Stephens: Maybe Lenny falls in love in a hot yoga class. All sweaty and limber.
Herrick: Well, I feel like a downer saying this, but I think I'd like to delve into addictions and depression with Bryan before he gets better, and I do want him to get better, but realistically one struggles for the rest of their life with this stuff. I think it's important to talk about this, especially now. It's a universal issue.
Lynn: Yes! I would love to see issues of LGBTQ mental health and substance abuse explored and destigmatized through the process of visibility. There are real opportunities to shift the culture there.
Stephens: Agreed! I think Bryan has a lot of work to do, and I think seeing that process is important to our audience. So many deal with addiction, and it's not something that just goes away.
Lynn: Absolutely. What about other guest stars or people you are dying to work with or have on the show?
Kennar: We've already spoken to Sharon Stone, David Hasselhoff and Roseanne Barr. They are very into it!
Stephens: I love the cameos and the stars we had, but I'd also like to see new talent, people we haven't seen before playing amazing roles. We have an opportunity as a smaller show to give our brilliant artist friends a platform.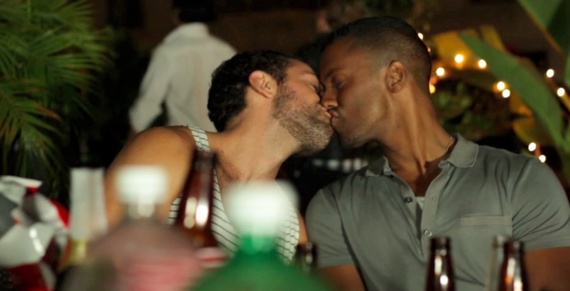 Lynn: What can we do to end our cliffhanger suspense and make DTLA Season 2 happen? Should we bombard the Netflix office with letters?
Herrick: People just need to see the show. That's going to make the difference.
Lynn: Thanks so much for chatting with me today, you guys.
Herrick: Thanks, Logan! We appreciate the support. And if you could write a letter to Marisa Tomei to let her know I'd like her to play my drug counselor, I'd appreciate it.
REAL LIFE. REAL NEWS. REAL VOICES.
Help us tell more of the stories that matter from voices that too often remain unheard.