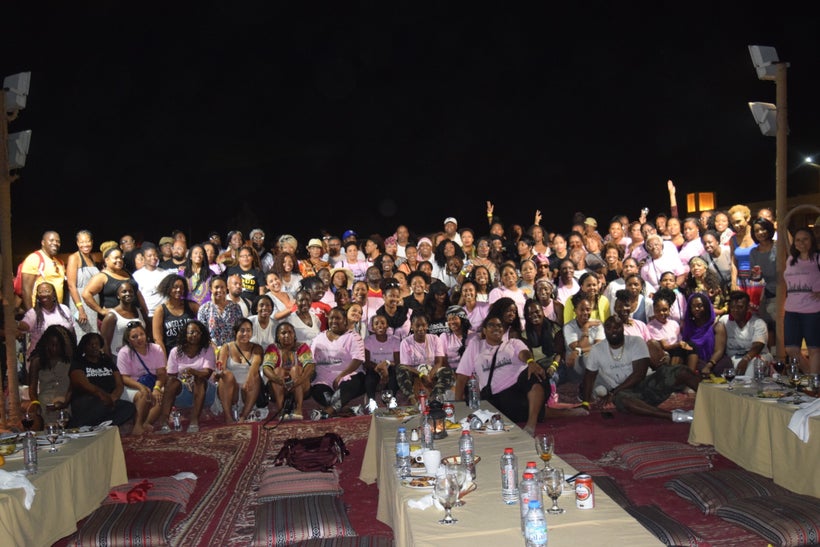 Over the past several years, Kenna Williams known to many as "Pusha Kee" or the creator of #BookDatIsht has become very passionate about seeing the world. She has had the opportunity to visit over 30 countries and visiting some countries several times. This year alone she has visited Panama, Spain, Portugal, Morocco, Canada, Thailand, Vietnam, Malaysia, Singapore, Indonesia, Maldives, India, Kenya, South Africa, Seychelles and Colombia. Later in the year, she will head to New Zealand, Australia and back to one of her favorites, Panama.
Ms. Williams's first visit to Dubai was in 2014 on her way back from South Africa. She was there with a small group of friends but decided to go back again. For the past three years, Ms. Williams has been coordinating this trip. In 2014, Kenna was in Dubai with approximately 30 friends. In 2015 she returned with 80 of her friends and this year she had a beautiful sea of over 250 black queens and kings exploring Dubai and Abu Dhabi.
What made this event such a success was there were all age ranges attending from 20s-80s, individuals in all professions including educators, engineers, accountants, doctors, nurses plus student and various types of entrepreneurs, there were several people receiving their passport stamp for the first time and some conquered their fear of flying one of the ten longest flights in the world! The collective group of travelers were primarily from the United States but some flew in from Jamaica, Spain, Oman, Kuwait and other countries.
Some of the highlights of the trip included the infamous and indulging Saffron Brunch at the Atlantis Hotel in Dubai. This brunch includes unlimited food and drinks in a Halloween theme backdrop for the holiday's festivities. A live DJ was present to get the party going. Other highlights included a Halloween party on the beach with DJ JAZZY JEFF. A luxurious yacht cruise was coordinated which included a nice four hour cruise in the Dubai Marina to see the alluring skyline of Dubai and to enjoy all that the yacht had to offer. The group went away to the Dubai Desert Conservation Centre for a desert safari which included dune bashing, a falcon show, sand boarding, camel rides, henna art, shisha, belly dancing and a lavish meal which included perfectly grilled meats under the night desert sky. The large group also did some cultural activities such as taking a tour to Abu Dhabi which afforded them the opportunity to visit various museums, Emirates Palace, Heritage Village and the highlight, the Sheikh Zayed Grand Mosque. Most of the travelers wore the official Dubai Blackout shirt throughout the week. You can obtain your Dubai Blackout Official Shirt by visiting the BarrisTourista Travel Store.
This trip was very sentimental to Ms. Williams not only because of the number of people that participated but because her brother, Tony Williams, was supposed to be on the trip to Dubai to receive his first passport stamp, but God had other plans for him. In February 2016, Tony's life ended untimely. This episode was not going to stop Kenna. She continued the mission and brought her brother's other half, his wife LaKisha, who received her first passport stamp.
Kenna shared 'that the Tribe teaches predominately African Americans to get out and explore the world.' I spoke with Chantelle Harmon-Reed of New Orleans, LA a new member of the tribe stated "she loved to travel and wanted to learn more about other countries. She stated always be open-minded, expand your horizons and know that you can travel on a budget."
The Nomadness Travel Tribe was created by Evita Robinson, stemming from her travel series Nomadness TV, which is an online social community of travelers and expats all around the world. In the Tribe, they come together to share stories, advice, dos and don'ts, in an interpersonal setting. The majority of their members are bridged by an urban background. They are a travel community before all else. Some of their noted extracurricular activities include meet ups all over the world with members, NomadnessX group trips to every corner of the Earth, Nomadness Travel Tribe Conferences. The tribe travels 'outside the box' while representing the under-represented in the industry.
REAL LIFE. REAL NEWS. REAL VOICES.
Help us tell more of the stories that matter from voices that too often remain unheard.
This post was published on the now-closed HuffPost Contributor platform. Contributors control their own work and posted freely to our site. If you need to flag this entry as abusive,
send us an email
.