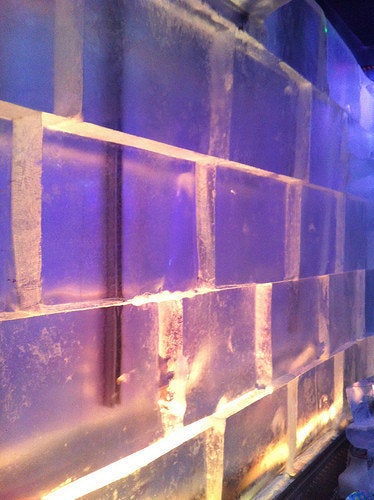 Hot. That is the main word of warning I got before visiting Dubai, from guidebooks to friends, and heat is indeed something I encountered during my September vacation. While well-intentioned friends had warned me I needed to wear a headscarf and dress modestly, nowhere in my travels did I find this to be true. I did have to dress in light clothing for the weather, which wasn't at its summer heights, but was still formidable for a first-time Western visitor.
So when I read about ice bar Chill Out Lounge in Times Square Centre, listed as a mere footnote in one of my guidebooks, I knew I had to visit. I've been fascinated with the glamour of ice hotels in Quebec, Norway, Sweden and Switzerland, and the existence of Turkey's Magic Ice Museum and Norway's Magic Ice gallery and bar, but was unsure if I could handle that level of cold. If the idea of freezing in the name of travel intrigues you, check out the annual art competition to design rooms at Sweden's Icehotel; this year's feature snow sculptures, an homage to Fibonacci and and a pink flamingo.
Entrance to Chill Out Lounge costs 60 dirhams (about $16.50), which also gets you the use of a hat, gloves, coat and boots, plus a free beverage (hot chocolate, coffee and mocktails, as well as soup and snacks are available). I bundled up, pulled the chilly metal door open, and entered an icy wonderland. The cafᅢᄅ was empty on my arrival at around three on a weekday afternoon, save for the ice sculptures, carved into camels, hearts, penguins and Dubai landmarks like the Burj Khalifa, the tallest building in the world.
I noticed immediately that there's something undeniably sensual about the beauty of the ice suspended from the ceiling, yet not dripping, the shag-covered ice chairs and tables carved out of ice. When my bare calf brushed against the table beneath me, I wished my cold-loving boyfriend were around to cuddle with. Indeed, Chill Out's tagline is "Reason to Get Closer," and the bar has plenty of them. Unlike being stuck in actual winter weather you can't escape, you're offered a temporary and manageable escape from the heat, and if you get too cold you can warm up with soup or a hot beverage. If you're looking for a fun date in Dubai, this place is perfect.
Yes, it's kitschy, but even the most basic elements, such as a giant wall made of ice blocks, are beautiful, almost majestic; it's hard to reconcile that they are, essentially, the same thing as the puny little things that come out of your freezer because they are works of art rather than utilitarian everyday objects.
My body soon adjusted to the 21.20 ᅡᄎF temperature; I felt cozy snuggled in my coat and boots, and the exposed parts of my skin provided a welcome contrast. It wasn't the kind of cold that shocks your lungs or makes you see your breath in front of you, but the kind that you slowly get used to, like the first day of a brisk winter. I kept taking one glove off to snap photos and pet the giant pieces of ice hanging next to me, dangling and dazzling, then putting them back on.
My hot chocolate arrived in a light metal mug, tasting rich and sweet, just thick enough, and buying me a few more warm minutes to bask in the colorful lights brightening the ice. Two couples joined me, marveling at the sculptures; a woman offered to take my picture next to one of the sculptures, before escaping into a corner with her date.
It's easy to forget you're in the middle of an otherwise unremarkable mall when you surrender to the intimacy of the Chill Out Lounge. Yes, they've managed to create something at once touristy and special. The shag coverings on the benches made me want to curl up on one, and the sleekness of the ice's surfaces was a wonder to behold. The tourist factor was mitigated by the fact that, save for a waiter asking for my order, the staff was scant, and there were no souvenirs for sale.
I stayed for as long as my body could handle the cold, about half an hour. My chill didn't last long; back in my regular clothes and flip flops, stepping outside in the late afternoon sun warmed me instantly, but I welcomed the heat.
In a city where so many things are outsize and bigger than one can even take in (The Dubai Mall, the world's largest, has 1,200 outlets and is set to expand in size, while the Burj Khalifa is the world's tallest building), Chill Out Lounge is a simpler kind of beauty. The ice carvings are lovely but thankfully not over-the-top; I found the hanging strings of ice and the solo rectangles more entrancing than the larger sculptures. Hanging like chandeliers, they caught the light perfectly. The lights don't bombard the senses, instead bathing the ice furniture and sculptures in soothing reds and blues as well as the bolder and not quite as relaxing yellow and green. I would go back not just to cool off, but to marvel at the sleek, modern and cozy feel. It's definitely worth a visit, and has made me feel brave enough to take my ice fascination to the next level at an ice hotel.
Related