It wasn't easy at first, but reporters and editors at Dubai's Gulf News embraced convergence with gusto and are blazing a trail in multimedia that could serve as an example for Arab newspapers struggling with a journalistic identity crisis.
"It was me, the camera and the subject," said Sunita Menon, a 17-year veteran print reporter at the English-language daily who was keen to learn new skills and become a videographer.

Since the paper's adoption of convergence in 2009, she has completely focused on multimedia, admitting that when Gulf News TV began, she had no idea what a camera was.
Her first multimedia assignment involved a Flip camera to shoot footage at a labor camp.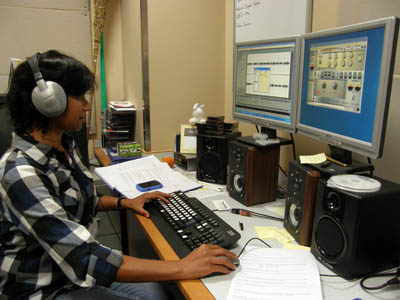 Sunita Menon editing video (Abu-Fadil)
Today Menon feels at home in the soundproof suite off the newsroom where she produces story-boarded shoots.
She and her colleagues turn out cutting-edge investigative reports and cover news in the United Arab Emirates in keeping with high professional standards.
Another star journalist and crimes/courts expert, Bassam Zaza, published a probing story about bounced checks that went online first with two videos and is one of the most viewed reports to date.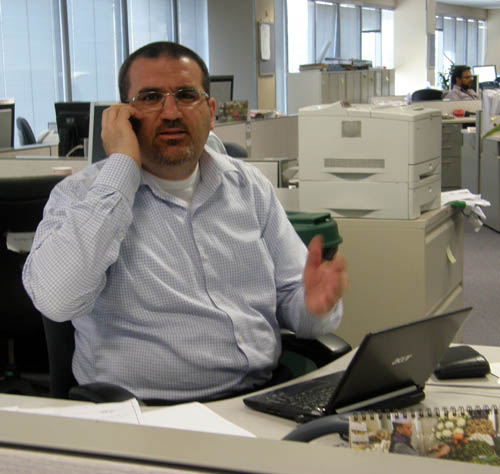 Star reporter Bassam Zaza (Abu-Fadil)
Zaza's report in July 2009 delved into the UAE's bounced check law, explained the consequences of check bouncing -- a regular occurrence -- and spoke to a lawyer on how the courts viewed suspects.
Related stories focused on the cost of bounced checks, and options to relieve courts overloaded with casework.

Gulf News also ran a series on a vigorous illegal trade in wild, dangerous or endangered animals.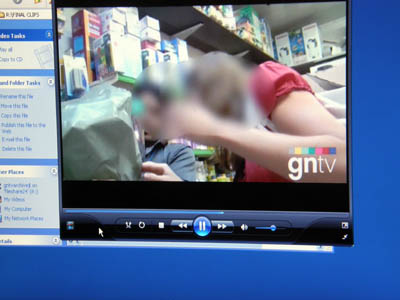 Ilegal animal sales story (Abu-Fadil)
The videos and stories it published have been quite a hit .
"We were planning for convergence when we decided to get a new editorial publishing system," said hub editor Adam Flinter.
"We came back and pitched different models," Flinter explained, adding Gulf News executives realized that in the Arab world papers were still dominant so the balancing act of transitioning to a converged environment had to be smooth to meet various constituents.
The upshot: The editorial staff is fully integrated with a hub as the focal point from where desk editors direct operations to departments radiating like a wheel's spokes.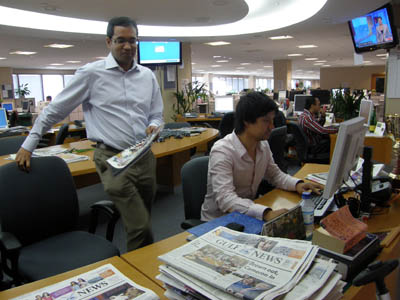 Gulf News hub (Abu-Fadil)
The furniture was in place for a while so people got used to it. A consultant sized up potential issues and it took 6-8 weeks to nail down workflows and produce dummy runs.
The revised priority: "web first, print surprise," since in print readers would be looking at the next day's story.
So editors publish online first and follow up on stories for the print edition with details that provide more background, context and a certain element of surprise.
The paper has 250,000 video viewers and produces 100 videos per month.
"There's a performance assessment on that, every story is discussed on the hub," said Deputy Managing Editor Robin Chatterjee. Editors plan, strategize, and direct to different multimedia platforms.
The most important lesson: it's a marathon, not a sprint.
According to Deputy Managing Editor Chiranjib Sengupta, who doubles as a hub editor, there was a mental transition to the philosophy of the hub and new art of story telling since the process is participative and editorial meetings are held at different times.
"It involved training reporters in multimedia for five days at nine hours/day," he said. "Some of the trial stories were published online."
Part of the selection procedure was picking people with an affinity to multimedia, and the focus was more on the editing side, he said of the soft launch and two-month buildup before going live.
The training process involved three hub editors mentoring stakeholders and 15 print section editors undergoing multimedia journalism training.
The paper has 12 deputy managing editors and over 50 reporters, so long-term thinking and planning were imperative.
"At the beginning there was a lot of resistance," admitted Chatterjee of the conservative approach print reporters tend to take and the fear of the unknown expressed by some at the paper since all had worked as print reporters.
The more traditional journalists could not see the rationale of online first.
"In the West, it's evolve, or die, or suffer," said Flinter. "There, it's done out of necessity; here we don't have to do that yet."
But Gulf News did, to be prepared and ahead of the curve since its executives were the first in the region to realize change was coming and took a quantum leap to overhaul the paper.
The redesign has been quite profitable, Flinter said.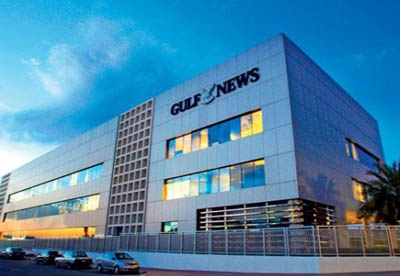 Gulf News today (Gulf News)
Integration also involved two FM music radio stations that have small news teams. It's an informal/formal arrangement that allows the paper's reporters to occasionally go on the air.
Equally important is the integration of readers as journalists.
The Your Turn page involves readers who send pictures, videos, stories, and consult with the paper's editors. Gulf News has used readers' pictures on the front page.
"You make yourself relevant to your audience," noted Flinter. "That culture is what we're trying to spread. The sheer simplicity lets everyone come."
The redesign and a 24/7 cycle had to be built from the ground up at the subscription-only paper that doesn't even give out free copies.
The July to December 2009 circulation figures stood at 115,480 copies per day for the weekly average, up from 92,069 copies per day for the April to September 2006 period when the paper first turned to BPA audited circulation.
But its editors also don't believe in building paywalls since the online model is sponsorship-based.
Both the online and print editions make money, Flinter said, adding that the crossover is insignificant, with only 3% of the audience reading it online as broadband penetration in the UAE remains low and is an office-based culture.
Additionally, content for print and the Web is not exactly the same, so there's measurable success with breaking news. The paper has also started an SMS service.

Gulf News is, moreover, channeling energies towards Twitter and social media and getting into Facebook in a fledgling way.
But sites like Flikr and some social media platforms are banned in the UAE to avoid subjecting browsers to pornography.
It's a far cry from the 16-page black-and-white tabloid hand-delivered to homes and newsstands in Dubai sometime around mid-morning when it began in September 1978.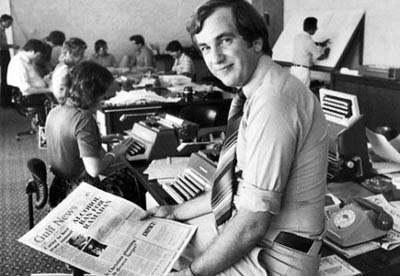 Early Gulf News reporters (Gulf News)
Today it's a full-color broadsheet with a host of magazines and supplements.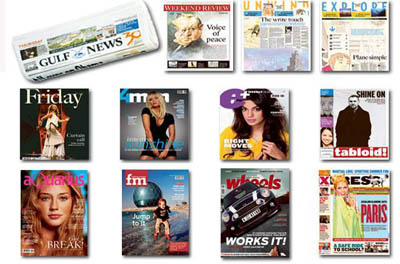 Al Nisr publications (Gulf News)
The newspaper was founded by UAE businessman Abdullah Abulhoul, to serve the region's mostly expatriate English-language readers.
It has since evolved into a regional reference.

Related
Popular in the Community