Arizona's governor has endorsed a last-minute effort to repeal the Affordable Care Act, potentially giving a key skeptic of past repeal efforts, Sen. John McCain (R-Ariz.), more reason to vote yes this time.
The governor, Doug Ducey, tweeted Monday afternoon that he supported legislation from Sens. Bill Cassidy (R-La.) and Lindsey Graham (R-S.C.).
McCain cast a decisive vote against repeal in July and is considered a key senator to watch for this latest bill. After Ducey's announcement, he told reporters that he was still not convinced to go for it.
McCain has repeatedly raised objections to the rushed process of writing repeal legislation ― objections that would seem to apply to Cassidy-Graham ― but he has also said he will take the guidance of his governor seriously. For that reason, Ducey's endorsement received a lot of attention on Monday.
The Cassidy-Graham proposal, which its sponsors introduced in late July but got almost no public attention until the last week or so, calls for replacing the Affordable Care Act with direct grants to the states. The money to states would decline over time, relative to what they stand to get under current law, and in 2027 it would disappear unless Congress appropriated it anew.
Additional cuts would affect populations, such as the disabled, who got coverage from Medicaid even before "Obamacare" came along.
Cassidy-Graham would also let states waive rules protecting people with pre-existing conditions, while eliminating the individual mandate, which is the requirement that people either carry insurance or pay a fine.
The particulars of this legislation differ from those of prior repeal efforts, but independent analysts have said the effects would broadly be the same. Government spending would come down, but fewer people would have health insurance. Some younger and healthy people would have cheaper coverage, but overall access to care and exposure to high medical bills would be worse, especially for those with serious medical problems.
In July, the Senate's final effort at repeal came up just one vote short of the 50 it needed to pass (assuming Vice President Mike Pence would break the tie). That was thanks in part to McCain, who joined GOP colleagues Susan Collins of Maine and Lisa Murkowski of Alaska in voting no.
On Monday, Graham was quick to hail Ducey's announcement as a major victory, saying it's "a great day for federalism, bad day for Obamacare." Graham is one of McCain's closest friends in the Senate and that relationship could give the Arizona senator even more reason to support the proposal.
But that's by no means certain. Ducey had also consulted with McCain ahead of last July's final vote, and, according to an account in the Arizona Republic, the governor at that point had given "his blessing" to vote yes. McCain voted no anyway.
In July, McCain suggested his primary concern was the process that had brought legislation to the floor. Republicans had written the bill largely behind closed doors, without committee hearings and with no effort to reach out to Democrats, and then rushed to vote without members having a great deal of time to digest legislation.
Like those past bills, Cassidy-Graham would go straight to the floor without hearings in the committees of jurisdiction. It would have to come up for a vote by Sept. 30 ― under parliamentary rules, that's when Republicans lose their ability to pass a bill with just 50 votes rather than the 60 legislation typically requires.
The actual political fortunes of the Cassidy-Graham bill remain difficult to discern. Neither Collins nor Murkowski have indicated how they will vote on it, although both come from states that would appear to fare poorly under the bill's funding formula ― and both have spoken out strongly against cuts to abortion providers that, like past repeal bills, Cassidy-Graham would put in place.
Planned Parenthood on Monday issued a statement strongly condemning the proposal, calling it "the worst Obamacare repeal yet."
Sen. Rand Paul (R-Ky.) is the one Republican senator to declare publicly that he opposes the bill ― and he has done so loudly and repeatedly, noting that a substantial portion of the Affordable Care Act's funding would remain in place, at least until 2027. Of course, he could also be posturing in order to win concessions.
The status of other wavering GOP senators is less clear. The final July bill got 49 Republican votes. But that was the so-called "skinny bill," which repealed just a handful of Obamacare provisions and was, in theory, merely a placeholder until the House and Senate could get together and negotiate better legislation.
The other repeal bills that came up in late July each lost additional Republicans, falling well short of 50 votes. All of those had actual policy details, giving individual Republicans reason to oppose them. And Cassidy-Graham has precisely those kinds of details in it.
This story has been updated with McCain's comments.
Before You Go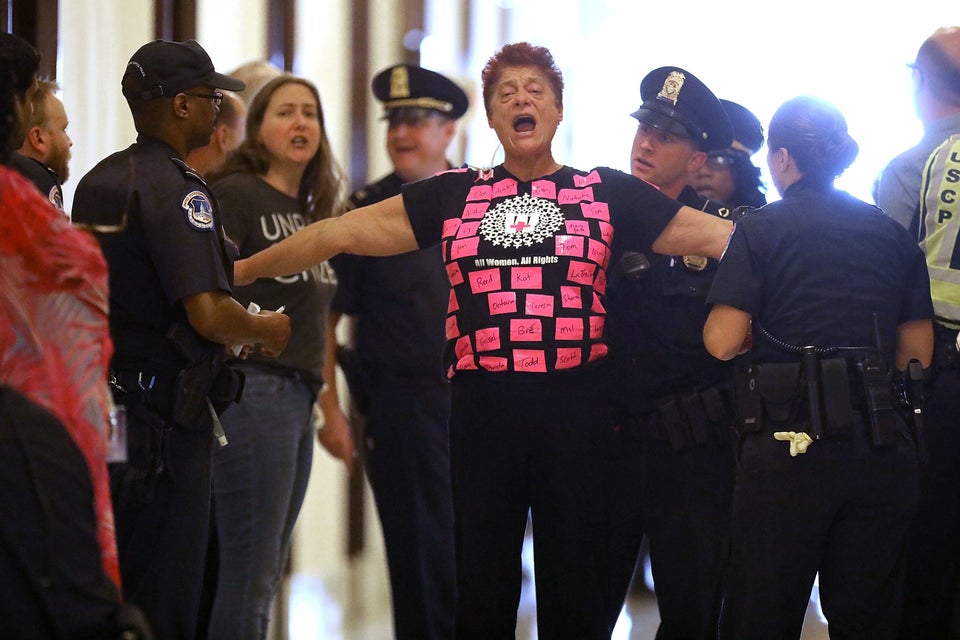 Health Care Protests At U.S. Capitol
Popular in the Community