85-year-old Cayetana Fitz-James Stuart, the Duchess of Alba and possessor of more aristocratic titles than anyone else in the world, has married Alfonso Diez, making the commoner the Duke of Alba.
The wedding took place this morning in the chapel of one of the Duchess's palaces, the Dueñas Palace in Seville, with a variety of high-profile Spaniards, including the bride's children, in attendance.
The octogenarian bride wore a short, coral-colored dress with lace detail at the shoulder and a green ribbon around the waist. The groom wore tails.
The Spanish aristocrat has 46 titles, according to Reuters, as she is a duchess, a countess and a marquesa several times over. Spanish Vanity Fair reports that her wealth is valued at an estimated at nearly $4.9 billion and when combined, her property is 170 times the size of Monaco.
As such, Cayetana Fitz-James Stuart is a tabloid fixture -- in the past and now.
The Duchess' wedding to Diez, a professional civil servant 25 years her junior, caused a stir, as the Duchess' children disapproved of the marriage quite vocally. Reuters reported that the Duchess' son Cayetano Martinez de Irujo, the Duke of Salvatierra, expressed displeasure at having only met Diez three times, especially because he will become the Duke of Alba.
The Duchess told Hola! in August, "The tough part was that my children didn't understand and they got quite angry with me."
But the magazine reported that to allay her family's fear, she spent the summer dividing up her wealth, including palaces and artwork by masters like Goya and Velazquez, among her six children. By giving up her wealth in advance, she seems to have her children's support in time for her nuptials, according to Hello!.
Unfortunately the bride's only daughter, Eugenia Martinez de Irujo, was not in attendance, having pulled out of the wedding just yesterday. A press release confirmed that the 42-year-old had fallen ill with the chickenpox, reports Hello!.
But the wedding still happened -- congrats to the happy couple! Check out pictures below.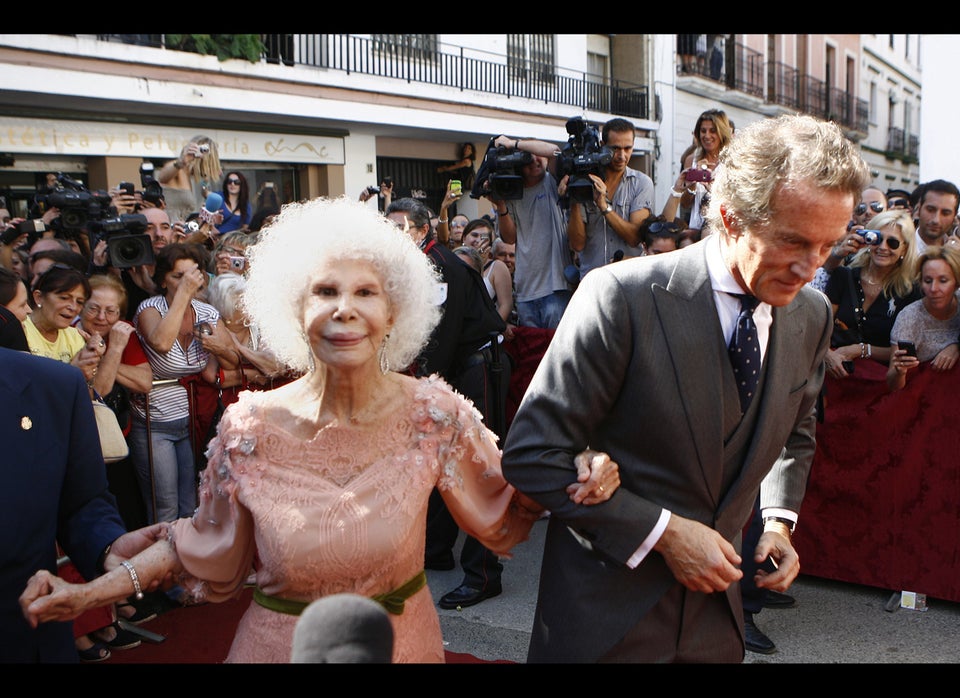 Duchess of Alba Wedding
Support HuffPost
A No-B.S. Guide To Life
Related
Popular in the Community