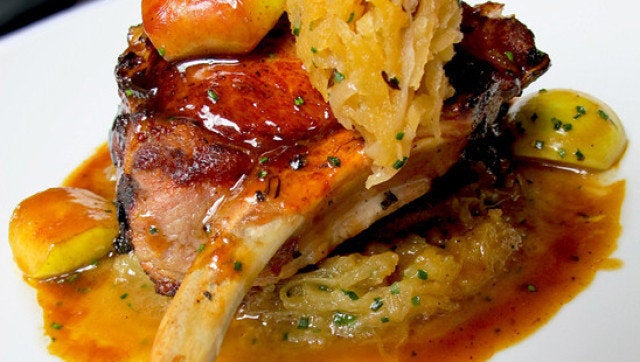 My first experience eating duck was a disaster; I was having a lovely dinner at a Chinese restaurant when came a plate of duck with a thick layer of gelatinous fat jiggling between the meat and the skin. I reluctantly grabbed a piece and bit into something that was impossible to break down. Rubbery and painfully chewy, it had no taste except for the sweet sauce poured over it. Disgusted, I spat it out, pushed my plate away and vowed never to order 'that thing' again.
Years went by and no matter how many times friends and family tried convincing me that duck was actually very delicious, I could not be persuaded.
That's until a couple of years ago when my husband and I took a trip to Montreal. Marc, a long time friend of ours, took us to Bieres et Compagnie, a resto-pub on rue St-Denis. We sat down, ordered microbrews and as we caught up with our lives, scanned the menu for some tasty dishes.
"You guys have to try the duck confit. It's ridiculously good!" he said.
"uuuh, no that's okay.. I don't get the whole duck is a good thing argument... I'll pass", I replied.
"No seriously, you have to try it!" he replied.
"hmm.. Nah.. Bad experience with duck.. Still traumatized", I said.
"Fine, then I'll order it and you can try a piece, a tiny little piece and tell me what you think. Deal?"
I shrugged my shoulders and mumbled "we'll see".
When the confit arrived it looked like a regular piece of bird leg, which confirmed my original thought that duck was no big deal. However It did smell very good, so I voluntarily took a bite before Marc had a chance to force one down my throat.
What happened next was completely unexpected:
Cured and cooked in its own fat for hours, this gamey piece of meat was meltingly tender (very little chewing required). The skin was so crispy I heard it crack as I sliced through it. It was the best kind of fatty: Melt in your mouth fatty. I sat in silence and in complete disbelief that something this good, had eluded me for this long. How can something this delicious be coming from the same type of fowl I so strongly abominated many years ago? That dish instantly changed my relationship with duck. It was at that very moment that I became enamored with duck confit. To all my friends who begged me to try duck when I vehemently refused to, I give you the right to slap me on the hand. You were all so right; when cooked properly, duck can be spectacular.
Back in NYC, I started ordering duck confit on a regular basis. I even dabbled outside my comfort zone by eating a terrific duck breast at David Bouley's Brushstroke. Then one evening my husband took me to La Silhouette restaurant. Located in Hell's Kitchen, it serves French contemporary food with no corkage charge on Mondays. We like!
Sally Chironis, an industry veteran and part owner of La Silhouette, recommended I try the duck confit being that it is one of their specialties. I gladly concurred while my hubby Ben decided on the Berkshire pork chop with spaghetti squash in Calvados jus.
The golden brown duck arrived sitting atop a bed of purple sauerkraut and surrounded by pink pickled rutabaga. The skin was paper thin and perfectly crispy. Sprinkled with sugar, it added sweetness and a wonderful contrast to the savory notes found underneath it. The meat, tender and juicy, instantly fell apart as I dug my fork into this luxurious creation. The whole dish was outstanding!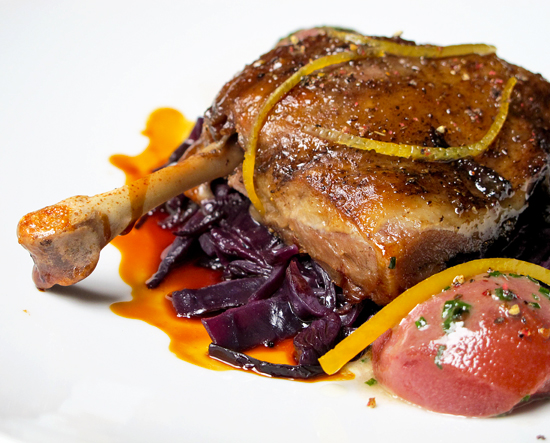 Succulent and luxurious: La Silhouette's duck confit with sauerkraut and pickled rutabaga. Photo: Caroline Phelps
I should also mention Ben's pork chop as a quick side note: It was the best pork chop we've ever had. Perfectly cooked and seasoned, it was a big chunk of pure delight!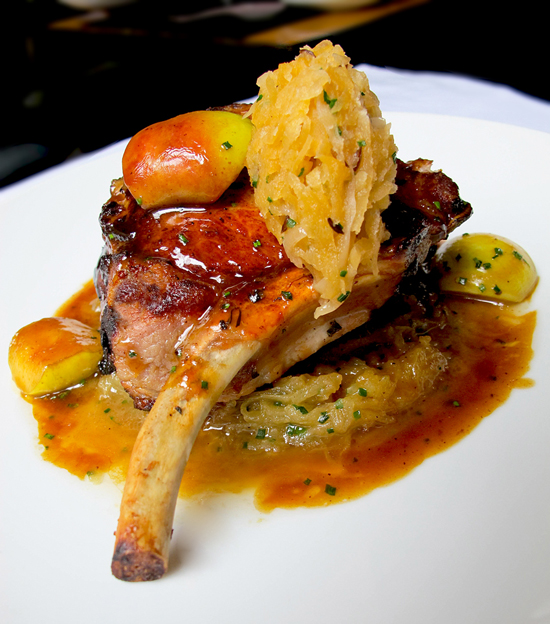 Berkshire pork chop with Calvados jus. Photo: Caroline Phelps
Now going back to the confit - It was so terrific that I fantasized about it for a whole two weeks before making my way back for round two. Since then, I've made a few more appearances at La Silhouette for a taste of their flawless dish.
It's a real shame when your first time tasting a certain food ends up being a bad experience. It literally leaves you with a bad taste in your mouth and makes you never want to try it again. Lately though, I've made an effort to re-acquaint myself with ingredients and foods I've not enjoyed in the past. For example, I used to loathe sea urchin because the first one I had tasted rotten. Now it's one of my absolute favorites.
Next on my agenda: Green bell peppers. Don't ask me why but I've hated them since I was 4 years old. There's a certain acrid taste attached to them that makes me cringe every time I bite into one. My goal is to be able to leave them on a pizza and not make a face every time I come across one. This one will be a challenge; I'll let you know how that goes.