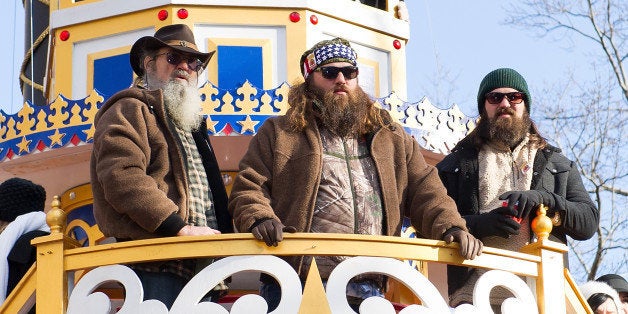 It appears that A&E is doing a reversal of sorts, by announcing that it will indeed continue on not only with the launch of the new season of Duck Dynasty in January, but also with filming of its patriarch Phil Robertson in the Spring. Reversals of this nature are somewhat rare in the marketing world and I for one usually recommend that a brand stick to its position on issues. But I guess A&E was using the show's hiatus as time to sort out its game plan. The Christmas Day marathon of the show should have clued us in to what that game plan might be.

Now I am not going to comment on whether this is right or wrong, because every one is entitled to their views and entitled to express them. I choose to do that privately. But I do want to comment on how it appears that A&E is giving the show what I would call a "brand pass," something others before them have not had the luxury.
Take a look at Justine Sacco who just recently sent what's been called a "careless" and "thoughtless" tweet that cost her a job and potentially a career. Paula Deen and her Brand have not recovered, nor have people like Michael Richards whose Wikipedia profile now cites his errs right along side his accomplishments.
So why is Duck Dynasty getting a "brand pass" this time around? This is a family that knows its brand, that's for sure. So is it Phil's apology? Well others have done that too, quite ceremoniously. Is it a profit motive, as many have suggested? Not sure, because that has certainly been a factor in other cases as well. The petitions? I can't imagine it's that; we've seen "movements" just as big cause no effect.
Perhaps it's the network's announced discussions with advocacy groups and the agreed PSAs that will launch across their lineup. OK, I could buy that from a marketing point of view. Cooperation has long solved a lot of problems so I am all for that. It's a form of public rehab that might help if done sincerely and correctly, and could build the brands even further.
Let's hope this game plan does help erase some of the ill effect that such comments have so surely caused those who continue to suffer from discrimination and self-hatred from just being who they are.
At the end of the day, we choose to tune in or not, which is the ultimate power we all possess. I just hope that in this case, the network and the show use their paid and sponsored platform to do some good, reversing some of the bad.
REAL LIFE. REAL NEWS. REAL VOICES.
Help us tell more of the stories that matter from voices that too often remain unheard.