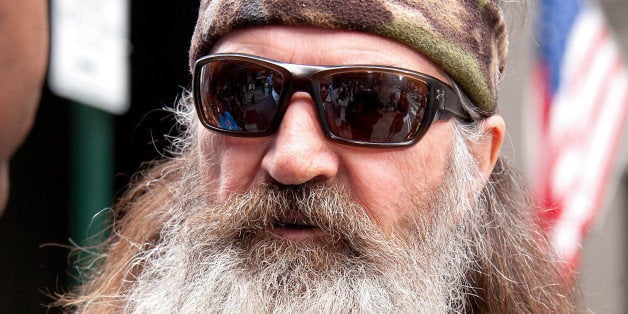 But the response right now is overwhelming. Robertson supporters are posting several angry comments a second on A&E's official Facebook page, which has over 7 million likes. Another Facebook page titled "We Stand With Phil" has skyrocketed to over 516,000 likes in a little over 12 hours at the time of writing.
Here's what "Duck Dynasty" fans have to say:
Anyone hungry for something sweet and "slavory"?

Bad news: You're still paying the cable bill.

Deleting things is always tough, congrats on all the extra DVR space!

What say you, Glenn Beck?
Like Team Jenn and Team Angelina, but with more facial hair.

And on that day, Hillary Clinton decided not to run for president anymore.

Seriously Democrats, don't even bother fielding a candidate.

Punctuation is not necessary when you have smiley or frowny faces.

Watch out.. THIS GUY IS GOING VIRAL WITH IT AND IT MAY BE CONTAGIOUS.

Ugh, yeah! Imagine if homosexuals could be discriminated against or even fired just for being themselves in the workplace? Oh, wait..

But how do Sodom and Gomorrah feel about it?

If you're going to burn DVDs, at least do this with them.
"WTF are you wearing?" -all his co-workers