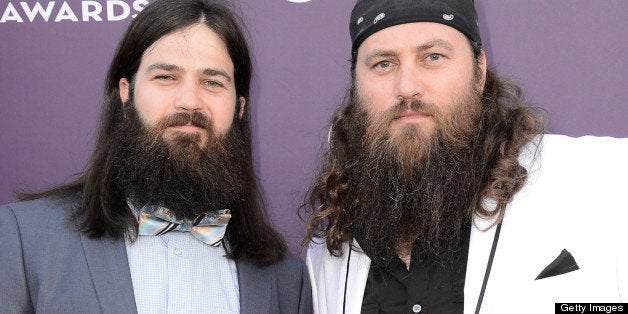 Perhaps the producers and writers(?) of Duck Dynasty have a twisted sense of humor? Or perhaps it was just coincidence? Either way, when Duck Dynasty star Jase Robertson suggested to his brother Willie during Wednesday night's season finale that he "jump the shark" into the Hawaiian hotel pool, he knowingly, or unknowingly said exactly what I was thinking about the Duck Dynasty series.
What is it with season finales this year? So far, the top two rated cable network series, The Walking Dead and Duck Dynasty, fell flat in their attempts to wrap up what seemed like stellar seasons. In fact, in both cases the finale was so bad it tainted the entire season leading up to it. We have already called out The Walking Dead's 'jump-the-shark' potential in this space, which was based on a certain critical mass in terms of our society's current zombie obsession. It was an easy label.
Duck calls will never rival zombies in popularity culture, so this is not an issue of critical mass. Instead, it is an issue of creativity, or lack thereof. In fact, Duck Dynasty started to show signs of reaching its creative limit as the third season came to a close, just prior to the finale. What were those signs?
•Willie's mid-life crisis -- which made the duck commander look weak, despite his position as the leader of a multi-million dollar company.
•Duck Dynasty devoted nearly ten minutes during the 'handcuff' episode to Uncle Si's nasty pee adventure with Willie. It was an overdose of gross.
•Too much Uncle Si! The dude is funny, no doubt, but it feels like he is being overused in every episode. By the way, can we get his tea analyzed?
Duck Dynasty took a horrible turn during its season finale - -a Robertson family vacation to Hawaii -- relying on cheesy gimmicks instead of substance to drive laughs and keep its viewers entertained. How bad was it?
•Willie talking teen: whassup with da' CEO fer schnizel? The producers should have cut these scenes of Willie talking like his teenage daughter out of the show. It is one thing to make Willie look silly and non-CEO-like, but to continually push him into acting like a fool for the camera? Stupid is as stupid does. . .
•Magnum P. Si? The Magnum P.I. thing had potential, but ultimately backfired because of the character chosen to wear the Magnum outfit -- Uncle Si. When I first started watching Duck Dynasty it was Si who made me laugh the most, but his act got tired from the producers giving viewers too much Si. From the Mayan bullshit to the never-ending tea to the consistent conversations about his pee, Si is everywhere.
•Pathetic Phil: the original duck commander, a man who I've grown to respect as the show progressed, looked like a lame duck in the finale; spending his time in bed watching the Bourne franchise and then getting a beachside massage from a true hottie. The problem with that scene? The redneck factor. Although Phil is worldlier than the producers like him to let on, the massage scene was stereotypical redneck, especially the part about him not wanting to remove his swamp-ass pants.
Perhaps the main problem Duck Dynasty's producers have right now is that they have employed a winning cast, complete with hot women, rich dudes, and even a modern-day, redneck court jester, but they pushed the redneck button way too hard in season three? The touch was subtle in season one and two, but in season three the stereotypical redneck behavior became front and center for the show. From blowing up pick up trucks to burning beaver dams, Duck Dynasty played that stereotype to its max.
There is a certain charm in deep southern culture. Whether its cooking up some possum stew for dinner, alligators infesting the yard, or the propensity to want to fish and hunt, I could sit back and enjoy the Robertson clan from my hipster confines in Seattle, happy to be a hipster, but respectful of southern culture. Frog legs for dinner? That's cute. Blowing up a perfectly good pick-up truck? That's Hollywood's stereotype of southern culture, and quite honestly, I find it disrespectful.
The producers of Duck Dynasty are fighting a battle with the cast right now, as the Robertson's want more money for each episode. Who could blame them? Duck Dynasty is basically printing money for A&E and it is going to have to pony up to keep the cast intact. There's likely not another Duck Dynasty cast in waiting, nor would the audience stick around for a different cast. Perhaps A&E doesn't want to pay up? Maybe that's why that reference to jumping the shark was mentioned in the finale by Jase?
REAL LIFE. REAL NEWS. REAL VOICES.
Help us tell more of the stories that matter from voices that too often remain unheard.