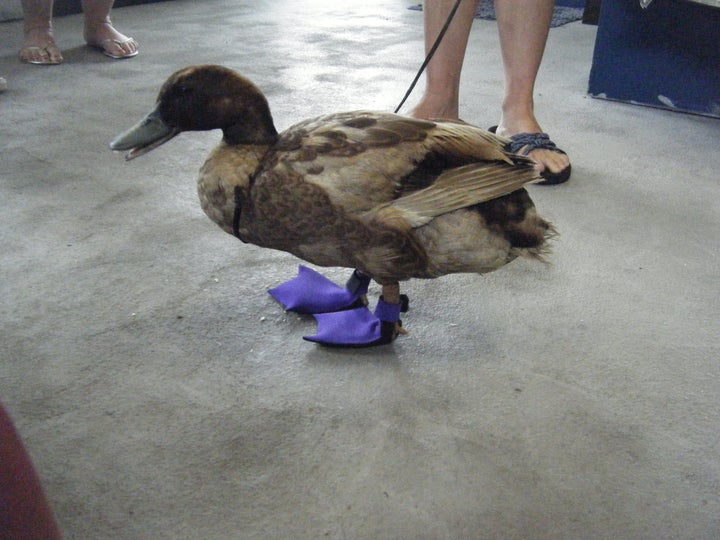 When it comes to walking around on their own webbed feet, ducks are just ducky. But one quacker in San Diego, Calif., was recently fitted for his own pair of purple neoprene surf booties.
The fashion-conscious fowl came about his new foot attire by happenstance, according to Yvonne Cruz, the co-owner of Surf 'N' Sea Custom Wetsuits, which is located near the shore in San Diego's Ocean Beach neighborhood.
"There's a young lady here named Miss Love who has a pet duck named Duckie," Cruz explained to HuffPost Weird News. "She walks it on the beach with a leash and puts duct tape on its feet to protect it from the hot sand."
However, things weren't so ducky after several people complained to lifeguards about the makeshift duct tape shoes.
"They thought it was cruel because they thought the sticky tape would hurt the duck when it was removed from his feet," Cruz said.
Luckily for the duck's owner, she walked by Cruz's shop, which has made a niche for itself creating offbeat wetsuits.
"We do a lot of wetsuit tuxedos and we once designed a wetsuit for a torpedo," she said, quickly adding, "But that was for shipping, not for war."
Miss Love was unavailable for an interview, but Cruz said she requested that the customized duck booties be purple.
"She insisted on it," Cruz laughed. "She said it was the duck's favorite color."
Cruz's son, Clark Bernhard, did the fitting -- his first pair of duck booties.
Still, except for a few alterations, things came together pretty quickly, Cruz said.
"He -- the duck, I mean -- seemed happy, but the owner wanted a mirror placed below its feet so it could see itself," Cruz said. "Apparently, the duck likes to do that."
Although Cruz doesn't expect a whole flock of orders to come in for duck booties, she says Duckie and Miss Love are happy.
"They love the attention," she said.
In fact, there's talk Miss Love may buy a second pair and, as Cruz sees it, that's not chicken feed.
PHOTO GALLERY
Animals In The News
REAL LIFE. REAL NEWS. REAL VOICES.
Help us tell more of the stories that matter from voices that too often remain unheard.