It's a moment that will no doubt shock old-school "DuckTales" fans. Donald Duck's nephews first climb up on Uncle Scrooge's desk. And then they pelt this beleaguered bajillionaire with a series of quick, cutting, personal questions.
"Are you really our uncle?," asks Huey.
"How old are you?," queries Dewey.
But perhaps the most painful question comes from Louie. Who straight-out says to Scrooge "You used to be a big deal. What happened to you?"
That's the question that hovers over the "DuckTales" first look which Disney XD released earlier today. Those who look closely at this 90 second-long preview will notice some clues that not only suggest that Scrooge is having a crisis-in-confidence (i.e., That copy of the "Duckburg Daily" on the floor of his office with a headline which reads "McDuck hangs up his spats after …" "After" what? Sadly, the crucial corner of this newspaper has been torn away) but it also appears that the world's richest duck may be dealing with some sort of serious financial crisis (There's a quick tilting camera move in this first look which shows that the amount of money that's currently stored in McDuck's fabled money bin is far below its usual 90 – 95-foot depth).
Not to worry, though. As the rest of this preview of Disney XD's "DuckTales" reboot unspools, Scrooge soon shakes off whatever is troubling him and returns to form. With David Tennant (sounding nothing like he did when Tennant portrayed the 10th Doctor on that British television series, "Doctor Who") providing vocals for this much-beloved pop culture character, McDuck – as he's seen Indiana-Jones-ing his way through a series of booby traps – is heard to proclaim that " … "I'm Scrooge McDuck. I made my name being tougher than the toughies and smarter than the smarties."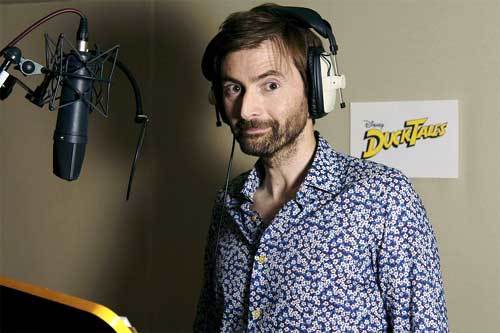 Now what's particularly cool about that line being used in this new Disney Television Animation production (which will premiere on Disney XD later this Summer) is that it's a direct lift from "Only a Poor Old Man." Which is a story that Disney Legend Carl Barks wrote for "Uncle Scrooge # 1," the comic book which Western Publishing originally published 65 years ago this month back in March 1952.
It's clear that – as you freeze frame your way through this first look – that Matt Youngberg (i.e., the Annie Award nominee who's executive producing this "DuckTales" reboot) and Francisco Angones (i.e., the co-producer & story editor of this new Disney XD series) are big Barks fans. Otherwise why would these two have opted to have Carl's 1974 painting, ""Always Another Rainbow" (which shows the young Scrooge back when he was still founding his fortune by working in the gold fields of the Klondike) so prominently displayed at McDuck Manor?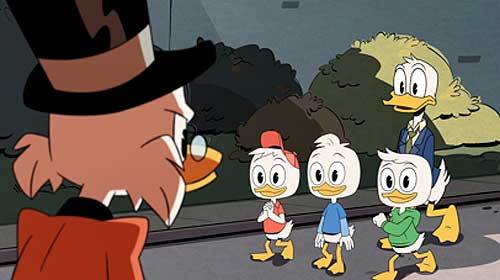 But it's not just fans of the "Scrooge McDuck" comic book who will have fun freeze-framing their way through this first look. People who loved the original "DuckTales" television series (Which Buena Vista Television began syndicating back in September of 1987) will – if they look closely – catch brief glimpses of Huey, Dewey & Louie's nanny, Mrs. Beakley. They'll also spy Scrooge's longtime nemesis, Flintheart Glomgold (i.e., the second richest duck in the world).
But along with these blink-and-you'll-miss-them looks at "DuckTales" old favorites, this Disney XD first look also features some right-in-the-front-window views at characters like Webbigail Vanderquack (who – now that she's voiced by Kate Micucci – isn't afraid to ask Donald's nephews "Who's the evil triplet?" Huey & Dewey's response to this question is to immediately point at Louie. Whose response to this should-be-painful reveal is a nonchalant "Eh" and a shoulder shrug) and Launchpad McQuack (who – even though he's now being voiced by "Saturday Night" 's Beck Bennett – still has trouble keeping planes in the air. There's a wonderfully funny bit in this video where Launchpad interrupts his heartfelt tribute to the extended McDuck clan ["Family truly is the greatest adventure of all"] to try and stop a sudden nosedive ["Oh no! The ground!"]).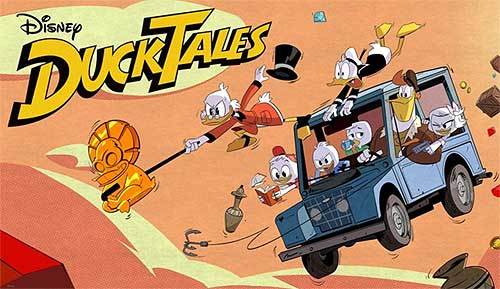 Of course, it's hard to judge an entire TV series based on a single 90 second-long preview. But given the wonderful quirky quality to the writing that this Disney XD first look showcases (EX: When Donald Duck reveals that he's taking his nephews to meet Scrooge, Louie's deadpan response is "You're finally going to sell us"), this "DuckTales" reboot looks to be the sort of show that will not only entertain today's kids but will also win over fans of the original animated series.
All I know is that – after repeatedly viewings of this first look – I'll definitely be watching Disney XD this summer. If only to learn how – in this version of the "DuckTales" universe – Donald Duck (according to Webby, anyway) has now somehow become " … one of the most daring adventurers of all time."
And just so you know: Mouse House managers seem to already know that this "DuckTales" reboot is something special. Which is why – before a single episode of Disney Television Animation-produced show has aired – they've decided to renew it for a second season.
Support HuffPost
The Stakes Have Never Been Higher
Related
Popular in the Community