It's prom night! My date is 14,000 people and I'm wearing -- wait for it -- a duct tape ball gown. The party is a parallel universe where DJs fly through the air, glow sticks abound and the average height is 3' 6". I'm in a tween scene melee in Knoxville, Tenn., at the Destination Imagination Global Finals competition.
National Geographic gets some pretty cool awards. But when we won a prestigious award from a children's creativity competition, I was the lucky, likely suspect to claim it. My assignment was to say a few words about National Geographic Society's 125th anniversary, meet the organizers and fly back home. Oh, in a duct tape dress.
When the event's organizers first came to discuss the evening's protocol with us, we thought they were kidding when the attire they suggested was "anything with duct tape." They were not. Duct tape, I learned, is "in" at Destination Imagination. I've come to learn that every tween I know has a duct tape wallet, and there are several crafting books to support the trend.
To show our respect, we went all out. Our headquarters turned into a "Project Runway" effort going on around the clock for three weeks. A former seamstress took point, while everyone from marketing directors to editorial assistants to photo editors took turns pitching in to create a full-length A-line gown with a bodice, skirt and belt. A rainbow of color, the dress was festooned with intricate butterflies, frogs, jellyfish and flowers -- all made out of duct tape. The thing weighs at least 15 pounds. But there's nothing like a beautiful dress to get you in the mood to party!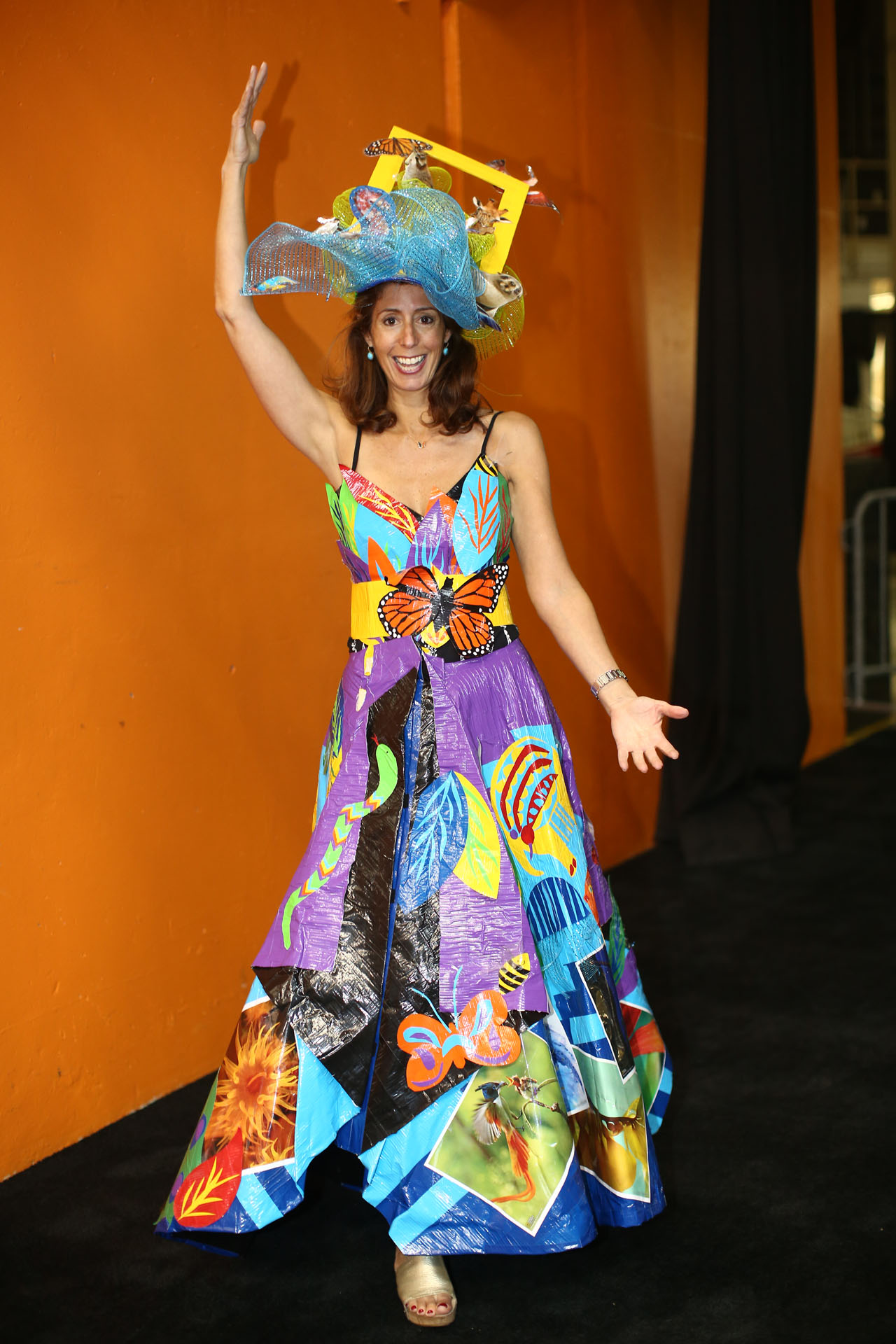 Melina Bellows, EVP & Chief Creative Officer, Books, Kids, & Family at Destination Imagination Global Finals 2013 (Photo by Anna Irwin)
I donned my tulle baseball cap topped with a National Geographic yellow border, and off to the prom I dashed in the chariot of a white university van. I joined the contestants as they filed in, proudly carrying state and country banners and flags. It was a wondrous sight. Many people stopped for a photo op with yours truly, the Duct Tape Diva.
I came to accept the award for how National Geographic inspires these kids -- these future scientists, engineers and mathematicians who will someday be our stewards of the planet. But instead, I was inspired by them. I stood on the stage and looked out on the glow-stick-swirling crowd, humbled by their hard work, their energy, their creativity and curiosity. These kids had traveled from around the world and across the country to compete in challenges about science, technology and creativity. Teams prepared their best answers, skits and structures to challenges about wind energy, load-bearing towers and problems in their communities. All in the name of fun. The planet is going to be in good hands.
REAL LIFE. REAL NEWS. REAL VOICES.
Help us tell more of the stories that matter from voices that too often remain unheard.