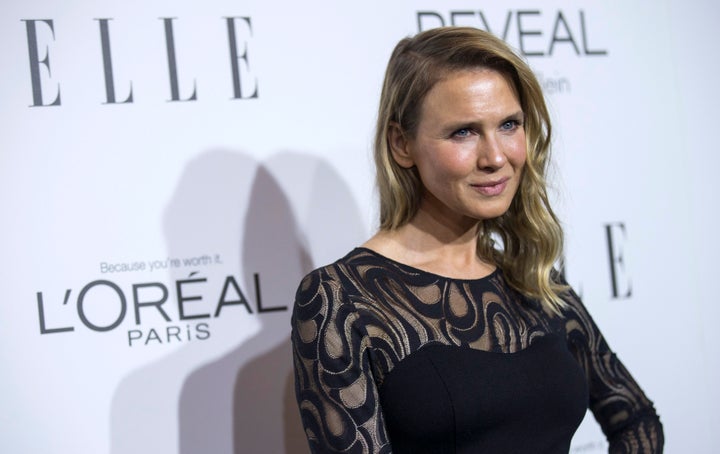 In the great saga that is the media's obsession with Renée Zellweger's face, there are some things that should just be general knowledge by now. Specifically, if Zellweger got work done to her face, it's a reflection of an industry and society that makes women feel like monsters for being over the age of 25. The ageism and sexism inherent in the scrutiny Zellweger has received for being a 47-year-old Hollywood actress has been pointed out by women across the Internet countless times. 
So why are men still choosing to weigh in? 
On June 30, Variety critic Owen Gleiberman published an op-ed about Zellweger, in which he acknowledges the insidiousness of our "vanity-fueled image culture" while simultaneously playing into it. 
"I thought: She doesn't look like Bridget Jones! Oddly, that made it matter more," Gleiberman wrote. "Celebrities, like anyone else, have the right to look however they want, but the characters they play become part of us. I suddenly felt like something had been taken away." 
Later in the piece, the writer lamented the fact that Zellweger's transformation is especially sad because she was "a poster girl for the notion that each and every one of us is beautiful in just the way God made us." Yep. He argued that as Tom Cruise's assistant in 1996's "Jerry Maguire," the then 26-year-old, blonde, blue-eyed, slim, able-bodied and conventionally attractive Zellweger was "radical" because "she was beautiful in the way an ordinary person is." 
Naturally, Gleiberman's comments drew criticism from across social media, with actresses Christina Applegate and Rose McGowan weighing in on Twitter, writing: 
Here's something that needs to be firmly established: the "controversy" surrounding Renee Zellweger's face has nothing to do with her alleged cosmetic surgery, or with the concern that the work on her face might change the way we watch her onscreen. This is about the fact that women, especially women in the public eye, are simply not allowed to age. Zellweger's face, with or without work done, will never be the face we saw in "Jerry Maguire." Nor should it have to be. 
"I suddenly felt like something had been taken away." 
How does Zellweger not looking like Bridget Jones circa 2001 take anything away from anybody? How does one praise Zellweger's conventional beauty in the 90s as "radical" while in the same breath not see how much more radical and brave Zellweger must be in order to step onto a Hollywood red carpet, over 40, knowing that with every flash of the camera will come a snide remark about how she's no longer beautiful?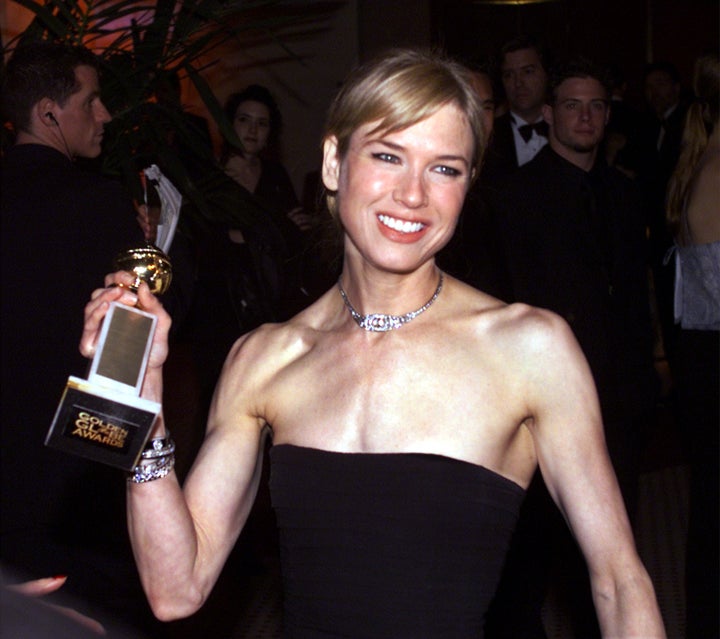 This is what happens when men try to explain things that women have already thoroughly explained -- the stigma of aging -- from the perspective of visceral experience. Of course, women have also participated in the endless scrutiny of Zellweger's appearance. But Gleiberman's thoughts on Zellweger's face mirror the sense of entitlement and ownership that so many men have when it comes to women's bodies. It's her image he cares about, her "normal beauty;" not her performance, nor the voices of countless women (Zellweger included) who have talked about the realities of aging on screen.  
Therein lies the conundrum of being a woman in Hollywood, a woman anywhere, really. Our worth and our relevance boils down to our looks, and how men feel about the way we look. We're taught to believe that this is a part of life, that we should accept it. Part of that lesson comes in the form of the opinions of men, opinions then adopted by women, opinions that subtlety tell us to aim for beauty -- be it supermodel good looks or "drunk-girl-next-door everydayness." And when we fall short of that ideal (which we always do, always will), we get torn down. It needs to stop. 
So, men, when you pose questions like: "Does  Renée Zellweger still look like herself?" Remember, nobody asked you. 
Calling all HuffPost superfans!
Sign up for membership to become a founding member and help shape HuffPost's next chapter
BEFORE YOU GO
PHOTO GALLERY
Renee Zellweger