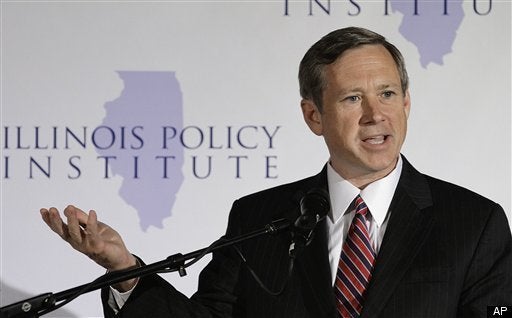 Can we trust polls with partisan sponsors? The two most noteworthy new polls released yesterday on the toss-up senate races in Illinois and Washington were both sponsored by partisans. Although these new surveys do not change our assessment of either race, they follow a predictable pattern and favor their clients in comparison to other public polls.
In Illinois, independent polls have shown a close race all summer. Since June, seventeen public polls have produced results ranging between a 4-point advantage for Republican Mark Kirk and a 2-point edge for Democrat Alexi Giannoulias.
Then, a week ago, Politico published a story on a coming ad blitz by the Kirk campaign that included reference to an internal poll conducted by Fulcrum Campaign strategies fielded September 26-29 that showed Kirk with a nine-point lead (42% to 33%). According to the article, Kirk pollster Greg Strimple claimed their internal polling had consistently shown the same margin: "The race hasn't changed since summer."
Then yesterday, the Democratic Governor's Association (DGA) distributed a survey conducted at about the same time (September 23-26) by the Democratic firm Global Strategy Group that shows Giannoulias with a three-point advantage over Kirk (40% to 37%) -- a slightly better showing for Giannoulias than any public poll to date (although the Chicago Tribune survey conducted at about the same time had Giannoulias up by 2 points, 38% to 36%).
The pattern seen here -- two partisan sponsored polls producing slightly better results for their clients with all the independent polls falling somewhere in between -- is typical. Our colleague Charles Franklin studied publicly released horse race surveys from the 2000 to 2002 elections and found that polls identified as partisan tended to skew in favor their sponsor about 3 percentage points and against their opponent by roughly the same amount. Other scholarly assessments have found the same pattern.
The reasons for that pattern are a subject of debate, but selective release is likely a big factor: random sampling error varies on a bell curve, and campaigns have every incentive to release only the good news, while holding back less favorable data. We typically include partisan polls in our charts because our smoothed trend lines tend to ignore outlier results, and in close races we typically see the Illinois scenario: Release of an internal campaign poll by one side spurs a counter release by the other.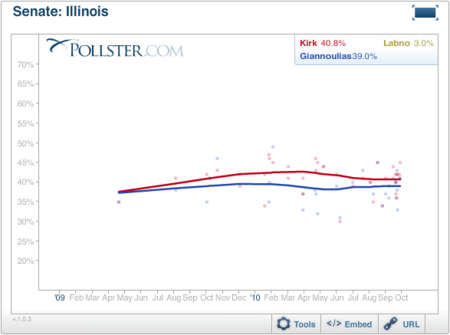 In this case, our trend lines are flat. With all polls included Kirk has a roughly 2-point edge (40.8% to 39.0%), a margin that merits a "toss-up" classification. Use the "filter" tool on our interactive chart to remove the two recent partisan polls, and the Kirk margin narrows to roughly 1 point (40.5% to 39.6%).
That lesson is a helpful guide in interpreting a new poll in the Washington Senate race conducted by a Republican firm, Fabrizio, McLaughlin and Associates, and sponsored by a conservative group, the American Action Forum. It gives Republican Dino Rossi a 6-point lead (48% to 42%) over Democratic Senator Patty Murray, a better margin for Rossi than on any of the six independent polls conducted in Washington during September (although a SurveyUSA automated poll showed a similar margin in August).
The Fabrizio poll does not change our assessment of the Washington contest, which remains just barely in our "toss-up" category. Our trend lines give Murray a 2.5-point margin with the Fabrizio poll included (49.4% to 46.9%), and virtually the same margin without it (49.4% to 46.7%).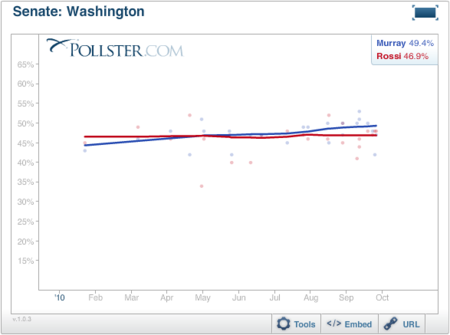 Finally, a new Mason-Dixon poll in the Florida Senate race confirms that Republican Marco Rubio continues to hold a comfortable lead over independent Charlie Crist (42% to 27%) and Democrat Kendrick Meek (at 21%). The new poll results closely resemble our trend estimates, which show Rubio leading Crist by 14 points (42.8% to 29.0%) with Meek trailing (at 21.7%). While Crist's support fell off following the August primary, the trend-lines have shown little movement since.
In an analysis, Mason-Dixon pollster Brad Coker explains why he thinks Rubio is in "the catbird seat" to win:
Even if every undecided voter goes exclusively to Crist or Meek, Rubio can't lose as long as he holds his current support. For him to lose at 42%, support, either Crist or Meek would have to drop to 15% or less for the other to get to 43% and pass Rubio.

Doing that looks to be a long-shot at best. Crist is hampered by high negatives and no natural base of party support. With African-Americans casting about 13% of the state's vote and Meek holding the lion's share of it, liberal white Democrats would have to abandon their party's nominee in mass for Crist to win. The chances of Meek falling below 16%, along with all of the voters who remain undecided going to Crist currently appears to be a pipedream.

Popular in the Community