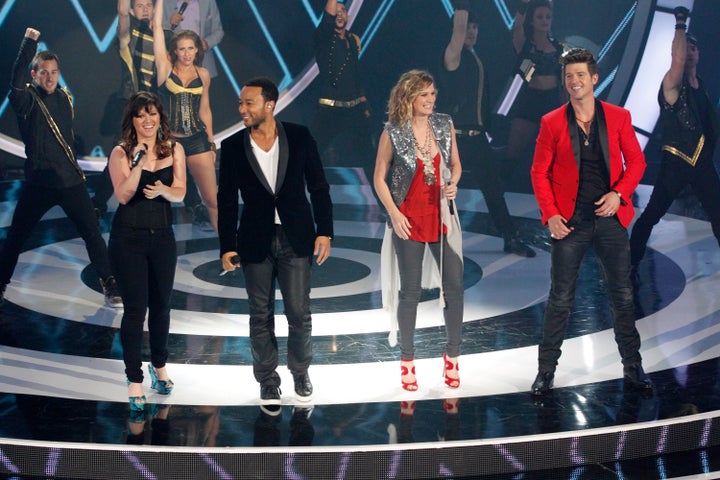 ABC is dipping its toes into the pool of reality TV singing competitions with "Duets," which is bringing new stars, new rules and a whole lotta new talent to the summer TV scene.
New stars: Kelly Clarkson, Robin Thicke, Jennifer Nettles and John Legend form what host, Quddus calls The Superstars. Each superstar represents a different genre and a different team, but they all act so much like one happy, competitive family that it's hard to believe that they're hell-bent on beating each other.
New rules: The Superstars each found and chose two amateur protégés to sing alongside them in the coming weeks. Each superstar sought to discover voices that would blend smoother than chocolate, butter and any other spreadable condiment you can think of. After each duet, the three judges that didn't perform will rank them from 1 to 100, based on performance and presentation of the duet partner. Sorry, America, but it looks like you won't get a hand in choosing this show's winner.
New talent: Obviously, the only way to start a new show is with an opening number from the four judges so the Superstars did a rendition of "Let Me Entertain You" and it delivered on the title. Then, it was time for the Superstars and their protégés to perform their duets of the Superstars' greatest hits.
The first duet of the night was Jennifer Nettles and J Rome singing "Tonight." It sounded like Jennifer made a good choice with J Rome since the other judges confessed that they "sounded so well together," that he "had an amazing voice" and "you look and sound like a star." Looks like we've got four Paulas for judges but, hey, I ain't complainin'. It's nice to hear some well-deserved positivity for a change.
John Legend's first duet partner was Johnny Gray, and the two sang "Ordinary People." Johnny hit it out of the park with Robin complimenting how similar he was to John and pointing out his "connection with the lyrics." Kelly loved his vulnerability, while Jennifer called him "warm as honey." I already know I'm gonna like these Jennifer Nettles-isms.
Quddus threw a curveball and announced that no duet partner is in danger of going home for the night; all eight will get a chance next week to redeem or repeat themselves. So ... are we supposed to sit through these duets and just listen?
R&B artist Robin Thicke brought the night's first sultry duet with Olivia Chisholm. Her voice fit well with his most successful single, "Lost Without U," but I felt myself sitting still rather than swaying like how R&B songs are supposed to make you do. (Right?!) Perhaps my ears weren't working because John Legend compared her voice to the late Aaliyah, Jennifer complimented the authenticity of her voice while Kelly raved about her sexiness, from head to toe to voice.
It was finally Kelly Clarkson's turn to wow us with her first duet partner, Jason Farol. He looked confident standing next to Kelly, even winning the heart of Robin who called him "adorable." Jennifer loved when he "opened up his voice" and John just loved "that he loves being there." Lots of love on the stage. And from the sound of it, lots of Jason fans in the audience already.
After each performance, the duet partners were stacked up on a chart based on the scores from the other judges. At the midpoint, Jennifer held strong with J Rome at No. 1, Johnny Gray (John Legend) at No. 2, Olivia (Robin's duet partner) was No. 3 and Jason Farol (Kelly's team) fell to the bottom. There was a lot to take in at this point -- but I know for certain Johnny Gray was the best so far. Is there some plotting amongst the judges?
John Legend had no problem bringing in his own sexy duet partner in Bridget Carrington. The duo sang "Tonight (Best You Ever Had)" and it was getting steamy up in thurr. Maybe it was the "sophistication" as Jennifer described, but there was something-something happening on that stage with Bridget and John and it turned into my favorite duet of the night. Robin wanted to "go to the club poppin'" and Jennifer admitted that it "makes me want to go home after the club poppin'." Kelly was about to call up her boyfriend. I think the three judges gave her some enthusiastic thumbs up.
Jennifer chose a talent from her hometown of Douglas, Georgia with John Glosson, who could possibly be the best vocalist of the duet partners so far. The two performed "Stay" while the judges, the audience and the rest of America watched them sing to each other as if no one else was around. Kelly wiped away tears and said he had an "angel voice," John congratulated him on a great performance and Robin couldn't help but compliment how well the two sounded together. The competition is heating up.
The night was missing an upbeat number so Robin chose "Magic" for his second duet partner, Alexis Foster. The number was right out of a disco movie -- but in a good way. Everyone, including the judges, was up on their feet dancing and tapping along to the song. The judges loved it, but I wasn't convinced. Despite how good her voice was, the song had more personality than what I was getting from Alexis. Put your game face on, girl. You're in the big leagues now.
Kelly closed out the night with her second team partner, Jordan Meredith singing "Stronger." There is no voice like Kelly's and when anyone else tries to sing one of her songs, it just doesn't live up. This song was a challenge and Jordan handled it better than most people would, but "Stronger" wasn't the strongest. The judges complimented how well the voices combined -- most of them scratched their heads as to who had the lead and who had the harmony. But even with the praise, Kelly's team ended the night at the bottom of the chart while J Rome stood strong at No. 1. Are some judges tag-teaming against Kelly? Only time will tell.
From this premiere, I can tell that we've got a genuinely fun competition ahead of us. With the addition of a ranking chart to determine the fate of the duet partners and no "America voting," "Duets" successfully introduces fresh talent, great harmonies and hilarious commentary from the Superstars. (That Jennifer Nettles is a hoot to watch during the performances.)
Maybe the pressure was off this week, but next week, I'm hoping that the gloves come off and we'll get to watch as each duet partner fight to stay in the competition.
"Duets" airs Thursdays at 8 p.m. ET on ABC.
Calling all HuffPost superfans!
Sign up for membership to become a founding member and help shape HuffPost's next chapter