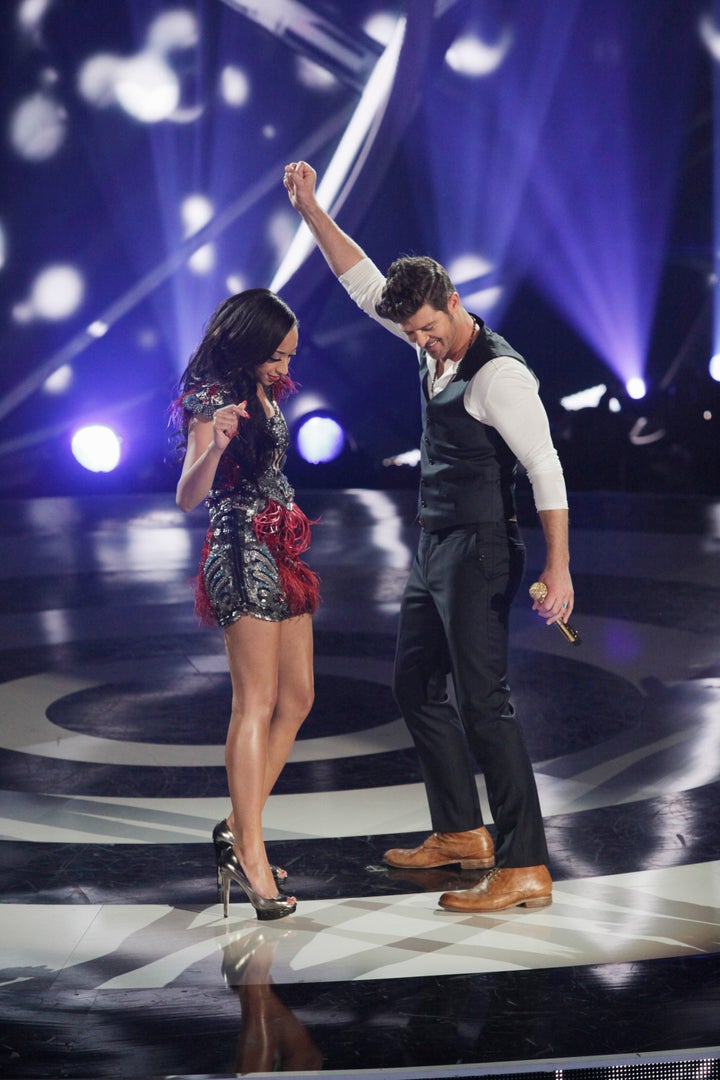 No one felt more bipolar than I did after watching "Duets'" (Thursdays at 8 p.m. ET on ABC) first results (but also performance) night.
After Jennifer Nettles and Robin Thicke sing a rendition of "Crazy Little Thing Called Love", our trusty host, Quddus begins the elimination process. Unlike other singing competitions, "Duets" eliminates in the beginning of the show before the rest of the safe amateurs sing. A little flip flopped, but what can you do with only one slot for the week?
Olivia Chisholm and Bridget Carrington end up in the bottom two, but in the end, America sends Olivia home. No one knows what this means for Robin next week, but we can all safely assume he'll be singing something on stage with another superstar.
The rest of the amateurs rehearsed some of the best standards in music history. By "standards," I'm sure they meant "older songs that many people have covered since its release." They were all old favorites to me.
Bridget Carrington & John Legend
"Unforgettable"
After being told she was one of the bottom two, Bridget had to stay calm while singing this well-known melody. It's not fair to say she was nervous because, heck, I'd be nervous too singing alongside the flawless John Legend and being told America almost didn't like you. But Bridget kept her poise and it didn't go unnoticed. Kelly proclaimed it was "my favorite performance of the two of you" and Robin simply called it "lovely." He didn't hesitate to tell John he should make an official cover of that for his next album, (which we would all like to hear, John). Jennifer thought it was "wonderful" and called Bridget "classy and very polished."
J Rome and Jennifer Nettles
"God Bless the Child"
In order to show J Rome's versatility, Jennifer chose this standard and it was (big surprise) a hit.
Despite his nervous eye twitch during rehearsals, J Rome "murdered" the performance, according to John. He didn't think last week's Usher was a good vocal performance, but J Rome proved him wrong. Robin called it a "Grammy-worthy performance" that sounded like it came right out of a "Billie Holiday tribute." Kelly, fractured foot and all, managed to give a whopping three standing ovations. She didn't hesitate to tell America "you're welcome" for helping introduce this artist to the world. Thank you Kelly/"Duets"!
We take a pause from the amateurs to hear Kelly and John do their own superstar duet of "You Don't Know Me." I was hoping to hear those two together tonight. Success.
John Glosson and Jennifer Nettles
"Georgia On My Mind"
These two hometown buddies find another way to pay tribute to their Georgia roots. This performance showcased John's strengths with ballads, but he added a nice soulful twang to it. It was different, but reached the standard of "amazing" to Robin. John refered to his comments last week about Glosson's voice being too syrupy, but this week he thought it was the "perfect amount of syrup." John Legend is so playful. Kelly looked a little ticked that she couldn't really hear his voice (because of technical problems) but said she can't wait to see it on television. It was loud and clear over here, Kel. Don't worry.
Jason Farol and Kelly Clarkson
"Feelin' Good"
With Kelly's broken foot, movement was out of the question for this performance, so Jason decided to take the reigns. He felt more comfortable in the rehearsals and really feels "at home" with this genre. He was struggling with some big notes in the rehearsals, but Kelly reassured him to take it down if he can't hit it: "Some night's I'm like 'no' and other nights I'm like 'watch this!'" Good advice. Jason hit the note and hit the song out of the park. He's still a little awkward onstage but John was "very impressed" and Jennifer loved how she has seen him grow and "take charge." Robin said he stands by his "he's adorable" comment in the first week, but said he missed the soul in the song. We'll see what America likes better: Adorable or Soul.
Three forms of voting (phone, Facebook, or ABC.com) stay open until Friday at 11:59 p.m. PT. The question on everybody's mind: What happens with Robin now that he's duet partner-less? We'll see next week when "Duets" airs on Thursdays at 8 p.m. ET on ABC.
Calling all HuffPost superfans!
Sign up for membership to become a founding member and help shape HuffPost's next chapter