A lot has changed for Duff Goldman over the past year. The Ace of Cakes has gone off on a motorcycle powered Sugar High, he's set up a new home in Los Angeles to open Charm City Cakes West, and he's become a bi-coastal frequent flyer who told me "I travel so much I don't have a time zone anymore."
After a successful ten-season run on Food Network, Duff wanted something different, so despite a huge fan base, he just had to break from Ace of Cakes. In an interview he told me, "Cake decorating TV was getting pretty saturated and Charm City Cakes was getting painted with the same brush that other TV bakeries were. A lot of times our customers would ask 'Are you guys going to cry and freak out when you make our cake?' And I'd say, 'that's other shows you're confusing us with, we're pretty laid back here'."
There was also the fact that the identity of his bakery had shifted dramatically. "We were getting pigeon-holed into doing one kind of cake, the crazy ones with lights and motors and stuff, which I love, they're great, but, we do a lot of wedding cakes and people just forgot that."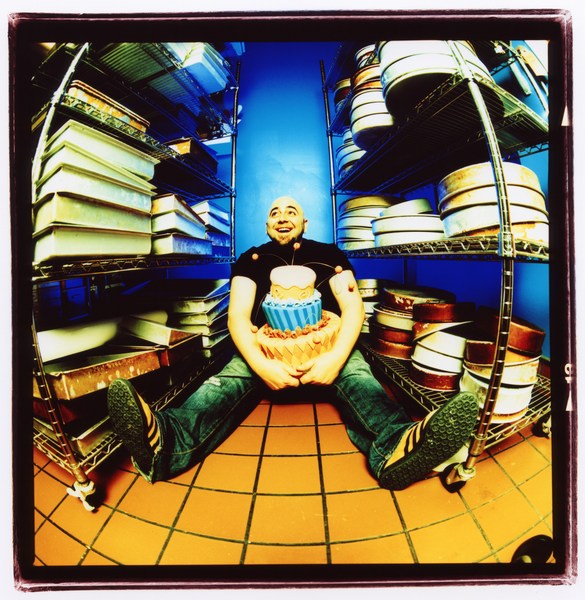 Duff Goldman at Charm City Cakes, Baltimore (Photo Courtesy Duff Goldman)
Duff Goldman grew up with a love of food. Constantly trailing his mom around the kitchen and wielding knives at age four, he knew early in life that a career in food was the path he wanted to take. But that didn't stop him from pursuing other interests like music (Duff plays in a band), and art (his graffiti got him into a bit of trouble in his youth).
With the goal of chefdom in mind, he started working in restaurants in high school. What Duff didn't think about his culinary career was that it would ever lead to television. "I used to beat up on the drama kids in high school," said Duff with his trademark sense of humor.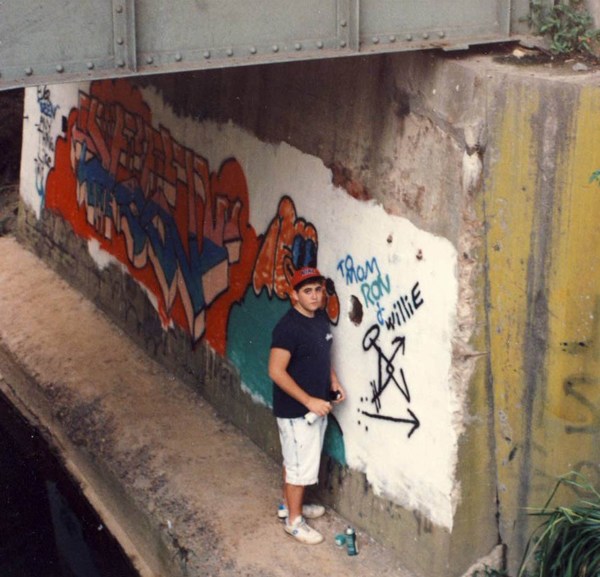 Tween Duff Goldman and his graffiti creation (Photo Courtesy Duff Goldman)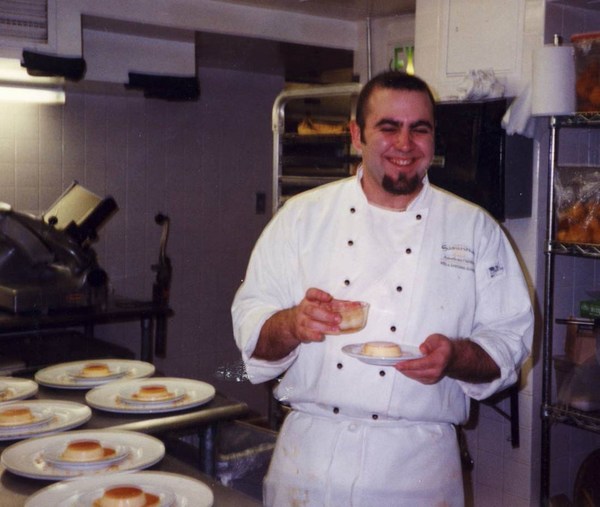 Duff in high school, working at Cindy Wolf's Savannah in Baltimore (Photo Courtesy Duff Goldman)
By the time Duff was off to college, he was set on cooking, so he decided to study things he loved rather than a career-driven major. At the University of Maryland, Baltimore County, Duff majored in East Asian History, saying, "I love history because when you strip away the social and political aspects, it's really just a bunch of fun stories." He minored in Philosophy / Ethics, explaining that "If you're going to figure something out, study ethics. You can ask What's the answer? What's Right and Wrong?" But, said Goldman, "What I learned is that nobody knows the answer and there is no Right and Wrong. So I'm incapable of becoming a fundamentalist because there are no absolutes, there's always a what if."
After the University of Maryland, Duff went to work full time in kitchens, then one day at a party at his sous chef's house he spotted a brochure for the Culinary Institute of America's six-month pastry program in Napa Valley. "It looked really cool and I thought, 'I wanna go there!'"
After completing the CIA pastry program in Napa, Duff worked in top kitchens around the country, notably The French Laundry and Todd English's Olives.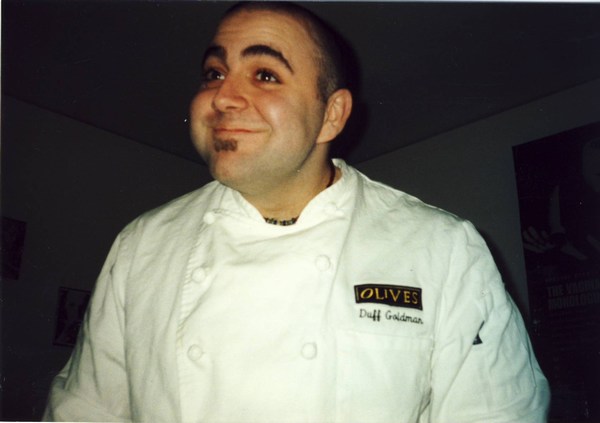 Duff at Olives (Photo Courtesy Duff Goldman)
When he eventually moved back to Baltimore he grew tired of the long hours in kitchens. So he started making cakes from home. "At first I just made cakes for friends, but then I was getting more and more orders. When I asked my dad what I should do to start a cake-making business, he told me, 'Get a website, get some business cards, and make some cakes.' It was that simple."

Duff's first professional cake, a wedding cake for Charm City manager Mary Alice's brother (lead singer of the band Clutch) (Photo Courtesy Duff Goldman)
Eventually, with his huge talent and drive, his home business outgrew his home kitchen, and he purchased the property that would house Charm City Cakes.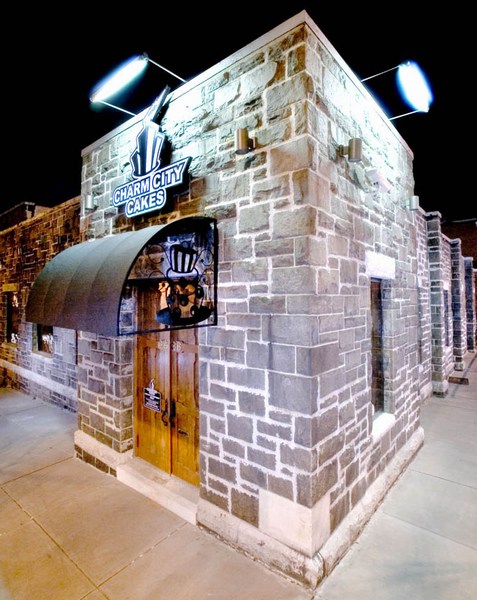 Charm City Cakes, Baltimore (Photo Courtesy Duff Goldman)

We all know how he hired from his pool of eclectic friends, not necessarily seeking out pastry chefs and cake decorators. Duff explained why, "If all I hired were cake decorators, our cakes would just look like cakes that people decorate. We do astounding work at Charm City Cakes and to do that you need people who think in astounding ways. Artists just think in different ways."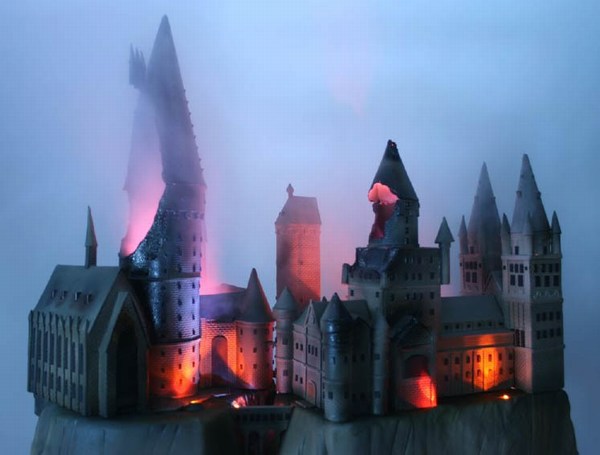 Hogwarts on Fire, Charm City Cakes (Photo Courtesy Duff Goldman)
Charm City Cakes built a strong reputation for incredible work, and Duff and his then Executive Sous Chef Geoffry Manthorne blasted their way on to Food Network Challenge. "We basically went on the show to steal ideas from the real cake decorators, but we became the comedic outlet. We were just two crazy guys doing crazy stuff and we didn't care if our cakes fell apart, we'd just laugh about it! The Food Network people thought we were really fun."
And so his career in television began. Food Network offered him, and his entire staff at Charm City, their own show, and Ace of Cakes was born.
Today, ten seasons later, a new Duff Goldman show has been born, Sugar High. "Sugar High was something I'd always wanted to do. I didn't want to be a judge on anything, and I didn't want to host a half-hour show where I'm just standing there by myself talking into the camera, that would be boring."
Then he laughed, "Actually, that probably would be really amusing, but I'd get sidetracked and talk about all kinds of stuff other than food. Sugar High harnesses my ADD and lets me out on the road where I'm happily bombarded by stimuli."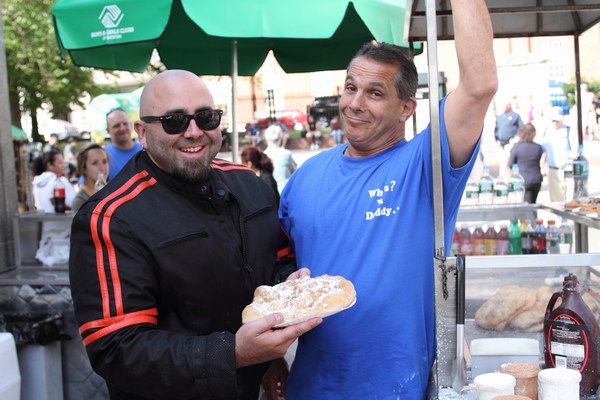 Sugar High, Duff with Ron Valeri of Daddy's Fried Dough in Boston (Photo Courtesy Food Network)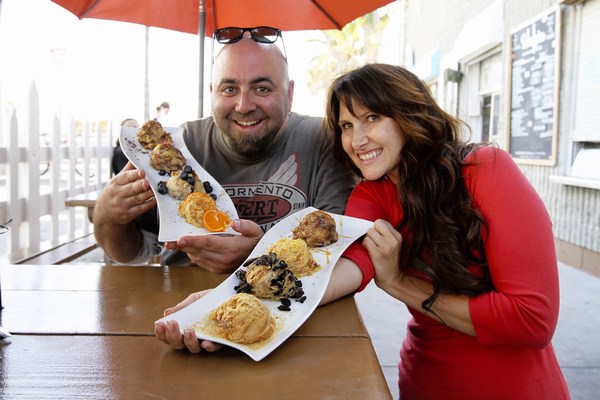 Sugar High, Duff with Sarah Schulz of Schulzies Bread Pudding in Venice Beach (Photo Courtesy Food Network)
On Sugar High, Duff gets to visit the people and places behind some of the best tasting sweets around the country, which, of course, he happily devours. It's a nice change for him to highlight flavor, as the flavors of Charm City Cakes--a from scratch bakery that doesn't use mixes or what Duff called "big buckets of hydrogenated crap"--weren't the focus on Ace of Cakes.
"People saw what we did on TV and thought our cakes couldn't taste good, but I'd say, 'Order one, or go to one of the many charity events we do and try some."
And Charm City does plenty of charity events. From Meals on Wheels and Share our Strength Bake Sales, to the SPCA and local charities like the Lower East Side Girls Club, Duff and Charm City give back. "Law breaking, graffiti artist, dumb jock that I am, I'm pretty socially conscious."
Duff grew up in a family that practiced tzedakah, which is giving anonymously. So when I asked him about his high level of charity involvement, he laughed, "Talking about it with you is sort of ruining my street cred, but, when people see how much charity we do it can inspire them to also give back."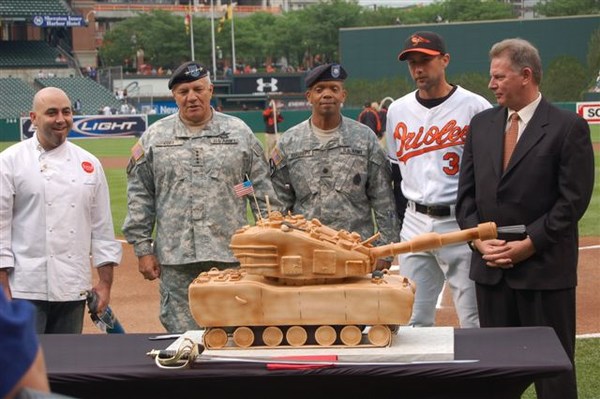 Duff doing good with cake (Photo Courtesy Duff Goldman)
Charm City, an "animal centric bakery," has adopted a horse at Day's End Farm Horse Rescue in Maryland, a bat, and even a naked mole rat at the Washington DC Zoo. But what Duff finds the most pride in is the bakery's association with the Make A Wish Foundation, where children and their families come into the bakery and spend a day doing every element that goes into a Charm City Cake. "By the end of the day, they don't know it, but they've just made their own cake. They're just so stoked when we give them the cake and tell them it's theirs!"
Calling himself "A line cook who won the lottery," Duff said, "At Charm City we're all so thankful for our success, and when you have the resources, you need to give back as much as you can."