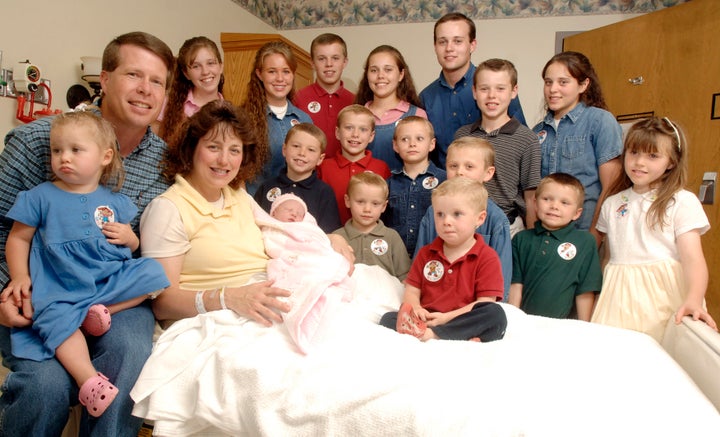 Michelle and Jim Bob Duggar return to TV tonight on TLC's "19 Kids and Counting" and the couple are the first to admit they are not your average family -- in fact, they are almost 7 times bigger than an average family. But the Duggars tell me they would love to have more children.

"We would love more but, of course, I'm 45, so we don't know if that will ever happen again. But we love more," Michelle told me, admitting that when she looks back at her family in their mini bus she thinks, "Whoa, that's a lot of people."

Although the big bunch may not be expanding, they are shaking things up. On season five of their show, the Duggars will embark on some big adventures including trips to Niagara Falls, Atlanta, Israel and even England.

"When we were in England, my kids started talking like you. We love accents," Michelle told me, referencing my own British accent. "We just told them this is the normal American family. They better start catching up."

Happy that they were so well received overseas, where the show now airs, Jim Bob explained that it's the show's principles about family that make people with much smaller families connect with his.

"We were first approached about doing the show and we both prayed about it and decided this would be an opportunity to show that children are a gift from God and a blessing and we think that really is our mission," Michelle told me. "We encourage people: Enjoy your children. They grow up really fast and the time you have with them will be so short. So, have fun and just really focus in on the joy of being a parent."

But Michelle's husband understands that there are still those who won't understand or condone their lifestyle.

"With our show there are a lot of people that won't understand a family with 19 kids, but they are very intrigued," Jim Bob added. "They have one child or two children but think, 'How in the world can they handle it?' because they struggle with their one or two. But when they see our family is very close and works together as a team and all the children love each other and are best friends, it really is encouraging these families to look deeper."

This season you will get to meet the newest Duggar addition, first grandson Michael, and see how his parents Josh and Anna are balancing life with their own growing brood.

The show airs Tuesdays at 9 p.m. on TLC.
Check out this exclusive clip of Tuesday's episode:

Popular in the Community