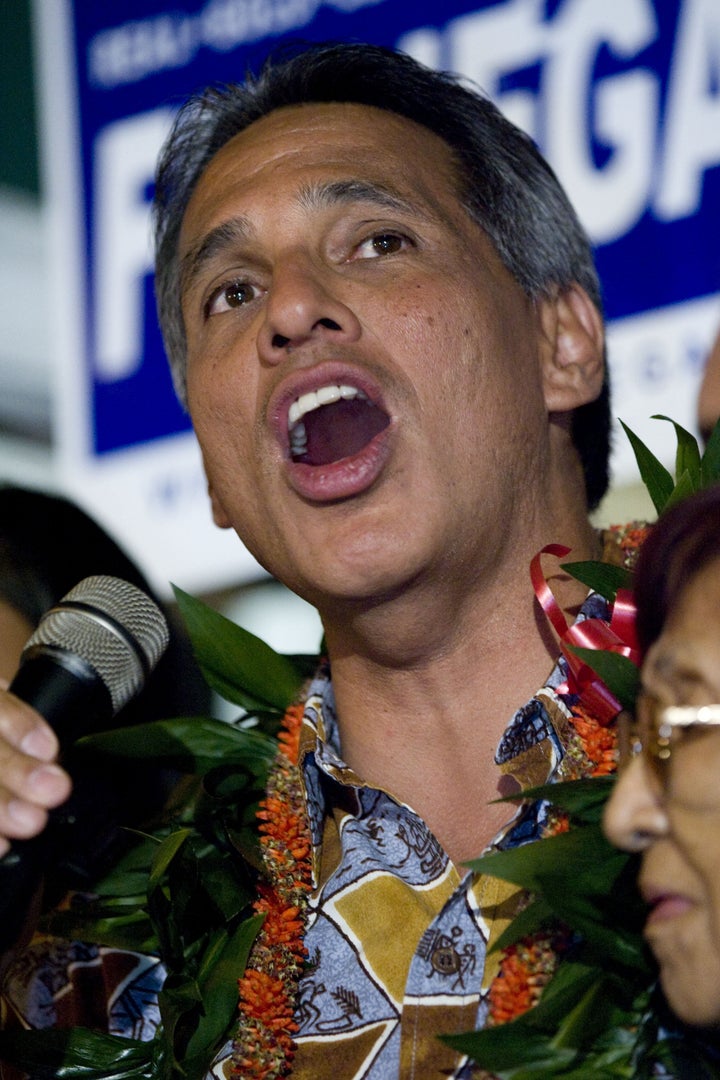 Hawaii GOP gubernatorial candidate James "Duke" Aiona is the target of a new documentary-style video that intends to connect the Republican to an extreme evangelical group.
In the video, produced by Massachusetts blogger and journalist Bruce Wilson, clips of Aiona seen proudly endorsing and then later disavowing membership in the "International Transformation Network" are spliced with controversial footage of the group's assemblies.
In one passage, with no apparent direct connection to Aiona, a clip from the group's 2008 conference in Argentina shows Cindy Jacobs, a member of the group, aggressively preaching against "witchcraft" and "idols":
"Pastors, sanctify your people! You go and you tell 'em, if you have any idols in their homes we're gonna to burn 'em! If you have any witchcraft items in your homes, you bring 'em Sunday and we're gonna burn 'em! We're not gonna have witchcraft in this church!"
Aiona has recently accused L.P. "Neenz" Faleafine, social media director for Democratic candidate Neil Abercrombie, of tweeting links to a segment of the film, which he has described as misleading.
"[He] is spreading what I would call unconscionable, fabricated video attacking me and my personal faith," Aiona said, according to the Associated Press. "This politically motivated attack video takes quotes out of context, it splices videos together, it manufactures patently false statements as they relate to a faith-based organization."
Abercrombie spokeswoman Laurie Au, responded by explaining that the tweets were dispatched on Faleafine's personal Twitter account, and not by any official arm of their campaign. The video, she added, was also not produced in conjunction with the campaign, but served a valuable purpose to the people of Hawaii.
"Voters have been expressing concern that Duke Aiona is mixing religion with politics in a way that may not be appropriate in Hawaii today," Au told the Associated Press. "Our social media team, by sharing this information, did not engage in negative campaigning."
According to Bruce Wilson, creator of the video, in a blog post at Alternet:
ITN leaders claim to fight "witchcraft" and burn native art, depict non-charismatic Catholics as damned, try to cure HIV and AIDS with faith healing, and allege homosexuals are possessed by demon spirits.

Transformation Hawai'i is a local chapter of an entity called the International Transformation Network, whose leaders appear fixated on fighting gay marriage and burning "idols", "witchcraft items", Books of Mormon, statues of Catholic saints, and native art.
Wilson recently rehashed his allegation to AP:
"It would be hard for Duke Aiona to be more enmeshed in Transformation Hawaii," Wilson said. "I'm just observing, here's Duke Aiona. He's heavily involved with this movement. Here's what the movement believes."
REAL LIFE. REAL NEWS. REAL VOICES.
Help us tell more of the stories that matter from voices that too often remain unheard.