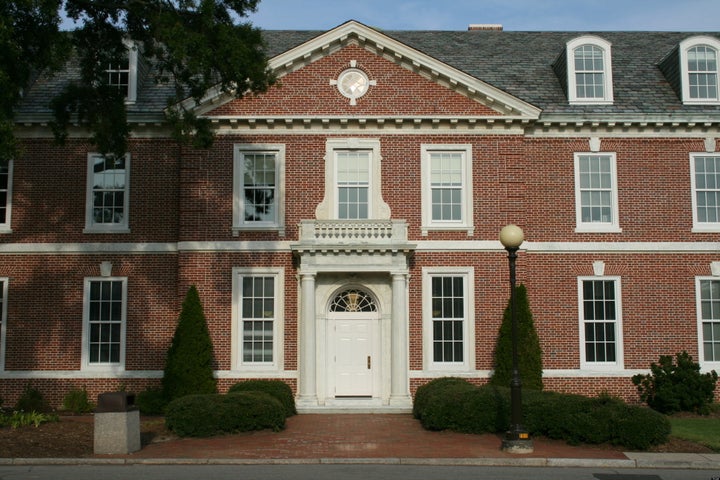 Duke University fraternities Sigma Nu and Alpha Delta Phi ended what was a difficult month for the school by sending out derogatory and insulting Halloween invitations to female guests.
Duke junior and Sigma Nu President Sam Zakria sent out an apology, writing that the e-mail "was an isolated event. It was a single individual who wrote it and it was a serious lapse in judgment on his part, but it is not representative of the views of our organization as a whole."
But while some female students were shocked by the invitation, others have gotten used to receiving misogynistic messages from fraternities. Senior Emily Fausch told the Chronicle, "When I first received those e-mails I didn't think anything of it. This is the kind of thing I've come to expect from fraternities. In my heart, I know it's a problem but I've really gotten used to it."
According to another female student, Duke women have learned to ignore such sentiments because of the discrepancy between what fraternity members write in e-mails and how they act in person. "I think that college boys will be college boys," she told the Chronicle.
Whether or not this is the case becomes irrelevant when viral messages extend beyond the college community and prompt reactions from those who take the fraternities' alleged humor seriously. One blogger (a self-identified Duke graduate) for Bro Bible wrote a weakly veiled critique of outraged reactions to the e-mails:
We might all think that the emails were simply meant to be funny and that these girls are crazy feminists who have nothing better to do than get overly-offended over what are "harmless" emails. But in this day and age, you can't think that you're going to get away with emails like this and not get you and your frat in trouble. You at least need to be more creative and smarter (and O.K., a little less offensive) than calling the girls you're inviting to your party sluts...I bet if the Sigma Nu email said "sexy" instead of "slutty" and the ADPhi one nixed the really lame Helen Keller bit, none of this controversy would have happened.
Another website, Next Round, had this to say: "New outrage is breaking out on the Duke campus over slightly insensitive Halloween party invites sent by two separate fraternities to COEDs on campus. Slut jokes, Helen Keller jokes, congrats on not looking like Snooki jokes? If you ask me this sort of awesomeness should be applauded, not condemned."
This marks the latest in a series of off-color fraternity activities which have disgraced the names of Greek organizations at Yale and Harvard. At Duke University, the Panhellenic Association will begin to work with the new Greek Women's Initiative, which includes representative from each sorority and fraternity's governing bodies, to deal with what the Chronicle calls "issues of gender disparity."
University officials say that no action will be taken against Sigma Nu and Alpha Delta Phi.
What do you think of this latest frat debacle? Weigh in below.

Popular in the Community