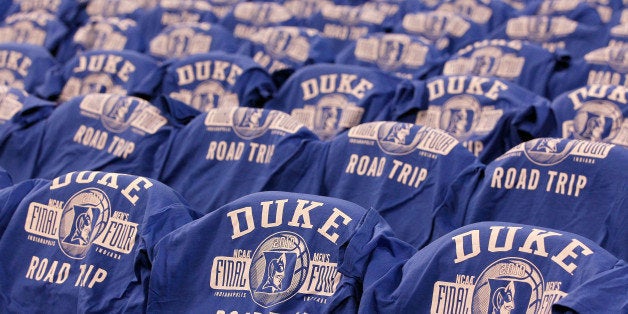 Duke University, one of four teams left in the NCAA's March Madness tournament, on Monday became the latest institution to publicly come out against the "religious freedom" law recently passed in Indiana.
Duke, along with Wisconsin, Kentucky and Michigan State, will head to Indianapolis for the Final Four this weekend. The championship game will also be held in the state next Monday.
Michael Schoenfeld, Duke's vice president for public affairs and government relations, issued a statement on Monday in response to Indiana's newly passed law, saying the university shared the NCAA's concerns (emphasis ours):
Duke University continues to stand alongside the LGBT community in seeking a more equal and inclusive world, and we deplore any effort to legislate bias and discrimination. We share the NCAA's concern about the potential impact of the new law, and will be vigilant to ensure that our student-athletes, supporters, and indeed all citizens and visitors are treated fairly and with respect.
The University of Wisconsin-Madison also raised concern with the law, per a statement from Chancellor Rebecca Blank:
Diversity and inclusion of all people are core principles at the University of Wisconsin–Madison.

The Indiana Religious Freedom Restoration Act mirrors laws in place in a number of states and at the federal level. But I take the concerns that have been raised very seriously.

I look forward to a discussion with my Big Ten counterpart presidents and chancellors about the impact of the Indiana law.
A spokesperson for Wisconsin's athletic department said the department supports the statement issued last week by The Big Ten Conference, of which it is a member. The conference's statement read:
The Big Ten Conference and its member institutions believe in promoting an inclusive environment in which athletic competition can operate free from discrimination. The conference is aware of the bill that was recently signed into law in the state of Indiana and will further review its impact at the next scheduled meetings of its administrators, presidents and chancellors.

And a statement from Michigan State University President Lou Anna K. Simon read:
While there has been much discussion about the new law passed in Indiana, we hope the citizens and lawmakers of that state can reach a consensus on how to best welcome all people, regardless of background. Here at MSU, we are guided by values embedded in our rich heritage as a leading land-grant university. Inclusion is foremost among our values - treating all members of the community with fairness and dignity.

The NCAA itself also spoke out following the law's passage last week, expressing concern about how it "could affect our student-athletes and employees."
HuffPost has also reached out to Kentucky for comment, which has not yet been returned.
UPDATE: The story has been updated to include comments from the University of Wisconsin-Madison and Michigan State University.
Related
Popular in the Community