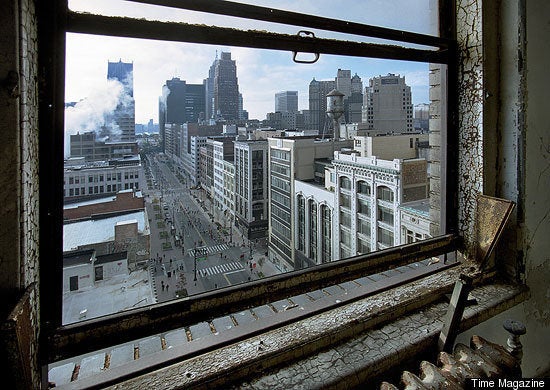 Back home again, her three-and-one-half hours of dialysis over, my mother negotiates her way through a maze of bags, chairs and boxes, toward the hazy out-of-focus shapes of the kitchen. There, the sound of her brown dachshund's thumping tail beats out a rhythmic hello. Tied to the basement door day in and day out, he, along with my aunt, are the certainties in the brown out that is now my mother's world.
Her house, a two-family flat on Baldwin, a north/south street on the east side of Detroit, became the family home in 1952 when we moved from Ferndale, a suburb of Detroit. Then, there were thirty or forty houses on the block; today, fewer than ten. Despite the best efforts of my sister and me, she refuses to move in with one of us or take an apartment for seniors overlooking the river. "This is where I want to live, and when I get too old to do for myself, just give me a room in your house and a puppy and I'll be fine." That time is growing near.
When all goes well, my mother and aunt are back home around noon where they're usually met by one or more members of my mother's "extended" family, those who live on the block in the few houses still standing. The younger kids call her grandma or Mrs. Sloan, the older friends as Ma, Hey Lady, or they refer to the two of them as "the girls." Collectively, this extended family will never replace "Buddy."
Richard Banks, who we called "Buddy Rich" in high school and was known as the "Mayor of Baldwin," died two years ago. In the ten years prior to that, he was the self-appointed care provider for my parents. "As long as I'm alive, and you're not here, I'll take care of your parents." He did. His death left a void in the hearts of those who loved him, and a power vacuum on Baldwin.
Among the colorful members of this extended family are individuals who could have stepped out of the hit television show "The Wire." When questioned about the character of one of these individuals, my mother defends him: "Lester, I used to teach him in bible school, and he was a problem then. I made him the class monitor, and he became one of my best students. " Character, according to my mother, is a measure of the final product, not the life in progress. "We're all capable of doing better, and with God's help, we do." I have reason to believe that God is on her side.
June was a man with a girl's name and a long rap sheet. Twenty-five years of his 50-year life were spent in prison, but no one made fun of him because of his name. Prison, as my buddy Rodney learned from one of the guys at the Hat Shop who had been there, is a gladiator school and June was a graduate. His mother died while he was incarcerated and he never got a chance to say goodbye. Upon his release, he made his way back to Baldwin and my mother's house and adopted her as his mother. He became her gladiator. He called her every day if he couldn't come by. He had learned to cook in prison, and on holidays he brought her meals -- main courses and dessert. He sometimes borrowed money; he always paid her back. He once told me that he would kill for my mother, and I'm thankful that he never had provocation to prove it. When he died in a fire of questionable circumstances, a part of my mother died with him.
My mother was the fourth child born to Charleston and Mamie Reynolds on January 25th, 1919 in Elbe, Alabama. It was during the second year of the epidemic that influenza would take millions of lives worldwide, including those of her two older sisters. She was a premature baby of less than three pounds. The doctor wrapped the crying infant in an old blanket and placed her on the side of the bed with the expectation that she would die before morning. Her paternal grandmother, "MaAnn," told the doctor "that gal got some strong lungs," and she went to work to save her granddaughter.
She made a poultice out of a concoction that the old folks called Pisal, made from the grease of pig fat and turpentine. Rubbing it over my mother's infant body, she then wrapped her up in old nightgowns. MaAnn then took two hot bricks from the fireplace and put them in a drawer wrapped in a damp towel. My mother was placed in the drawer between the two warm bricks. In this homemade incubator made by a former slave, my mother held onto life.
My aunt was born 3 years later, healthy, robust and without any drama. As children they were inseparable. Neither of the two received much schooling beyond grade school. My mother remembers the two of them, along with a brother born three years before my mother, sitting at the knee of my grandmother as she read passages from the bible and whatever books or magazines (more than likely a Sears catalog) they had around the house. By the time my mother was in her early 20s the girls went their separate ways. My mother, married to my father, moved to Detroit after his discharge from the Army. My aunt, after a failed marriage, moved to New Jersey where she worked as a cook in a hospital until she retired. She settled in South Carolina until a few years ago, when she moved to Detroit to live with her sister.
My aunt Cora Mae and my mother are like opposite sides of the same coin; they complete each other. Cora is sassy, sexy and at 87, steadfast in her belief that a woman's confidence in herself is her most prized possession. She married at an early age, like my mother. Her husband made the mistake of raising his hand as if he was going to strike her; his head met a skillet and they went their separate ways. By this time she was living in New Jersey where she would work as a cook in a hospital for 35 years.
My mother is three years older, and believes in being the older sister. She's more like their mother: bookish, economical, living by the maxim that pretty is as pretty does. She never met a hat that she didn't like and wears a rakish baseball cap in lighter moments. She and my father were married for 62 years at the time of his death. His old-world belief that a man works and the wife stays home probably contributed to her everlasting goal of improving herself. Her reduced eyesight due to diabetes and glaucoma is one of the great tragedies in her life.
They are as different as the lives they lived before being reunited. My mother, guarded and determined to be in control. My aunt, carefree and fun-loving, sometimes to a fault. My aunt seems willing to give in to my mother's need to think that she's in control, though her greatly diminished eyesight limits her mobility. My aunt Cora Mae is up at 5 every day, whether or not her sister is scheduled to have dialysis. Hair and makeup are in place as she prepares breakfast before my mother is out of bed. Aunt Cora Mae anticipates my mother's needs, which is a great annoyance to my mother at times -- a reminder of her dependence. Together they face the world and what life has to offer.
Out on the porch after lunch, my mother, with Duke at her side, enjoys the warm afternoon sun. A blurred image pauses on the sidewalk in front of her house.
"How you doing Mrs. Sloan?"
"Choo Choo, " a young man she cradled in her arms the day he was born.
"Boy! Don't you let another day go by without you coming to see me!"
"I'm here Mrs. Sloan. I'm here."
Related