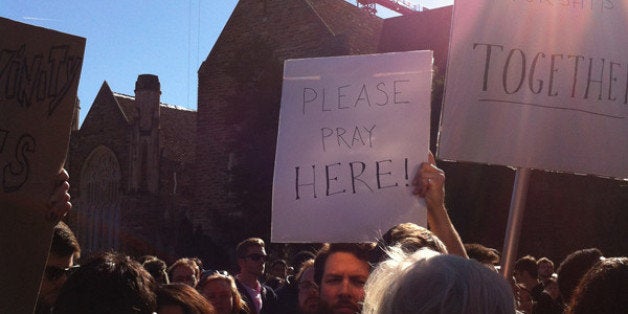 DURHAM, N.C. (RNS) In the end, the Muslim call to prayer was broadcast from a small black speaker perched on the steps of the Duke Chapel Friday (Jan. 16), as hundreds of students, some Muslim but mostly non-Muslim, gathered in solidarity for the right of all students to pray publicly.
The gathering, replete with signs reading "Let us worship together," and "Please pray here," was quiet and peaceful, and emerged spontaneously after Duke University officials on Thursday abruptly reversed their decision to broadcast the Muslim "adhan," or call to prayer, from the bell tower atop its iconic chapel.
The plan was to recite a moderately amplified call to prayer with the words "Allahu Akbar," or "God is great," from the 210-foot tower for about three minutes each Friday.
Instead, the prayer was broadcast from a portable public address system at the foot of the chapel, first in English, spoken by a woman, then in Arabic, recited in the familiar sing-song chant.
Speaking to a flank of reporters and TV cameras prior to the 1 p.m. call to prayer, Michael Schoenfeld, Duke's vice president of public affairs and government relations, offered little insight into the cancellation besides saying there were "security concerns." Neither he nor Luke Powery, the dean of the chapel, used the word "threat," and it appeared no law enforcement agencies aside from Duke campus police were called to investigate.
"The chapel is a very powerful and potent symbol of the university for anybody who has ever been here," Schoenfeld said. "When things happen involving the chapel, it means there has to be a very thoughtful and deliberative process for looking at that. That didn't happen in this case."
While Duke officials denied it, some suspected the real cause for the cancellation was the loud and forceful criticism voiced by the Rev. Franklin Graham, of Boone, N.C., who called on Duke alumni to withhold donations until the call to prayer was suspended. On Friday, Graham called the change "the right decision."
Graham, who leads his father's Billy Graham Evangelistic Association from the other end of the state, in Charlotte, said the call to prayer was the very one shouted by Islamist militants during last week's deadly terrorist attacks across Paris.
"As Christianity is being excluded from the public square and followers of Islam are raping, butchering, and beheading Christians, Jews, and anyone who doesn't submit to their Sharia Islamic law, Duke is promoting this in the name of religious pluralism," he said on his Facebook page.
Many students who arrived on the lawn outside the chapel shortly after noon said they suspected Duke caved in to donors or potential donors.
"I think it was money," said Matthew Wiseman, a graduate student in religious studies who stood near the chapel entrance along with throngs of other students. "There were donors who threatened to stop supporting the university."
Duke was founded by Methodists, and its limestone chapel at the center of campus is used as a Christian church. But, as the dean of the chapel explained to reporters, the chapel also serves a "moderator" and "convener" for other faith groups on campus, including Muslims.
"Our aim is to live into a generous hospitality toward different traditions," said Powery.
Duke has attracted a growing number of Muslim students, now numbering about 700. In 2008, it became one of the first U.S. universities to hire a full-time Muslim chaplain. Shortly afterward, it began offering Friday jumah prayers, which now take place in the basement of the chapel. A few years ago it opened a Center for Muslim Life in a converted ranch house on campus.
Imam Adeel Zeb, the current chaplain, acknowledged that the university has done more than many others to make campus life more inviting to Muslim students.
"We're very proud to be here as Muslims at Duke," Zeb said. He also told reporters there are no plans to reintroduce the bell tower call to prayer.
First to show their support to the Muslim students on Friday were Duke Divinity School students who gathered on the lawn in large numbers.
"Christians are called to be people of peace," said Sarah Martindell, a third-year-graduate student who drew a sign that said "Duke Divinity Supports You." "This demonstrates our solidarity with our Muslim neighbors."
But many others joined in, including a smattering of students from other universities. Sarah Zamamiri, a Muslim, who recently graduated from the nearby University of North Carolina at Chapel Hill, said nothing would have stopped her from showing her support to her Muslim brothers and sisters.
"I felt really disappointed," she said of Duke's decision. "What Duke did was to amplify the whole conversation of diversity and inclusion. It was a great day when I heard it. It's so unfortunate it had to be canceled."
Related
Popular in the Community