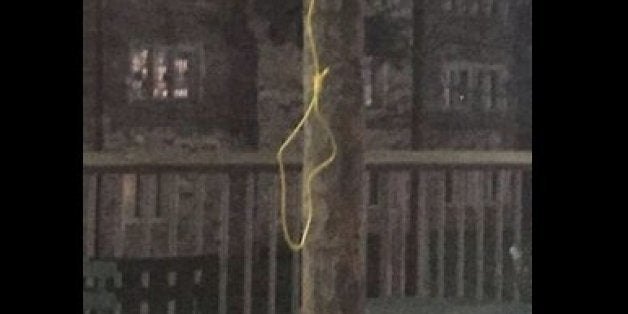 A Duke University student who admitted to hanging a noose on the Durham, North Carolina campus released an open letter to the community on Friday saying, "Not a day goes by that we don't think about the incident."
The student, not identified other than saying they are an undergraduate, said they did not hang the noose for racist reasons, but do not blame those who were outraged about it. Additionally, the student said, they are now reading more to learn about the noose's historical context.
"I told them the sequence of events whereby something that I made out of a piece of yellow cord I found, for what I considered at the time to be innocent fun, was instead taken for something so terrible," the student wrote. "My purpose in hanging the noose was merely to take some pictures with my friends together with the noose, and then texting it to some others inviting them to come and 'hang out' with us -- because it was such a nice day outside. If there was ever a pun with unintended consequences -- this was certainly one. In addition, when I left I carelessly forgot the noose hanging on the tree for the rest of the afternoon and the evening rather than discarding it, as I should have."
The student said due to their "background and heritage," they were "completely unaware" of the historical meaning of the noose in the South.
Conclusions were "made that whomever had made the noose did it for racist reasons. This led - completely justifiably -- to the student demonstrations, and the school's expression of disgust of my actions," the student continued. "The Duke Community should take pride in the spirit that unfolded and was demonstrated by the student body during those peaceful demonstrations."
Law enforcement will not press charges. The student "received a sanction through the university conduct process and is eligible to return to campus next semester," the university said.
REAL LIFE. REAL NEWS. REAL VOICES.
Help us tell more of the stories that matter from voices that too often remain unheard.