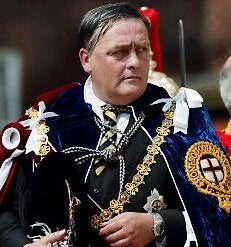 **Update: Wednesay night, many UK papers' stories on the Duke's ties to Emperors Club VIP had been removed or edited down, including the Telegraph, The Times (now stripped of Westminster mentions) and the Daily Mail. The Sun still had one. He denies the link**
The richest man in Great Britain was a customer of the same high-end prostitution service patronized by Gov. Spitzer.
The Duke of Westminster, listed as the world's 46th richest person by Forbes magazine, hired four hookers over a six-week stretch in late 2006 and early last year, the News of the World reported last year.
Despite his incredible wealth, multi-billionaire Gerald Cavendish Grosvenor haggled with one of the Emperors Club girls for the cost of their date, according to the report.
Prostitute Zana Brazdek, then 26, described the 56-year-old Grosvenor as dull and demanding.
"I thought his conversation was quite boring," the Lithuanian woman told the newspaper. "He talked about the Army, going to Afghanistan and bin Laden. And he wanted unprotected sex. I refused."
Named in documents filed with a US court as "Client 6", he paid £500 to a prostitute known as Astrid in London on January 12.

The pair met at about 9am at an undisclosed location for about an hour. After the appointment Astrid said that "everything was fine" but Client 6 called the company to say that, while she "was very nice", "next time he wanted to see someone else", the documents show.
Read all about the Emperors Club and see photos of the girls here
This is not the first time reports have surfaced about the Duke Of Westminster dalliances with prostitutes. An article from the UK's Daily Mail from last year revealed that the Duke was a serial user who liked to talk about such things as Osama with the girls he met:

The Duke of Westminster, who is worth £6.6billion and is the country's biggest landowner, paid for four vice-girls in six weeks to visit his mews house in the West End of London.

Gerald Cavendish Grosvenor, 55, who is head of the Territorial Army, was said by the News of the World to have openly discussed military matters and Osama Bin Laden.[...]

Bragging to prostitutes that he knew the whereabouts of Osama Bin Laden, taking security risks by allowing the mainly East European girls to know exactly who he is - this is a significant figure who should be keeping his mouth closed and commanding respect as head of the Territorial Army, many of whose part time soldiers are on active service in Iraq and Afghanistan, and some of whom have been killed and injured.
Popular in the Community