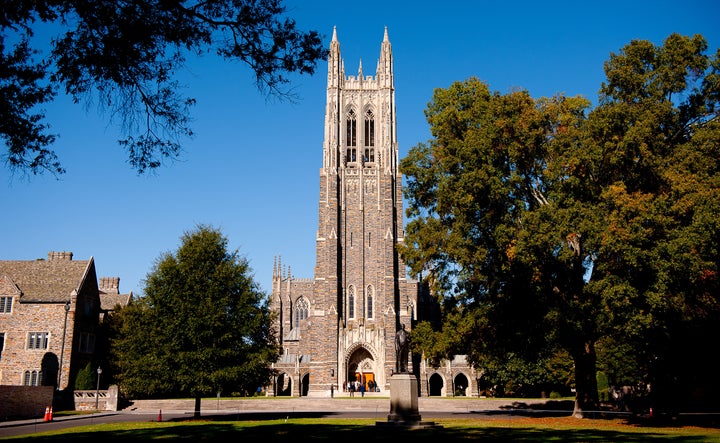 Duke University's non-tenure-track faculty filed a petition with the National Labor Relations Board Thursday to hold a union election, as they attempt to join the thousands of non-tenured professors across the country who have unionized in the last few years to bargain for higher pay, benefits and job security.
U.S. colleges and universities have increasingly relied on cheap non-tenure-track professors to keep their costs down, even as tuition prices rise. This category of professors now makes up between half and three-quarters of all university faculty nationwide; in the 1970s, roughly 70 percent of college instructors were tenured professors or on the tenure track. Unlike tenured professors, adjuncts often sign year-to-year or semester-to-semester contracts. Their pay can be paltry, and few receive health benefits. In response, more than 20,000 adjuncts, tenure-track professors and graduate student employees have unionized at more than 70 private and public schools since the beginning of 2012.
Duke's non-tenure-track faculty, who have joined together in a campaign called Duke Teaching First, hope to be represented by the 2-million-member Service Employees International Union, which has launched a new Faculty Forward effort on campuses across the country. The SEIU has successfully unionized adjuncts and other faculty at over 35 schools in the last three years.
Organizing efforts at universities have often happened regionally, with multiple schools in cities like Los Angeles, Chicago, Boston and D.C. unionizing around the same time. Duke's union push is unprecedented in that it's happening in North Carolina, a right-to-work state with the nation's second lowest union membership rate.
Matteo Gilebbi, a lecturing fellow in Romance Studies who has taught at the university since 2009, told The Huffington Post that he got involved with the effort nearly a year ago after colleagues began to informally meet to discuss shared concerns about their working conditions.
"One reason I am motivated to take part in this is that this is part of a larger movement for the democratization of higher education that is fighting against the dangerous transformation of universities into corporations," he wrote in an email.
Filing union authorization cards with the local NLRB office in Winston-Salem is the first legal step to forming a union. The Duke non-tenure-track faculty will now decide who is eligible to vote in the election, which will likely happen before the end of the semester. Those who are eligible to vote will vote by mail; the union will go forward if a majority of those who vote opt to be represented by the SEIU for collective bargaining.
"We are assessing the petition now and will abide by the federal guidelines outlined by the National Labor Relations Board for responding to it," said Michael Schoenfeld, the university's vice president for public affairs and government relations. "We also respect the rights of our faculty members to seek information, review the implications and decide whether to seek union representation or not."
Duke's administration raised the community's ire last year when it launched a website called "One-to-One," with the tagline "You are your own best representative," to discourage the union campaign.
The website noted that "Signing a union authorization card is a serious step that has legal consequences." In a frequently asked questions section, the university suggested that employees could end up with fewer benefits after collective bargaining occurs and warned that Duke doesn't have to agree to any of the union's demands.
Duke Teaching First responded by cheekily correcting the administration's language regarding the organizing effort with a red pen. The campaign has highlighted how unions at other universities have resulted in guaranteed wage increases and compensation if classes adjuncts are hired to teach are canceled.
"It was pretty ineffectual as far as scaring people goes," said Jaybird O'Berski, an assistant professor of the practice in the Theater Studies department who has taught at the university for eight years.
Ashlyn Nuckols, a sophomore and member of Duke United Students Against Sweatshops, which has advocated for the union campaign, said that she had seen student support for the effort grow as students recognize "how security and representation for faculty affects our own academic experience."
"The condescending and frankly unprofessional attitude that the Duke Administration has taken towards the prospect of unionization has actually galvanized student support for faculty," she wrote in an email. "The language used on the administration-sponsored, anti-union website 'One-to-One' is not only blatantly condescending but also demonstrates a complete disconnect from the difficulty many faculty members face while trying to navigate the university bureaucracy. From a moral standpoint, I want to go to a school where I know that all employees feel respected and secure in their jobs."
Multiple non-tenure-track professors told HuffPost they wanted to "have a seat at the table" regarding decisions made by their departments and the university as a whole, and to have more of a voice in the school's direction. The professors argue that having more job stability would make them better teachers, since those on short-term contracts aren't able to adequately prepare for their classes if they don't know whether they're actually going to be teaching until a few weeks before the semester begins.
"It's exciting to enter the next phase of the conversation because it's sort of been a hypothetical until this point," said Jim Haverkamp, an instructor in the Arts of the Moving Image department who started teaching at Duke five years ago. "This adds some nice urgency to the message, since we can now ask colleagues if they're interested in joining this conversation. In some ways the work starts now because we now have to focus on reaching out to as many folks as we can."