Duke beat Wisconsin 68-63 to win the 2015 NCAA Championship Game on Monday. Freshman Tyus Jones led Duke with 23 points and five rebounds. Fellow freshman Grayson Allen chipped in 16 points.
The win marks Duke head coach Mike Krzyzewski's fifth national title. Krzyzewski, who also recorded his 1,000th win earlier in the season, now trails only John Wooden in national championships.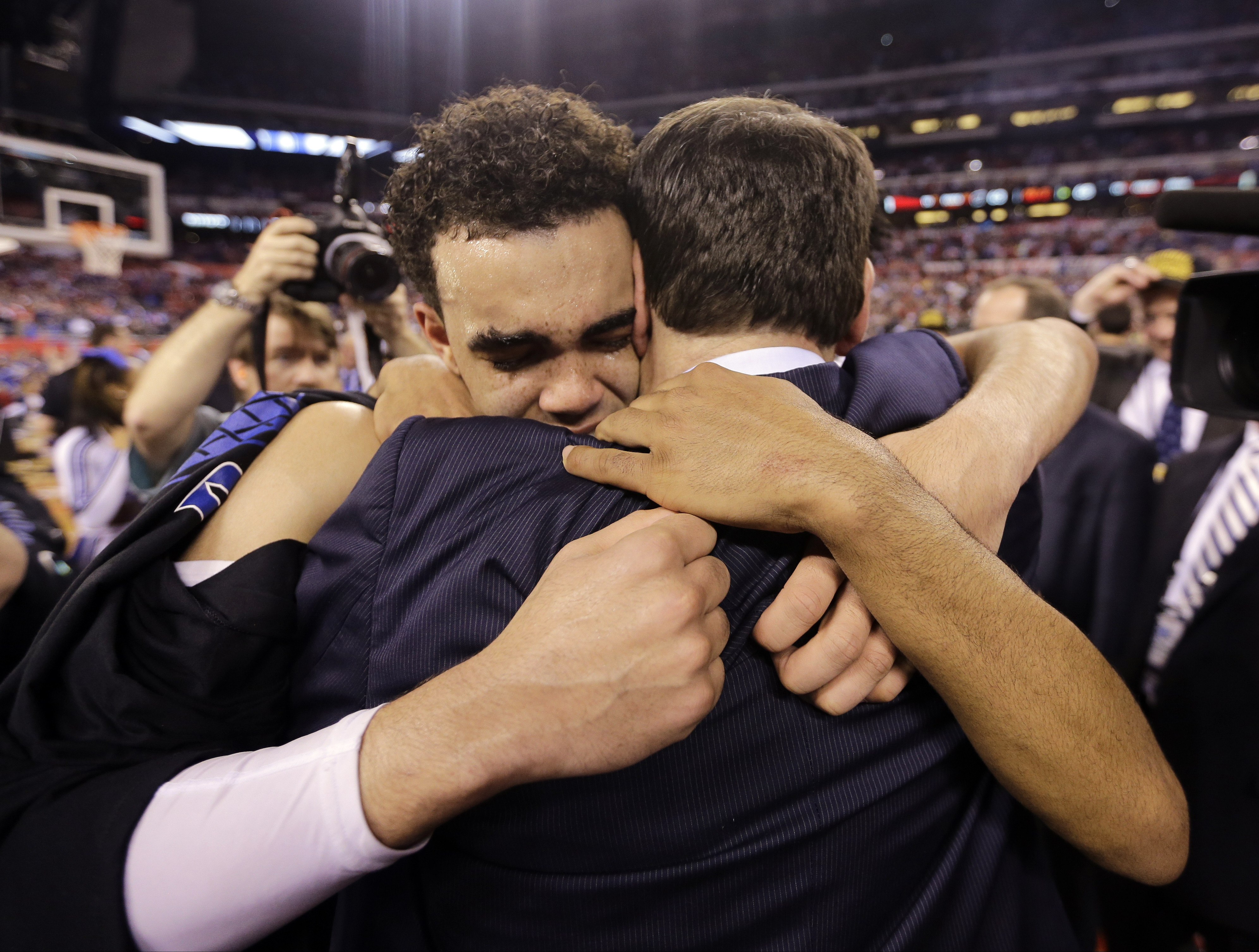 Duke's Tyus Jones hugs head coach Mike Krzyzewski after the NCAA Final Four college basketball tournament championship game against Wisconsin. (Source: AP)
Wisconsin and Duke battled for the entire 40 minutes Monday. The Badgers' Frank Kaminsky posted 21 points and 12 rebounds for the Badgers, who were playing in the school's first championship title game since 1941.
The game was tied at the half, 31-31, the first NCAA championship halftime tie since 1988, and the Badgers came out strong in the second half. But Duke's Allen reignited his team's momentum, first by diving for a ball, then with a lay-up and additional free throw that brought the Blue Devil's within three points, 48-45.
With less than seven minutes to go, Duke tied the game 54-54 and took their first lead of the half nearly two minutes later with a basket from Allen.
"We were kind of dead in the water ... and Grayson just kind of put us on his back," Krzyzewski said of Allen's performance after the game.
Each team was relentless, handing over the lead between the next couple possessions. By 3:22, the lead had been exchanged 16 times, CBS announced.
A big play from freshman Jahlil Okafor and a shot clock violation from Wisconsin gave the Blue Devils an edge in the remaining minutes. Another rebound and basket from Okafor gave Duke a five-point lead, 63-58, with less than two minutes left.
Tensions running high, the officials reviewed an out-of-bounds possession call, ultimately giving the ball to Duke. A 3-pointer from Jones extended the lead, 66-58, but Kaminsky responded with a three of his own.
With 42 seconds left, Duke held onto a 66-63 lead as the Badgers turned to fouling their opponent. Jones sunk a pair of free throws for a 5-point lead. By then it was too late for Wisconsin.
"That's the biggest thing about this team, we never want to let one another down," Duke's Jones said after the game.
His sentiments were echoed by Okafor.
"They had my back the entire season, and it was no different tonight," the center said.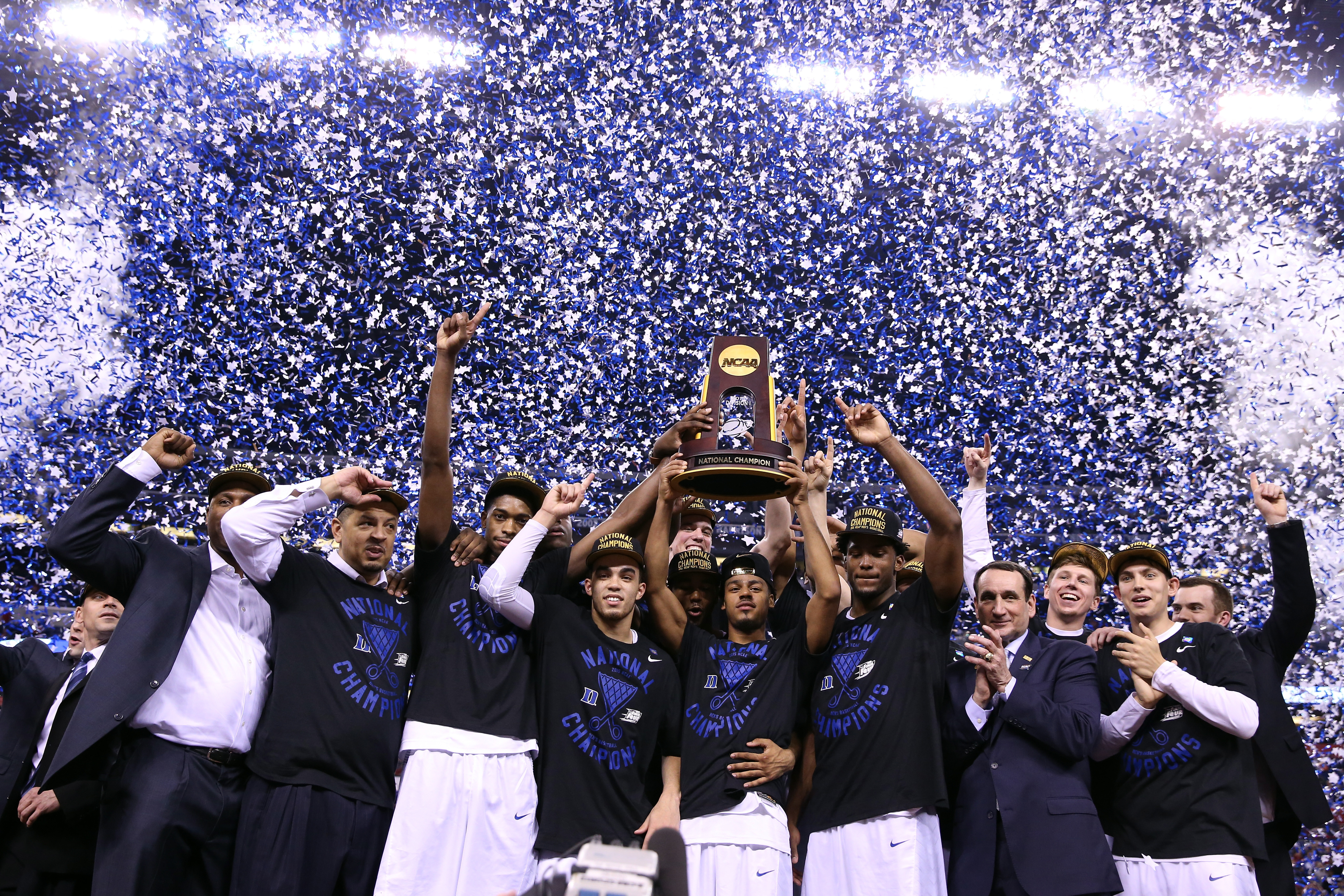 Duke celebrates with the championship trophy after defeating the Wisconsin during the NCAA Men's Final Four National Championship. (Source: Getty Images)
Wisconsin coach Bo Ryan expressed frustration with the physical nature of Monday's game afterward.
"There was more body contact in this game than any game we've played all year," Ryan told CBS Sports' Tracy Wolfson in a post-game interview. "I just feel sorry for my guys that all of sudden a game was like that."
"I think they're struggling with that a little bit," he said. "We missed some opportunities. They hit some tough shots. It's just a shame that it had to be played that way."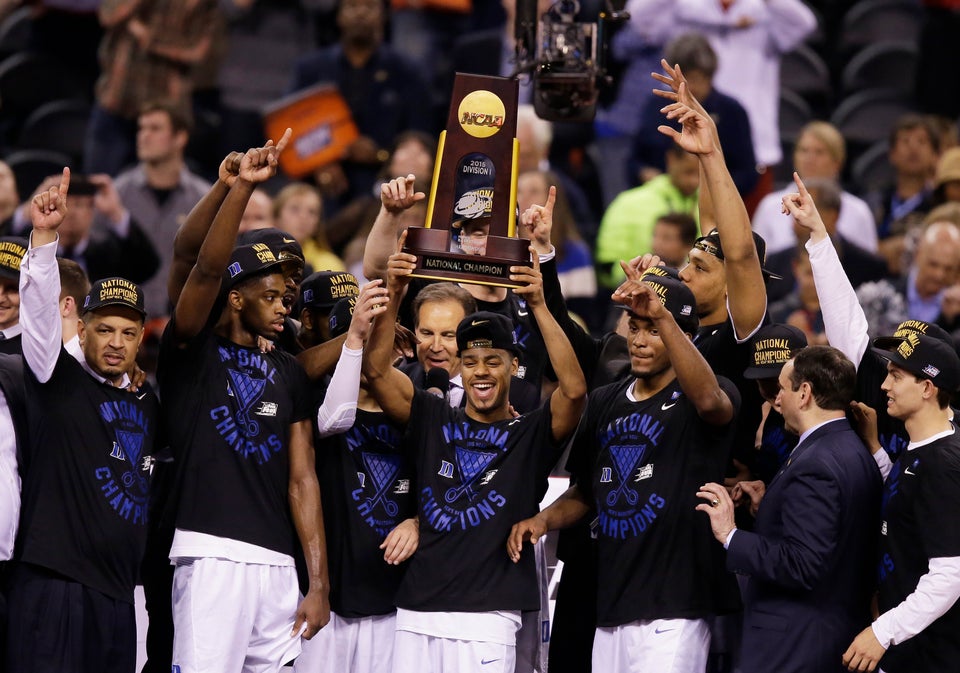 The Best Photos From The NCAA Championship
Popular in the Community